Saturday, October 3, 2015
Massachusetts Earns 4-0 Shutout Victory Over Dalhousie
Junior forward Steven Iacobellis and freshman forward Austin Plevy each have goal and an assist for Minutemen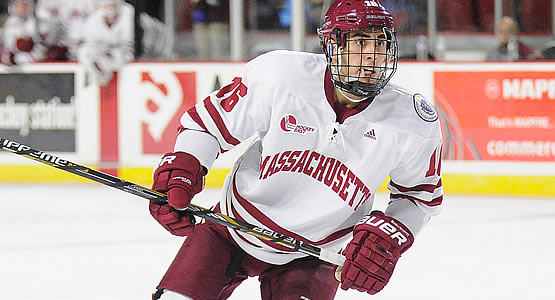 Junior forward Steven Iacobellis had a goal and an assist for the Minutemen
| | | | | | | |
| --- | --- | --- | --- | --- | --- | --- |
| Prd | Time | Team | Score | Type | Scored By | Assists |
| 1st | 8:29 | UMA | 1-0 | EV GW | Austin Plevy | Ivan Chukarov, Steven Iacobellis |
| 2nd | 5:16 | UMA | 2-0 | EV | Steven Iacobellis | Callum Fryer |
| 2nd | 8:30 | UMA | 3-0 | EV | Keith Burchett | Austin Plevy, Ivan Chukarov |
| 3rd | 12:59 | UMA | 4-0 | EV | Ryan Badger | Callum Fryer |
| | | | | |
| --- | --- | --- | --- | --- |
| Scoring | 1st | 2nd | 3rd | Final |
| Dalhousie | 0 | 0 | 0 | 0 |
| Massachusetts | 1 | 2 | 1 | 4 |
| | | | | |
| --- | --- | --- | --- | --- |
| Shots on Goal | 1st | 2nd | 3rd | SOG |
| Dalhousie | 8 | 14 | 11 | 33 |
| Massachusetts | 9 | 10 | 5 | 24 |
| | | | |
| --- | --- | --- | --- |
| Team Stats and Records | PP | PIM | SHGF |
| Dalhousie | 0/5 | 2/4 | 0 |
| Massachusetts | 0/2 | 5/10 | 0 |
| | | | | | | |
| --- | --- | --- | --- | --- | --- | --- |
| Dalhousie Goaltending | MIN | GA | 1 | 2 | 3 | Saves |
| Corbin Boes (L) | 59:56 | 4 | 8 | 8 | 4 | 20 |
| Empty Net | 0:04 | 0 | | | | |
| | | | | | | |
| --- | --- | --- | --- | --- | --- | --- |
| Massachusetts Goaltending | MIN | GA | 1 | 2 | 3 | Saves |
| Nic Renyard (W) | 20:00 | 0 | 8 | 0 | 0 | 8 |
| Henry Dill | 20:00 | 0 | 0 | 14 | 0 | 14 |
| Alex Wakaluk | 20:00 | 0 | 0 | 0 | 11 | 11 |
AMHERST, Mass. - With contributions from its freshmen and solid efforts from all three of its goaltenders, the University of Massachusetts hockey team blanked Dalhousie 4-0, on Saturday night in an exhibition matchup at the Mullins Center. Junior captain Steven Iacobellis and freshmen Austin Plevy, Ivan Chukarov and Callum Fryer all logged multi-point efforts in the win for the Minutemen.
"We checked all the boxes that an exhibition game is supposed to check," said head coach John Micheletto. "We were less worried about X's and O's than we were about effort, compete, communication and getting to know each other. I think in those categories I would grade us out positively."
Iacobellis and Plevy each contributed a goal and an assist, while Chukarov and Fryer tallied two assists apiece for the Maroon and White. Fryer and Plevy were both +3 on the evening.
After fending off two Dalhousie power plays early in the first, UMass took a 1-0 lead 8:29 into the stanza. Plevy buried a cross-ice pass from Chukarov and Iacobellis from inside the left faceoff circle.
The Minutemen expanded the margin to 2-0, 5:16 into the second. After Fryer's initial shot from the point was stopped by Tigers' netminder Corbin Boes, Iacobellis dove across the slot to chip home the loose puck.
Plevy and Chukarov set up UMass' third tally of the night at the 8:30 into the second as sophomore Keith Burchett banged home a one-timer at the right post.
At the 12:59 mark in the final frame, the Minutemen completed the scoring as Fryer set up classmate Ryan Badger for the tally with his pass from behind the net.
Dalhousie finished the contest with a 33-24 shot advantage and went 0-for-5 on the power play, while UMass was 0-for-2 with the man advantage. All three Minutemen goaltenders split time, each playing a period on the evening. Freshman Nic Renyard, sophomore Henry Dill and junior Alex Wakaluk recorded totals of eight, 14 and 11 saves, respectively.
UMass will open its 2015-16 campaign next Friday, Oct. 9, in Colorado Springs, Colo., at Colorado College. Puck drop is slated for 9:37 p.m.