UMass Lowell Upends New Brunswick, 3-2
Sophomore forward C.J. Smith hands out two assists for River Hawks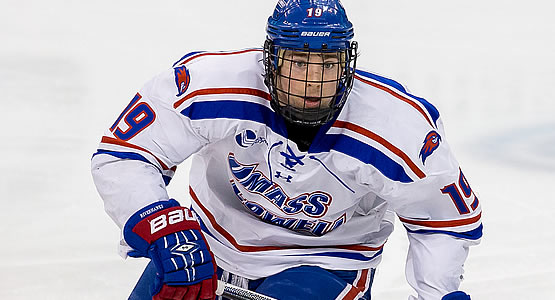 Sophomore forward C.J. Smith had two assists for the River Hawks
| | | | | | | |
| --- | --- | --- | --- | --- | --- | --- |
| Prd | Time | Team | Score | Type | Scored By | Assists |
| 1st | 14:09 | UML | 1-0 | EV | Jake Kamrass | Ryan Collins, Niklas Folin |
| 1st | 18:19 | UML | 2-0 | EV | Michael Louria | Joe Gambardella, C.J. Smith |
| 2nd | 1:04 | NBR | 1-2 | EV | Peter Trainor | Philippe Halley, Philippe Maillet |
| 2nd | 6:10 | UML | 3-1 | PP GW | Evan Campbell | C.J. Smith |
| 3rd | 10:14 | NBR | 2-3 | PP | Matt Petgrave | - |
| | | | | |
| --- | --- | --- | --- | --- |
| Scoring | 1st | 2nd | 3rd | Final |
| New Brunswick | 0 | 1 | 1 | 2 |
| UMass Lowell | 2 | 1 | 0 | 3 |
| | | | | |
| --- | --- | --- | --- | --- |
| Shots on Goal | 1st | 2nd | 3rd | SOG |
| New Brunswick | 5 | 9 | 14 | 28 |
| UMass Lowell | 7 | 9 | 9 | 25 |
| | | | |
| --- | --- | --- | --- |
| Team Stats and Records | PP | PIM | SHGF |
| New Brunswick | 1/6 | 6/12 | 0 |
| UMass Lowell | 1/5 | 7/14 | 0 |
| | | | | | | |
| --- | --- | --- | --- | --- | --- | --- |
| New Brunswick Goaltending | MIN | GA | 1 | 2 | 3 | Saves |
| Alex Dubeau (L) | 59:05 | 3 | 5 | 8 | 9 | 22 |
| Empty Net | 0:55 | 0 | | | | |
| | | | | | | |
| --- | --- | --- | --- | --- | --- | --- |
| UMass Lowell Goaltending | MIN | GA | 1 | 2 | 3 | Saves |
| Kevin Boyle (W) | 40:00 | 1 | 5 | 8 | 0 | 13 |
| Sean Cleary | 20:00 | 1 | 0 | 0 | 13 | 13 |
LOWELL, Mass. - The UMass Lowell Hockey team registered a 3-2 victory against New Brunswick in exhibition play on Sunday afternoon at the Tsongas Center.
Sophomore forward Jake Kamrass (Atlanta, Ga.) opened the scoring at 14:09 of the first period off a tip from sophomore forward Ryan Collins' (Newton, Mass.) shot from the high slot. Sophomore forward Michael Louria (Wexford, Pa.) extended the UMass Lowell lead to 2-0 at 18:19 of the opening period. Peter Trainor got the Varsity Reds on the scoreboard just 1:04 into the second period, then junio forward Evan Campbell (Port Coquitlam, B.C.) gave the River Hawks a 3-1 lead at 6:10 of the second period.
"It was a good start, we got to play a lot of different players and there were several contributions from some of those players," said Head Coach Norm Bazin. "Now we got some film to analyze so we can try to improve tomorrow."
Matt Petgrave capped off the scoring in the game for New Bruswick with the lone goal in the third period at 10:14.
Sophomore forward C.J. Smith (Des Moines, Iowa) finished the game with two assists on the night. Campbell finished the day with a game-high six shots on goal.
Senior goaltender Kevin Boyle (Manalapan, N.J.) started the game in net for the River Hawks and made 13 saves. Freshman Sean Cleary (Centerville, Mass.) played the final 20 minutes and he also made 13 saves in the victory. New Brunswick goaltender Alex Dubeau totaled 22 saves in the losing effort.
The River Hawks officially open their 49th season of play on Friday, October 9th against ECAC foe Rensselaer. Game time from the Tsongas Center is 7:15 p.m.