Fogarty Nets Hat Trick As Notre Dame Defeats Penn State, 7-4
Senior forward Steven Fogarty has hat trick and assist for Fighting Irish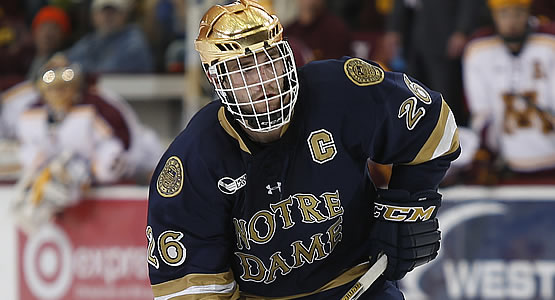 Senior forward Steven Fogarty had a hat trick and an assist for the Fighting Irish
| | | | | | | |
| --- | --- | --- | --- | --- | --- | --- |
| Prd | Time | Team | Score | Type | Scored By | Assists |
| 1st | 7:26 | NDM | 1-0 | EV | Thomas DiPauli (1) | Jordan Gross/1, Dennis Gilbert/1 |
| 1st | 10:22 | PSU | 1-1 | PP | Dylan Richard (1) | Curtis Loik/3, Vince Pedrie/1 |
| 1st | 12:33 | NDM | 2-1 | EV | Andy Ryan (1) | Anders Bjork/1, Connor Hurley/1 |
| 1st | 16:00 | NDM | 3-1 | EV | Steven Fogarty (1) | Sam Herr/1, Mario Lucia/1 |
| 2nd | 7:04 | NDM | 4-1 | EV | Steven Fogarty (2) | Sam Herr/2 |
| 2nd | 17:42 | NDM | 5-1 | EV GW | Steven Fogarty (3) | Mario Lucia/2, Sam Herr/3 |
| 2nd | 17:54 | PSU | 2-5 | EV | Alec Marsh (1) | David Goodwin/3, David Glen/1 |
| 2nd | 18:40 | PSU | 3-5 | EV | Dylan Richard (2) | Erik Autio/1 |
| 3rd | 1:40 | NDM | 6-3 | EV | Mario Lucia (1) | Steven Fogarty/1, Jordan Gross/2 |
| 3rd | 3:57 | NDM | 7-3 | EV | Andy Ryan (2) | Anders Bjork/2, Dylan Malmquist/1 |
| 3rd | 6:00 | PSU | 4-7 | EV | Alec Marsh (2) | David Glen/2 |
| | | | | |
| --- | --- | --- | --- | --- |
| Scoring | 1st | 2nd | 3rd | Final |
| Notre Dame | 3 | 2 | 2 | 7 |
| Penn State | 1 | 2 | 1 | 4 |
| | | | | |
| --- | --- | --- | --- | --- |
| Shots on Goal | 1st | 2nd | 3rd | SOG |
| Notre Dame | 7 | 10 | 7 | 24 |
| Penn State | 16 | 7 | 13 | 36 |
| | | | |
| --- | --- | --- | --- |
| Team Stats and Records | PP | PIM | SHGF |
| Notre Dame (1-0-0) | 0/0 | 3/6 | 0 |
| Penn State (1-1-0) | 1/3 | 0/0 | 0 |
| | | | | | | |
| --- | --- | --- | --- | --- | --- | --- |
| Notre Dame Goaltending | MIN | GA | 1 | 2 | 3 | Saves |
| Cal Petersen (W, 1-0-0) | 60:00 | 4 | 15 | 5 | 12 | 32 |
| | | | | | | |
| --- | --- | --- | --- | --- | --- | --- |
| Penn State Goaltending | MIN | GA | 1 | 2 | 3 | Saves |
| Matthew Skoff (L, 0-1-0) | 43:57 | 7 | 4 | 8 | 2 | 14 |
| Chris Funkey | 13:12 | 0 | 0 | 0 | 3 | 3 |
| Empty Net | 2:51 | 0 | | | | |
University Park, PA - The Notre Dame hockey team went into a sold out Pegula Ice Arena (6,103), jumped out to a 3-1 lead after one period of play and went on to post a 7-4 season-opening win over Penn State on Friday night.
Senior captain Steven Fogarty led the Irish offense with his first career hat trick and he added an assist for a four-point night.
"I've been waiting for this day," Notre Dame Head Coach Jeff Jackson said. "Steven's a guy who has always had the ability to do this. Its just one game though, we need him playing at that same level every night, not necessarily scoring three goals, but he's always had the ability."
Fogarty's line, which includes seniors Mario Lucia (1-2-3) and Sam Herr (0-3-3), combined for 10 points in the win over the Nittany Lions. Fellow senior defenseman Andy Ryan netted a career-best two goals, while senior forward Thomas DiPauli scored Notre Dame's first goal of the night.
"The positive thing is the seniors led the way, that senior line and Andy Ryan did a great job," Head Coach Jeff Jackson said. "It is easier for our younger guys to follow when that's the case."
After Fogarty's third goal of the night made it 5-1 at 17:42 of the second period, Penn State's Alec Marsh and Dylan Richard netted goals 46 seconds apart to make it a 5-3 game after two periods of play.
Lucia answered for the Irish at 1:40 of the third to restore Notre Dame's three-goal lead en route to the 7-4 victory.
"One turnover and the whole momentum of the game changed late in the second period," Jackson said. "But it was huge and a positive sign to respond coming out in the third and getting that next goal. That was a real positive sign to me."
In the Notre Dame net, Cal Petersen finished with 32 saves, including 15 in the first period.
For Penn State, Matthew Skoff started the game and made 14 saves in 43:57 of work while giving up all seven Notre Dame goals. Freshman Chris Funkey made his first career appearance in relief and stopped all three shots he faced in 13:12.
The Irish did not have a power play chance on the night. But leading 7-3 with just over five minutes left in the third period, the Notre Dame special teams came up with an important penalty kill after Penn State had pulled Funkey for a 6-on-3 advantage. The Nittany Lions finished the night 1-for-3 with the man advantage.
Notre Dame and Penn State close out their weekend series tomorrow afternoon (Saturday) with a 3:00 p.m. game at the Pegula Ice Arena.
Goals
Notre Dame took a 1-0 lead at 7:26 of the first period when Thomas DiPauli tipped in a shot from the point by Jordan Gross. Gross ended up with the puck after his defense partner, Dennis Gilbert, made a diving play at the blue line to keep the puck in the offensive zone. It marked Gilbert's first career point and DiPauli's 17th-career goal.
Penn State tied it at 1-1 on a Dylan Richard power-play goal at 10:22 of the first period following a scramble in front of Petersen. Curtis Loik, who kept the puck alive in front, and Vince Pedrie, who took the initial shot from the point, assisted on the goal.
Andy Ryan put the Irish up 2-1 just over two minutes later when he snapped off a wrist shot from the point that beat Skoff high. Anders Bjork and Connor Hurley earned assists on the play after they took a blocked shot in the defensive zone and combined use their speed down the far side to enter the Nittany Lion zone.
Steven Fogarty gave Notre Dame a 3-1 lead at 16:00 of the first period when he converted on a breakaway for his 18th-career tally. Fogarty was sprung by a series of quick breakout passes from Mario Lucia on the half boards to Sam Herr in the high slot to Fogarty at the defensive blue line. As Fogarty skated towards the offensive zone, he moved past a Penn State defenseman and went in alone on Skoff and finished low past the senior goaltender.
Fogarty notched his second goal of the night at 7:04 of the second period when he collected a Herr feed, cut across the slot and finished high past Skoff's glove with a backhander.
Fogarty then netted his third of the night for his first career hat trick at 17:04 of the second, pushing the score to 5-1. The goal came off of tape-to-tape passing by his linemates, Herr and Lucia. The play also marked Herr's third assist of the night, a career-high total.
But Penn State then scored back-to-back goals 46 seconds apart to make the score 5-3 after two periods of play. David Thompson scored at 17:54 to make it 5-2 and then Richard notched his second of the night with a wrist shot from the slot to get the Nittany Lions back to within two.
The Irish responded just 1:40 into the third period when Lucia one-timed a Fogarty feed past Skoff at the far post for his 50th-career goal. Gross also earned his second assist of the night on the play.
Ryan took a pass from Bjork and deposited a wrist shot high past Skoff's blocker to make it 7-3 at 3:57 of the third. Dylan Malmquist earned his first career assist on the play.
Penn State made it 7-4 at 6:00 of the third period on Marsh's second goal of the night but that was as close as the Nittany Lions would get.
Notes
Steven Fogarty had a career night, posting his first hat trick in an Irish uniform while also adding an assist to match his career-high four points (had two goals and two assists versus Lake Superior State on Oct. 17, 2014). It was the first Notre Dame hat trick since Robbie Russo scored three goals in last season's 6-1 win at UConn (Jan. 18).
Mario Lucia matched his career high with three points (1-2-3), which he has now totaled five times, and he also matched his career high with two assists (it was his fourth career two-assist game).
Lucia's goal was the 50th of his career (50-39-89).
Andy Ryan netted a career-high two goals and matched his career-high of two points (he now has four career two-point games).
Sam Herr registered a career-high three assists and also matched his career-high mark with three points (he now has three career three-point games).
Sophomore Anders Bjork tied a career-high with two points on two assists (he now has six career two assist/two point games).
Sophomore Jordan Gross tied a career-high with two points on two assists (he now has six career two point games).
Freshmen Joe Wegwerth, Dylan Malmquist, Andrew Olglevie and Dennis Gilbert made their Notre Dame debuts, with Gilbert and Malmquist each posting an assist for their first career points.
Friday night's game was the first meeting between the Nittany Lions and the Fighting Irish since Penn State joined the NCAA Div. I ranks.
Notre Dame is now 2-4-0 against the Big Ten (1-3-0 vs. Minnesota, 0-1-0 vs. Ohio State, 1-0-0 vs. Penn State).
The Irish are now 24-22-2 all-time in season openers, including a 5-6-0 mark under Head Coach Jeff Jackson.
Former Notre Dame forward Vincent Hinostroza was called up to the Chicago Blackhawks on Friday afternoon. If he makes his NHL debut, he would be the seventh Notre Dame product to play in the NHL this season and the 27th all time.