Northeastern Rolls Past Simon Fraser, 10-2
Freshman forward Jason Cotton posts hat trick for Huskies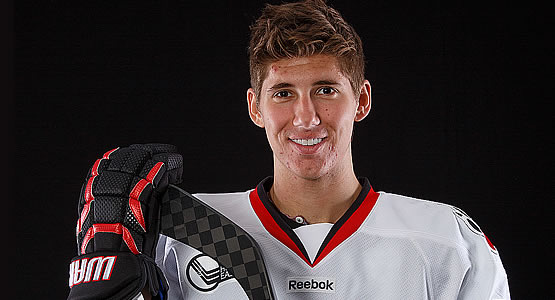 Freshman forward Jason Cotton scored a hat trick for the Huskies
| | | | | | | |
| --- | --- | --- | --- | --- | --- | --- |
| Prd | Time | Team | Score | Type | Scored By | Assists |
| 1st | 2:18 | NOE | 1-0 | EV | Kevin Roy | Dalen Hedges, Mike McMurtry |
| 1st | 2:48 | NOE | 2-0 | EV | Patrick Schule | Trevor Owens, Tanner Pond |
| 1st | 14:30 | NOE | 3-0 | PP GW | Zach Aston-Reese | Nolan Stevens, John Stevens |
| 2nd | 7:03 | NOE | 4-0 | EV | Mike McMurtry | Garret Cockerill |
| 3rd | 1:32 | NOE | 5-0 | EV | Adam Gaudette | Zach Aston-Reese, Sam Kurker |
| 3rd | 1:51 | SFR | 1-5 | EV | Mak Barden | Tyler Basham |
| 3rd | 3:42 | NOE | 6-1 | EV | Jason Cotton | Brendan Collier, Jarrett Fennell |
| 3rd | 8:30 | NOE | 7-1 | EV | Lincoln Griffin | Kevin Roy, Jarrett Fennell |
| 3rd | 16:57 | NOE | 8-1 | EV | Eric Williams | Brendan Collier |
| 3rd | 17:33 | SFR | 2-8 | EV | Adam Callegari | - |
| 3rd | 18:00 | NOE | 9-2 | EV | Jason Cotton | Trevor Owens, Jake Schechter |
| 3rd | 19:03 | NOE | 10-2 | EV | Jason Cotton | Adam Gaudette, Garret Cockerill |
| | | | | |
| --- | --- | --- | --- | --- |
| Scoring | 1st | 2nd | 3rd | Final |
| Simon Fraser | 0 | 0 | 2 | 2 |
| Northeastern | 3 | 1 | 6 | 10 |
| | | | | |
| --- | --- | --- | --- | --- |
| Shots on Goal | 1st | 2nd | 3rd | SOG |
| Simon Fraser | 3 | 2 | 6 | 11 |
| Northeastern | 23 | 23 | 17 | 63 |
| | | | |
| --- | --- | --- | --- |
| Team Stats and Records | PP | PIM | SHGF |
| Simon Fraser | 0/5 | 4/8 | 0 |
| Northeastern | 1/3 | 6/12 | 0 |
| | | | | | | |
| --- | --- | --- | --- | --- | --- | --- |
| Simon Fraser Goaltending | MIN | GA | 1 | 2 | 3 | Saves |
| Lyndon Stanwood (L) | 60:00 | 10 | 20 | 22 | 11 | 53 |
| | | | | | | |
| --- | --- | --- | --- | --- | --- | --- |
| Northeastern Goaltending | MIN | GA | 1 | 2 | 3 | Saves |
| Derick Roy (W) | 20:00 | 0 | 3 | 0 | 0 | 3 |
| Jake Theut | 20:00 | 0 | 0 | 2 | 0 | 2 |
| Ryan Ruck | 20:00 | 2 | 0 | 0 | 4 | 4 |
BOSTON - The Northeastern men's ice hockey got its season started in a big way on Sunday afternoon, firing 63 shots on Simon Fraser and scoring 10 times en route to a 10-2 victory at Matthews Arena. Jason Cotton recorded a hat trick, with all goals coming in the third period, while the Huskies received points from 18 different skaters.
All three of Northeastern's goaltenders saw action on Sunday as Derick Roy (three saves), Jake Theut (two saves) and Ryan Ruck (four saves) all played one period for the Huskies.
NU outshot Simon Fraser 63-11 in the game, and led 4-0 through 40 minutes of play before exploding for six goals in the final frame. The Huskies received goals from eight different skaters, including six goals from freshmen.
Goal descriptions:
- Northeastern controlled the puck in the SFU zone for nearly one minute, cycling the puck below the goal line until Dalen Hedges hit Roy with a pass at the right faceoff dot. Roy quickly settled the puck and fired it over Stanwood's glove just 2:18 into the game.
- Thirty seconds later, NU went up by two when Patrick Schule cleaned up the mess in front of the Simon Fraser net. After Tanner Pond won a faceoff back to Trevor Owens, Owens sent a low shot on goal from the point that Stanwood saved, but Schule was there to hammer home the rebound.
- Northeastern took a commanding three-goal lead with 5:30 left in the first period as Aston-Reese one-timed a pass from Nolan Stevens in the final seconds of an NU power play, beating Stanwood five-hole on a shot from the left dot.
- Mike McMurtry put the Huskies up 4-0 seven minutes into the second when he connected with Garret Cockerill on a give-and-go, ending with a McMurtry wrist shot over the glove of Stanwood from between the hashmarks.
- Adam Gaudette got into the action to make it 5-0 less than two minutes into the third period, finishing off a feed from Aston-Reese on the doorstep to beat Stanwood.
- SFU spoiled the shutout bid just 19 seconds after the Gaudette goal as Mak Barden took a pass from Tyler Basham and ripped a shot over Ruck's left shoulder.
- NU got the goal right back to take a 6-1 edge when Jason Cotton received a pass from Brendan Collier in transition, ripping a shot into the top right corner with 16:18 to go in regulation.
- Lincoln Griffin potted his first goal as a Husky, sending a low shot five-hole off a threaded pass from Roy for a 7-1 Northeastern advantage with 11:30 to play.
- Eric Williams extended the lead to 8-1 with 3:03 remaining when he one-timed a feed from Collier at the point, ripping a shot through traffic and past Stanwood.
- Simon Fraser got one back with 2:27 left as Adam Callegari's centering bid caught the stick of a Northeastern defenseman, redirecting the puck into the net.
- Cotton would add a pair of goals late in regulation, and completed the hat trick when he received a feed from Gaudette, sped towards the cage and deked Stanwood before tucking the puck inside the left post.
Stats of the game:
- All of Northeastern's newcomers (Jon Barry, Jason Cotton, Adam Gaudette, Lincoln Griffin, Sam Kurker, Ruck, Schule, Eric Williams) dressed in their first game as a Husky
- NU utilized all three of its goaltenders during the contest.
Up Next:
- The Huskies will open the regular season on Saturday night when Northeastern hosts Colgate at 7 p.m. from Matthews Arena.