Thursday, December 10, 2015
Skarupa Passes 200 Points As Boston College Upends Syracuse, 7-2
Skarupa (points), Crowley (wins) hit 200; Carpenter tallies four goals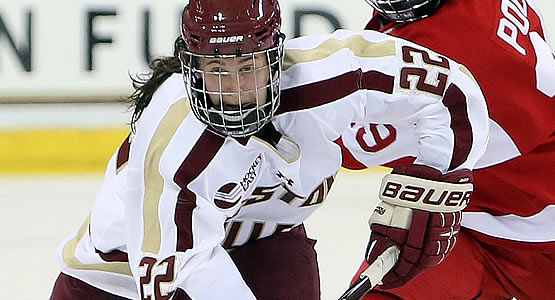 Senior forward Haley Skarupa posts five assists for Eagles
| | | | | | | |
| --- | --- | --- | --- | --- | --- | --- |
| Prd | Time | Team | Score | Type | Scored By | Assists |
| 1st | 2:01 | BC | 1-0 | EV | Makenna Newkirk (11) | Lexi Bender/15, Dana Trivigno/14 |
| 1st | 10:40 | BC | 2-0 | EV | Alex Carpenter (24) | Megan Keller/16, Haley Skarupa/21 |
| 1st | 16:43 | BC | 3-0 | EV GW | Alex Carpenter (25) | Haley Skarupa/22, Kenzie Kent/14 |
| 2nd | 3:09 | BC | 4-0 | EV | Alex Carpenter (26) | Haley Skarupa/23, Megan Keller/17 |
| 2nd | 4:05 | BC | 5-0 | EV | Dana Trivigno (6) | Haley Skarupa/24, Lexi Bender/16 |
| 2nd | 5:27 | BC | 6-0 | EV | Meghan Grieves (6) | Andie Anastos/13, Grace Bizal/5 |
| 2nd | 8:35 | SYR | 1-6 | EV | Melissa Piacentini (6) | Nicole Ferrara/9, Maddi Welch/1 |
| 3rd | 12:16 | BC | 7-1 | EV | Alex Carpenter (27) | Haley Skarupa/25, Ryan Little/2 |
| 3rd | 14:55 | SYR | 2-7 | EV | Melissa Piacentini (7) | Nicole Renault/7, Jessica Sibley/12 |
| | | | | |
| --- | --- | --- | --- | --- |
| Scoring | 1st | 2nd | 3rd | Final |
| Boston College | 3 | 3 | 1 | 7 |
| Syracuse | 0 | 1 | 1 | 2 |
| | | | | |
| --- | --- | --- | --- | --- |
| Shots on Goal | 1st | 2nd | 3rd | SOG |
| Boston College | 8 | 23 | 7 | 38 |
| Syracuse | 4 | 7 | 8 | 19 |
| | | | |
| --- | --- | --- | --- |
| Team Stats and Records | PP | PIM | SHGF |
| Boston College (20-0-0) | 0/1 | 2/4 | 0 |
| Syracuse (8-10-2) | 0/2 | 1/2 | 0 |
| | | | | | | |
| --- | --- | --- | --- | --- | --- | --- |
| Boston College Goaltending | MIN | GA | 1 | 2 | 3 | Saves |
| Katie Burt (W, 17-0-0) | 60:00 | 2 | 4 | 6 | 7 | 17 |
| | | | | | | |
| --- | --- | --- | --- | --- | --- | --- |
| Syracuse Goaltending | MIN | GA | 1 | 2 | 3 | Saves |
| Jenn Gilligan (L, 7-9-2) | 24:05 | 5 | 5 | 3 | 0 | 8 |
| Maddi Welch | 35:55 | 2 | 0 | 17 | 6 | 23 |
SYRACUSE, N.Y. - On a night of milestones, the second-ranked Boston College women's hockey team earned a 7-2 win at Syracuse on Thursday afternoon.
The win was head coach Katie Crowley's 200th career win - all at The Heights - while senior Haley Skarupa recorded her 200th career point to become just the third player in program history to reach that mark.
BC surged ahead to a 6-0 lead and then took a 7-1 lead - which included four goals from Alex Carpenter, as well as single goals from Makenna Newkirk, Dana Trivigno and Meghan Grieves - before Syracuse potted a final goal. Carpenter's final goal of the night also established a new BC career goals record, putting her at 117 on her career.
#2 Boston College 7, Syracuse 2
Tennity Ice Arena, Syracuse, N.Y.
Thursday, December 10, 2015
BC HIGHLIGHTS
- BC closed the first half of the season with a 20-0-0 record after the win
- Haley Skarupa recorded her 200th career point and ended the night with five assists pushing her career scoring total to 204 points
- Alex Carpenter tallied the Eagles' first four-goal night since December 1999 - a span of 16 years and improved her nation-leading goal-scoring total to 27 goals while capturing the BC career goal scoring record
- With the win, head coach Katie Crowley registered her 200th career win, all coming at Boston College
QUOTABLES
Senior Haley Skarupa
"It's a huge honor to reach 200 points and I couldn't have reached it without my teammates and coaches. They make it easy every single day, and the milestone is as much my teammates as mine because I couldn't have done it without them. Tonight was being in the right place at the right time. My linemates make it easy. (Alex) Carp(enter) buried a bunch, which made it easy."
Senior Alex Carpenter
"It was a great overall win tonight, especially having lost last time we were here. We had some big records up for grabs with Haley (Skarupa) getting her 200th point and Coach Crowley getting her 200th win. So I thought that getting those for them was special and, at the same time, ending the semester on a good note."
HOW IT HAPPENED
1st, 2:01 // 1-0 - BC GOAL: With the Eagles keeping pressure down load, Dana Trivigno dug the puck out from low in the corner and sent it up to Lexi Bender at the far point. Her shot found traffic in front, but Newkirk was there to knock it in for the 1-0 lead.
1st, 10:40 // 2-0 - BC GOAL: Alex Carpenter won the face-off and drew it back to Haley Skarupa. Skarupa then sent the puck behind the goal to Megan Keller in the far corner, who fed Carpenter in front as she found space in traffic to poke it under Gilligan for her first goal of the night.
1st, 16:43 // 3-0 - BC GOAL: Kenzie Kent got the puck along the boards in the Eagles' end and threaded a pass through center ice to Carpenter. Skarupa broke in on an odd-man rush with Carpenter, and the two traded passes before Carpenter wristed a shot high over Gilligan's shoulder for the 3-0 lead.
2nd, 3:09 // 4-0 - BC GOAL: Keller started the break deep in the Eagles' zone and sent a lofted pass down to Skarupa at the edge of the Orange's zone. Skarupa skated in deep, circled back and found Carpenter at the doorstep. Her first shot was saved, but she calmly slotted the rebound in for her fourth hat trick of the season.
2nd, 4:05 // 5-0 - BC GOAL: Lexi Bender started the break this time, finding Skarupa in neutral ice. She connected with Trivigno who coasted in and found space high on the near side of Gilligan for the Eagles' fifth goal. That was Gilligan's final shot faced as the Orange switched goaltenders after the strike.
2nd 5:27 // 6-0 - BC GOAL: Grace Bizal got the Eagles' rush started, charging up the blueline before laying it off to Meghan Grieves. Grieves then connected with Andie Anastos who skated deep into the far zone and put a shot on goal. Grieves followed the play and knocked in Anastos' rebound for the six-goal lead.
2nd, 8:35 // 6-1 - SYRACUSE GOAL: The Orange broke out on a 2-on-1 with Amanda Ferrara and Melissa Piacentini coming hard into the Eagles' zone. Ferrara played Piacentini wide and the winger curled inside and around Katie Burt for Syracuse's first goal.
3rd, 12:16 // 7-1 - BC GOAL: On a line change, Ryan Little kept the puck in the zone and played it back where Carpenter and Skarupa were ready. Skarupa played Carpenter in front and her first shot was saved but the rebound fell to her and she beat Welsh for her fourth goal of the night.
3rd, 14:55 // 7-2 - SYRACUSE GOAL: In a scrum along the post of BC's goal, Piancentini managed to find the puck and space behind Burt to poke it home past Burt.
GAME NOTES
- With her first assist on the night, Haley Skarupa tallied her 200th career point and became the third Eagle to reach the 200-point mark ... she finished the night with 204 career points ... she is now four points back of second place on the BC career scoring chart (209, Kelli Stack '11).
- Haley Skarupa set a new personal single-game best with five assists, passing her old mark of four which she set on Nov. 28, 2014 against Harvard ... she pushed her career total to 110 assists, one back of second place on the BC career chart, held by Kelli Stack '11 (111).
- Skarupa's five assists are the Eagles' first five-assist night since Emily Pfalzer recorded five against Syracuse on Oct. 4, 2014.
- Alex Carpenter recorded her fourth hat trick of the season and her seventh career hat trick ... her four hat tricks this season tied for second on the Eagles' single-season chart, matching Erin Magee's four in 1998-99 ... the single-season record is five, held by Magee (1995-96) and Jennifer Buckley (2000-01) ... the career record is 11, held by Magee ... Carpenter is now second in the career totals (7).
- Carpenter's four goals lifted her into first place on the BC career goals chart with 117 career goals, passing Erin Magee '99 who had 116 career tallies.
- Carpenter's four-goal effort was BC's first four-goal outing since Jennifer Buckley did so on Dec. 29, 1999 against Vermont.
- Lexi Bender picked up two assists tonight, pushing her season total to 16 ... she now has 65 career assists, second on the BC career assist chart for defenseman ... her 82 career points now tie her for third on the BC defenseman career scoring chart, matching the career mark of Blake Bolden '13
- Dana Trivigno's two points moved her to within two points of BC's top 10 for career scoring ... she now has 111 career points, just shy of the 113 held by 10th-place Mary Restuccia '12
- Megan Keller moved her season point total to 24 points in 20 games, now matching her 37-game total she recorded as a freshman in 2014-15
- Meghan Grieves recorded her sixth goal of the season and her second goal in the last three games
- Grace Bizal picked up her fifth assist of the season and her fourth in the last five games
- Makenna Newkirk tallied her 11th goal of the season, which leads the nation among freshmen
- Today's game was the fifth meeting between the two teams ... BC now leads the series 3-1-1 and have won the last two matches
- BC has scored at least five goals in each of the team's last five games, tallying 34 goals in that stretch.
- The Eagles are now 7-0-0 against non-conference opponents this season
- The Eagles are now 9-0-0 on the road this season, and have out-scored their opponents 52-7 in away games this year
- The win extended the Eagles' program-best start to 20-0-0 ... this is the deepest in a season BC has remained perfect in program history
TEAM RECORDS
Boston College: 20-0-0, 13-0-0 HEA
Syracuse: 8-10-0, 5-1-2 CHA
UP NEXT
After a month off for the holiday break, Boston College will next play on Saturday, Jan. 9, 2016, when the team heads down Commonwealth Ave., to face Boston University at 3 p.m.