BOSTON UNIVERSITY UPENDS NEW BRUNSWICK, 4-1
John McCarthy posts two assists for Terriers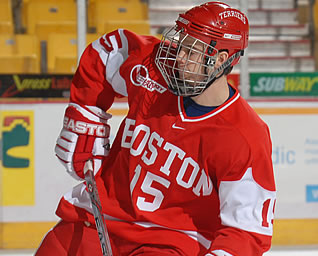 John McCarthy had two assists for the Terriers
BOSTON, Mass. - Behind a trio of first-period goals, the Boston University men's ice hockey team posted a 4-1 victory over New Brunswick in an exhibition contest at Agganis Arena on Sunday afternoon. Freshman Vinny Saponari had a goal and an assist and senior co-captain John McCarthy recorded a pair of assists for the Terriers, who will open their 2008-09 campaign on Friday (Oct. 10) when they host North Dakota in the Ice Breaker Invitational.
The Terriers' freshman class was well represented in its first appearance, as three newcomers each scored in the opening period to give BU a 3-0 lead and first-year goaltenders Kieran Millan (8) and Grant Rollheiser (15) combined to make 23 saves.
Freshman Chris Connolly opened the scoring just under five minutes into the game as the beneficiary of a great defensive play by sophomore Nick Bonino.
With New Brunswick looking to get the puck out of its zone from behind the goal, Bonino stole the puck in front of the crease and found Connolly all alone on the left side, where he placed a shot past UNB netminder Derek Yeomans.
Following consecutive penalties by the Varsity Reds later the opening stanza, the Terriers made it a 2-0 contest on the power play. From the left side, Vinny Saponari sent a pass to McCarthy, who was in the slot, but the puck was redirected to freshman Corey Trivino, who rifled home a shot from the bottom of the right circle at 14:10.
Just over three minutes later, Saponari kickstarted an odd-man rush by feeding senior co-captain Matt Gilroy, who brought the puck up along the right side. Upon nearing the crease, Gilroy sent it across the way, where McCarthy tried to tap it in before Saponari crashed the cage and elevated the puck past Yeomans at 17:19.
New Brunswick got on the board midway through the second when a shot that was destined to sail wide of the cage instead went off the skate of a BU defender just outside the right post.
After Millan stopped eight of the nine shots on goal he faced in 32:41 of action, Rollheiser posted over 27 minutes of shutout work.
Senior Jason Lawrence tacked on an empty-netter with 11 seconds left in regulation on assists from sophomore Colin Wilson and junior Eric Gryba.
The Terriers held a 25-24 edge in shots and were 1-of-4 on the power play. The Varsity Reds, who got a 21-save performance from Yeomans, were 1-of-7 with the man advantage.