2019 Women's Hockey East Tournament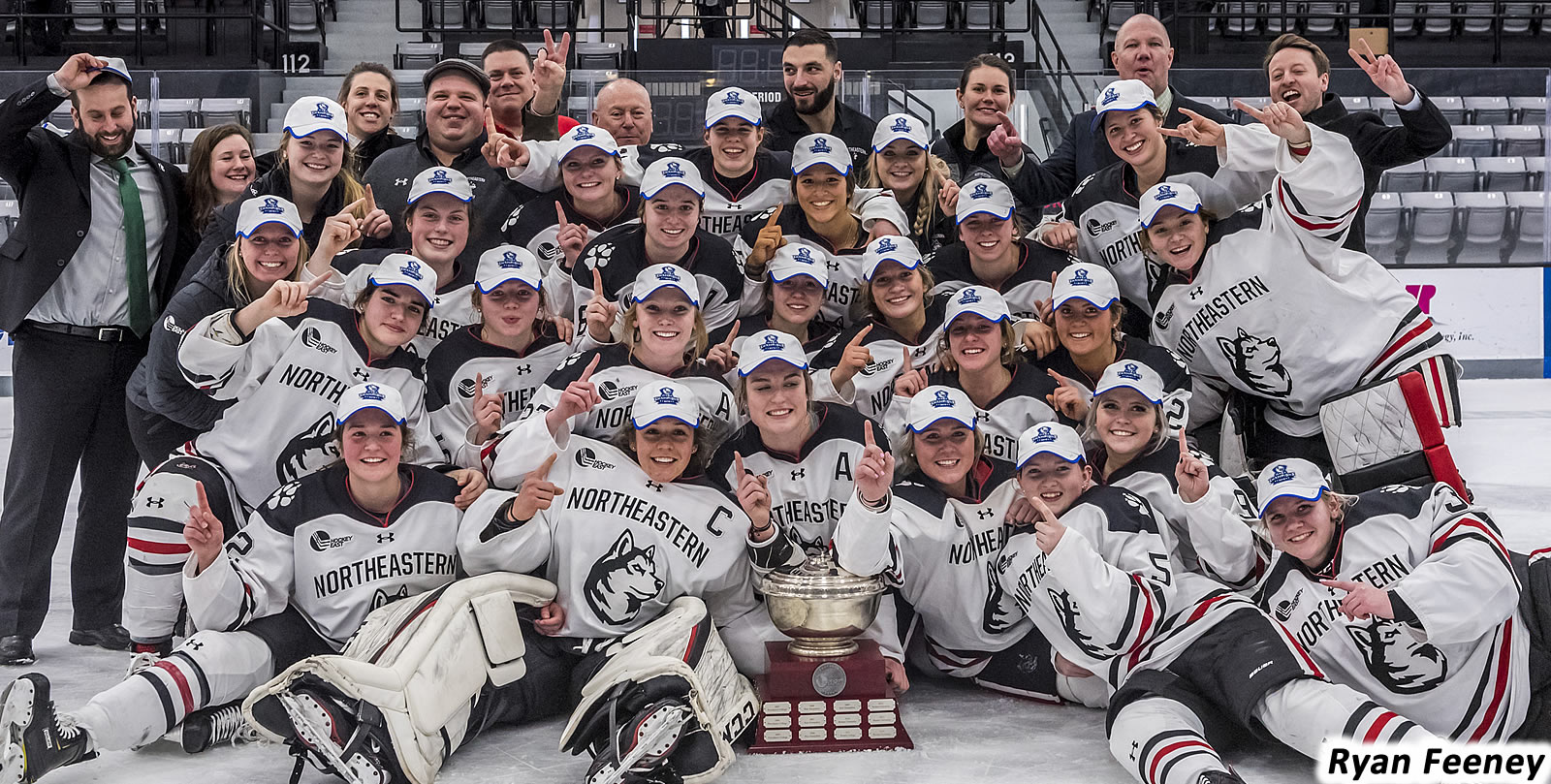 Northeastern earned its second straight Women's Hockey East Tournament title in 2019

Kasidy Anderson's goal at 12:39 of overtime sent the No. 3 Northeastern women's hockey team to its second straight Hockey East championship in a thrilling 3-2 victory over No. 6 Boston College on Sunday at Schneider Arena.
Behind a 30-save performance from tournament MVP Aerin Frankel, and goals from Anderson, junior Andrea Renner and freshman Alina Mueller, Northeastern (27-5-5) claimed its second Hockey East tournament championship in program history and will appear in the NCAA tournament for the third time in the last four seasons.
Frankel, Mueller and sophomore Skylar Fontaine were all named to the Hockey East All-Tournament Team after the game. With the victory, Frankel improved to 8-0-0 in her career at the competition and became the fourth two-time MVP in Hockey East history.
Renner got the Huskies going with the opening goal in the final minutes of the first period, stashing home a loose puck at the right of the net after a shot from Fontaine.
Boston College (26-11-1) evened the score on a 5-on-3 early in the second period and had numerous chances to take the lead in the middle frame if not for a series of incredible stops by Frankel.
Mueller gave Northeastern the lead back at 14:53 of the third period, netting her 21st goal of the season with a shot through traffic from the high slot.
The goal appeared to stand as the game-winner, until BC found a way to equalize with just five seconds remaining in the third period as Kali Flanagan's slap-shot found the back of the twine to force overtime.
As is has done all season when facing adversity, Northeastern found a way to battle back and eventually won the game when Anderson forced a turnover in the neutral zone and flipped a backhand over the blocker of BC's Maddy McArthur (22 saves) to seal the title.
The victory gave NU its first title-game win over BC in three tries and handed the Huskies their 27th victory of the season - tied for the second-most in a season in program history. .