TERRIERS MOVE ON TO FROZEN FOUR WITH 2-1 WIN OVER WILDCATS
Jason Lawrence scores game-winner with 14.4 seconds remaining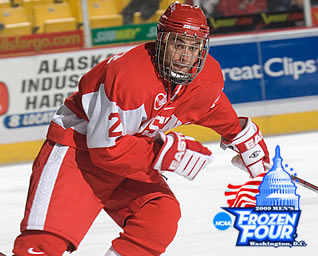 Jason Lawrence scored the game-winner for the Terriers
MANCHESTER, N.H. - A power-play goal by senior Jason Lawrence with 14.4 seconds left in regulation lifted the top-ranked Boston University men's ice hockey team to its first Frozen Four in 12 years, as the Terriers edged New Hampshire, 2-1, on Sunday evening at Verizon Wireless Arena. The Terriers will carry a 33-6-4 record and a five-game winning streak into the Frozen Four, where they will face Vermont on April 9 in Washington.
With the score tied at 19:14 in the third period, UNH sophomore James van Riemsdyk was whistled for hooking to give the Terriers a late power-play opportunity. Lawrence scored the winner by taking a shot from the left of the crease that was headed wide, but a UNH defenseman sprawled on the ice in an attempt to block the pass and knocked the puck into the goal.
Freshman goaltender Kieran Millan was outstanding all game for the Terriers making a handful of standout stops in a 12-save first period and collecting 27 saves in the game.
Lawrence was named the Most Outstanding Player of the Northeast Regional and was joined on the All-Tournament Team by Millan, senior defenseman Matt Gilroy and sophomore forward Nick Bonino. UNH's Kevin Kapstad and Peter LeBlanc were also named to the All-Tournament Team.
The Terriers got on the board first 13:43 into the game on a goal by freshman Corey Trivino, but the Wildcats recorded an equalizer just under six minutes into the second.
With the game tied at 1 entering the third, the Terriers had 1:17 left in power play and also had another chance with the man advantage just over two minutes into the period, but could not capitalize.
UNH got its power-play unit on the ice soon after on a BU hooking call and had a shot rattle the crossbar with under 14 minutes left in regulation, but did not threaten the rest of the penalty.
The Wildcats had back-to-back breakaway chances near the 15-minute mark of third, first a 3-on-1 and then a 2-on-1, but Millan was up to the task both times, capped by a fantastic glove save.
The Terriers' all-freshman line of Trivino, Chris Connolly and Vinny Saponari provided the game's first goal. After taking a pass from Saponari, Connolly fired from the left circle and had his shot saved by Foster, but Trivino was positioned above the crease and sent home the rebound for his second goal in as many nights.
UNH evened the game at 5:52 of the second with a goal in transition, as junior Bobby Butler knocked in a rebound above the right post following a shot by classmate Peter LeBlanc. Senior Greg Collins also assisted on the play.