Saturday, November 29, 2008
VERMONT NOTCHES 3-2 WIN AGAINST MAINE
Josh Burrows picks up game-winning goal and assist for Catamounts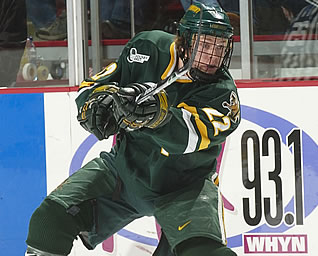 Josh Burrows had a goal and an assist for the Catamounts
BURLINGTON, Vt. - No. 13 Vermont found another way to win a close game.
Sophomore defenseman Josh Burrows (Prairie Grove, Ill.) setup the tying goal and recorded the game winner at 10:28 of the third period to lead the Catamounts to a come-from-behind 3-2 victory against Maine in front of a sellout crowd at Gutterson Fieldhouse on Saturday night. Vermont has won five straight contests, all by one goal, to improve to 9-3-2 (6-3-1 HEA).
OTHER LINKS: Kevin Sneddon Video - Brian Roloff Video
The Catamounts moved into sole possession of second place in Hockey East with the victory and are 7-1 in one-goal games this season. Vermont is 17-4 in one-goal games dating back to the start of last season.
"Welcome to Hockey East," Vermont head coach Kevin Sneddon said. "There are going to be a lot of these tight games. It was a real testament to our student-athletes to come out of this stretch with eight points."
The win was the fourth in the last eight days for Vermont, who ended a seven-game unbeaten streak for Maine (7-4-1, 4-3-1 HEA). The last loss for the Black Bears had come on Oct. 25 at Hockey East leading Northeastern.
Junior Brayden Irwin (Toronto, Ont.) scored his fifth goal of the season and sophomore Wahsontiio Stacey (Kahnawake, Quebec) also notched a goal for the Catamounts.
Freshmen Gustav Nyquist and Brian Flynn scored goals for Maine.
With Vermont trailing 2-1 in the third period, Burrows made a great play at the half board to keep the puck in the Maine zone. He skated deep into the corner and fed Stacey in the low slot for a backhander at 5:19 to tie the game.
Then Burrows scored the game winner on a hard shot from the top of the left circle with less than 10 minutes remaining.
"(Brian) Roloff won a great battle on the side, looked out, I looked towards the net and there were a lot of bodies," Burrows said. "So I threw it in there and it went it."
It was the second goal of the season for Burrows and the fourth of his career. Roloff picked up his seventh assist of the season, which ranks tied for second on the team.
"It's a tribute to the team and a tribute to Coach Sneddon (that we kept going)," Roloff said. "He challenged us between the second and third and I thought the team did a good job of responding."
Vermont out shot Maine 11-1 in the first 10 minutes of the opening period and took a 1-0 lead at 7:51 of the first. Irwin scored at the left post on a cross-ice feed from Viktor Stalberg (Gothenburg, Sweden), who has recorded at least one point in seven of the last eight games.
Nyquist tied the game 1-1 with a quick wrist shot from the right circle with 2:37 remaining in the first. It was his team leading sixth goal and 11th point of the season.
Maine held Vermont to just four second period shots and took a 2-1 advantage at 2:54 of the period. Flynn was credited with the goal when he sent the puck towards the slot and it went off Burrows into the Vermont net.
However, the Catamounts were able to come from behind for a second straight game when trailing after two periods. Vermont rallied to defeat No. 17 UMass 3-2 in overtime on Tuesday. After winning just once in its previous 60 tries when trailing after 40 minutes, Vermont has now done it in back-to-back games.
"It's always this type of game with Maine," Sneddon added. "It was a fantastic game and that's what Tim (Whitehead) said to me after the game. He just enjoys when UVM and Maine play, and I do as well. I don't think we have had many games where it hasn't been a one goal or a tie game. I think their staff deserves a lot of credit, I think they played a great game."
Junior Mike Spillane (Bow, N.H.) made 21 saves and improved to 5-2-1. Maine freshman Scott Darling, who entered the contest first in the country in goals against average and save percentage, stopped 20 shots in the loss. It was just the third time Maine has allowed more than two goals in a game this season.
Vermont returns to action next Friday (Dec. 5) at 8 p.m. against the USA U-18 Team at Gutterson Fieldhouse.
NOTES: Vermont finished the month of November with a 7-2-1 mark ... Both teams went scoreless on the power play (Maine 0-for-3; Vermont 0-for-2) ... Vermont is 8-1-1 when scoring at least three goals this season ... The sellout was the 80th in the last 86 games at Gutterson Fieldhouse ... The Catamounts (13 points) trail only Northeastern (15 points) in the Hockey East standings ... Vermont didn't win its ninth game last season until Feb. 15.