Saturday, February 14, 2009
MASSACHUSETTS UPENDS NORTHEASTERN, 4-1
Justin Braun posts goal and assist for Minutemen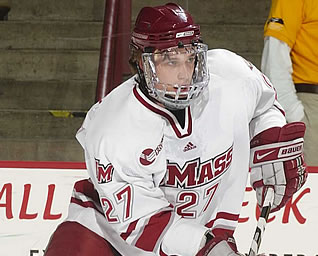 Justin Braun had a goal and an assist for the Minutemen
BOSTON, Mass. - UMass got a goal and an assist from Justin Braun and the game-winner from Casey Wellman en route to a 4-1 win over Northeastern on Saturday night at Matthews Arena. The Huskies got a goal from Chris Donovan and 24 saves from netminder Brad Thiessen. Junior goalie Dan Meyers made 21 saves for the Minutemen.
After the loss, Northeastern is 20-8-2 overall and 15-5-1 in Hockey East. Massachusetts improved to 12-15-3 overall and 7-11-3 in Hockey East. The Huskies topped the Minutemen, 5-3, Friday night at the Mullins Center.
For the second night in a row, the Minutemen got out to a 2-0 lead after the first period. Both came on power plays. NU defenseman Dan Nycholat took a penalty for contact to the head-high sticking and Braun scored the first goal of the game at 13:27. He got assists from Topher Bevis and James Marcou. Late in the period, NU's Joe Vitale took an interference penalty. UMass capitalized when Marcou passed the puck out from behind the goal line to Wellman, who fired an open shot into the top of the net at 19:55 in the first.
The Minutemen added to the lead in the second period on a Michael Lecomte goal at 10:27. He got the puck in the slot from Danny Hobbs and shot it into the top right corner to make it 3-0.
The Huskies had some good scoring opportunities in the second, including a Ryan Ginand shot off the pipe on a power play in the eighth minute, and two more power play opportunities later in the period.
Defenseman Matt Irwin made it 4-0 in favor of the Minutemen with a shot from the blueline at 12:03 in the third period.
Donovan got the Huskies on the board shortly after Irwin's goal. Greg Costa got the puck in the neutral zone and passed it to defenseman J.P. Maley, who took it beyond the UMass goal line. Maley passed it to Donovan at the goal line on the left side and Donovan roofed a shot over Meyers's shoulder to make it 4-1 at 13:44 in the third period.
Next weekend, the Huskies have a home-and-home series with Boston University. NU plays BU at Agganis Arena on Friday night at 7 p.m. and the teams rematch on Saturday at Matthews Arena at 8 p.m. Both games will be broadcast on 890 ESPN Boston. Saturday's game will also be broadcast on WRBB Radio and have live video on GoNU.TV.