COLBY COHEN LIFTS TERRIERS PAST RIVER HAWKS IN OVERTIME, 5-4
Colby Cohen gets overtime game-winner for BU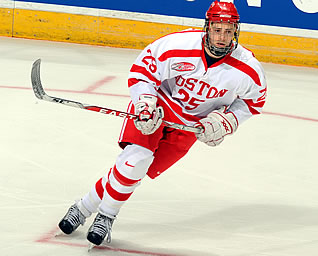 Colby Cohen scored the game-winner for BU
LOWELL, Mass. - The #8 UMass Lowell River Hawks fell 5-4 in overtime to #4 Boston University in a rematch of last season's Hockey East Finals. The River Hawks were led by Nick Schaus (Buffalo, NY) who notched a goal and an assist in the loss.
OTHER LINKS: Blaise MacDonald Audio (mp3)
Suffering its first conference defeat of the season, UMass Lowell slides to 3-2-0 overall and 1-1-0 in HE. The defending National Champion Terriers improve to 2-2-0 on the season and 1-1-0 in conference play.
Despite the high-scoring result, the first period ended in a 0-0 tie. Boston University finally broke the spell 6:42 into the second period on an Alex Chiasson (St. Augustin, Que.) goal following a turnover in neutral ice.
The River Hawks responded just a few minutes later as Schaus fed Ben Holmstrom (Colorado Springs, CO) on the low block. Holmstrom's shot ringed off the post, but the rebound kicked to Paul Worthington (Langhorne, PA) for his third score of the season at 9:55 into the second.
The Terriers didn't stay quiet for long as they pulled off a short-handed goal at the 11:51 mark by David Warsofsky (Marshfield, MA) from Chris Connolly (Duluth, MN).
UMass Lowell bounced right back again on a Michael Scheu (Buffalo, NY) score just 1:59 later, his first of the season. Ryan Blair (Ashburn, VA) sent the puck into the Boston University zone and David Vallorani (Hamilton, Ont.) peeled off a shot that went wide of the net. The puck kicked back on the opposite side for a quick strike by Scheu to tie the game.
Michael Budd (Burlington, Ont.) capped the five-goal second period with a score at the 17:24 mark. Vallorani pushed the puck up to Budd who ripped the well-placed shot passed goaltender Kieran Millan (Edmonton, Alta.).
The third period opened in an ominous manner as the Terriers scored two goals, by Zach Cohen (Schaumburg, IL) and Warsofsky.
The River Hawks were revived with less than five minutes remaining in regulation as Schaus passed to Matt Ferreira (Brampton, Ont.) from behind the net. Ferreira's shot trickled just wide, but Schaus swooped around to the other-side and knocked the puck in to tie the game at 4-4.
Boston University delivered the final blow at 3:54 into the five-minute overtime period on a give-and-go power play goal by Colby Cohen (Villanova, PA) from Kevin Shattenkirk (New Rochelle, NY).
Goalie Carter Hutton (Thunder Bay, Ont.) stopped 23-of-28 shots as he fell to 2-2-0 on the season. Millan made 32 saves to improve to 2-2-0 despite allowing four goals.
UMass Lowell will have another shot at redemption as they travel to Agganis Arena to play the Terriers once more at 7 p.m. tomorrow evening.