Friday, February 13, 2015
Petruzzelli Lifts Vermont To 3-2 Overtime Win At Boston College
Freshman forward Anthony Petruzzelli scores 1:47 into overtime for Catamounts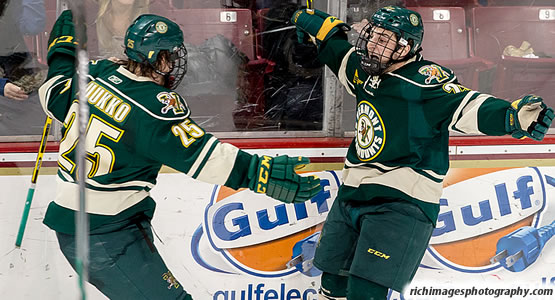 Freshman forward Anthony Petruzzelli scored the game-winning goal for the Catamounts
| | | | | | | |
| --- | --- | --- | --- | --- | --- | --- |
| Prd | Time | Team | Score | Type | Scored By | Assists |
| 1st | 6:09 | VER | 1-0 | EV | Brady Shaw (12) | Jake Fallon/13, Nick Luukko/8 |
| 1st | 14:45 | BC | 1-1 | PP | Austin Cangelosi (5) | Ryan Fitzgerald/7, Destry Straight/5 |
| 2nd | 11:15 | VER | 2-1 | PP | Kevin Irwin (6) | Nick Luukko/9, Mike Stenerson/9 |
| 3rd | 19:51 | BC | 2-2 | EV EA | Alex Tuch (11) | Noah Hanifin/13, Michael Matheson/16 |
| OT | 1:47 | VER | 3-2 | EV GW | Anthony Petruzzelli (6) | Jonathan Turk/7, Mike Paliotta/20 |
| | | | | | |
| --- | --- | --- | --- | --- | --- |
| Scoring | 1st | 2nd | 3rd | OT | Final |
| Vermont | 1 | 1 | 0 | 1 | 3 |
| Boston College | 1 | 0 | 1 | 0 | 2 |
| | | | | | |
| --- | --- | --- | --- | --- | --- |
| Shots on Goal | 1st | 2nd | 3rd | OT | SOG |
| Vermont | 11 | 13 | 8 | 2 | 34 |
| Boston College | 6 | 5 | 13 | 0 | 24 |
| | | | |
| --- | --- | --- | --- |
| Team Stats and Records | PP | PIM | SHGF |
| Vermont (17-10-2) | 1/5 | 4/8 | 0 |
| Boston College (17-10-2) | 1/3 | 6/12 | 0 |
| | | | | | | | |
| --- | --- | --- | --- | --- | --- | --- | --- |
| Vermont Goaltending | MIN | GA | 1 | 2 | 3 | OT | Saves |
| Mike Santaguida (W, 6-6-0) | 61:47 | 2 | 5 | 5 | 12 | 0 | 22 |
| | | | | | | | |
| --- | --- | --- | --- | --- | --- | --- | --- |
| Boston College Goaltending | MIN | GA | 1 | 2 | 3 | OT | Saves |
| Thatcher Demko (L, 15-9-2) | 60:27 | 3 | 10 | 12 | 8 | 1 | 31 |
| Empty Net | 1:20 | 0 | | | | | |
CHESTNUT HILL, Mass. - Freshman Alex Tuch scored a late, dramatic goal with 9.6 seconds left in regulation to force overtime, but No. 17 Vermont's Anthony Petruzzelli answered 1:47 into overtime to sink No. 10 Boston College, 3-2, on Friday night at Kelley Rink.
Tuch notched his third goal in two games to tie sophomore Adam Gilmour for the team lead in points (23) in timely fashion, but a defensive breakdown in front of Eagle netminder Thatcher Demko ultimately lead to BC's demise.
Boston College trailed, 2-1, and lifted Demko with 1:20 left in regulation. Junior defenseman Michael Matheson raced back to win a battle behind the Catamounts' net and fished it out to freshman defenseman Noah Hanifin in Vermont's zone. Hanifin built his speed and charged in on UVM goalie Mike Santaguida and went coast-to-coast with a great look in front. The original stop was made but Tuch swooped in from behind and potted the rebound five-hole on Santaguida with 9.6 seconds left in regulation to tie it, 2-2.
Both teams scored on the power play as BC went 1-for-3 while the Catamounts turned in a 1-for-5 power play effort.
Vermont outshot the Eagles, 34-24, as BC lobbed 13 shots on Santaguida in the third frame.
Sophomore Austin Cangelosi netted his second power play goal of the season while Demko steered away 31 shots in the overtime setback.
Vermont attacked first on a broken clearing attempt in the neutral zone. Nick Luukko and Jake Fallon descended on the puck just above the blue line and Fallon came away with it and an open lane to the far post. Brady Shaw curled around behind Demko's peripheral and tapped in Fallon's hard feed at 6:09 of the first to give the Catamounts a 1-0 lead.
Cangelosi tied it up on Boston College's first power play chance of the night as the first period waned on.
The Eagles dominated the draw after Ori Abramson was cited for roughing at 14:09. The Eagles got the puck on net and senior Destry Straight offered his first chance in tight from the near post. Second-year forward Ryan Fitzgerald took the next swat from Straight's carom and Cangelosi finished the job as the puck squirted back out to the crease. Cangelosi found a hole through the pile and locked it up, 1-1, at 14:45 on the power play.
Vermont reclaimed its original lead midway through the second period by taking advantage of an Ian McCoshen's slashing call cited at 10:00.
The Catamounts cycled down low after Mike Stenerson rimmed it out to Luukko on the near post. Luukko triggered, but Demko made the initial stop. Kyle Irwin corralled the loose rebound, carried it to the top of the zone and beat Demko with a low wrister through a screen to make it 2-1, UVM, on the power play.
Demko kept the Eagles within striking distance with a sturdy breakaway stop on Colin Markison midway through the third stanza. The Eagles gained momentum and finally gave way to Tuch's equalizer with 9.6 second left.
In the overtime session, Petruzzelli was able to roof an initial bid from Jonathan Turk. After accepting Mike Paliotta's pass, Turk shot on Demko from the right dot. The puck bounced off the pads onto the crease where Petruzzelli was able to win it in tight, 3-2, 1:47 into overtime.
Boston College will run it back at Kelley Rink with Vermont tomorrow afternoon at 4:30 p.m. Saturday's game time was moved from its original game time of 7 p.m. in an effort to avoid the incoming weather.
Game Notes
- Thatcher Demko started his 50th-career contests Friday night. Through 50 games as the Eagles' backstopper, the San Diego native is 31-14-5 with a .922 save percentage and 2.19 goals against average. Demko has stopped 696-of-752 shots faced.
- Alex Tuch has scored his third goal in two games and fourth in just as many. The Baldwinsville, N.Y., native is now tied for the team lead with 23 points (Adam Gilmour) and his extra attacker goal with 9.6 seconds left to force overtime marked BC's first goal of its kind this season.
- Austin Cangelosi scored his second power play goal of the season and first since logging his first-career PPG against Brown.
- Vermont was 1-15 at Kelley Rink heading into tonight's game since joining Hockey East. That marked the Catamounts' first victory at Boston College since a 3-2 loss on Nov. 15, 2009.
- Boston College is 0-2-2 in overtime games this season.