Vermont Defeats Maine In Overtime, 3-2, To Take Opening Round Series
Junior forward Jonathan Turk scores game-winning goal for Catamounts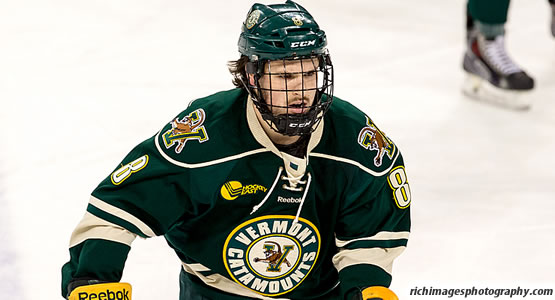 Junior forward Jonathan Turk scored the game-winning goal for the Catamounts
| | | | | | | |
| --- | --- | --- | --- | --- | --- | --- |
| Prd | Time | Team | Score | Type | Scored By | Assists |
| 1st | 11:25 | VER | 1-0 | PP | Brady Shaw (16) | Brendan Bradley/16, Mike Paliotta/25 |
| 2nd | 8:37 | VER | 2-0 | EV | Kevin Irwin (7) | Colin Markison/16, Mike Paliotta/26 |
| 3rd | 2:05 | MNE | 1-2 | EV | Ben Hutton (9) | Dan Renouf/9, Nolan Vesey/13 |
| 3rd | 15:19 | MNE | 2-2 | EV | Devin Shore (14) | Steven Swavely/20, Will Merchant/4 |
| OT | 16:05 | VER | 3-2 | EV GW | Jonathan Turk (7) | Anthony Petruzzelli/8, Nick Luukko/12 |
| | | | | | |
| --- | --- | --- | --- | --- | --- |
| Scoring | 1st | 2nd | 3rd | OT | Final |
| Maine | 0 | 0 | 2 | 0 | 2 |
| Vermont | 1 | 1 | 0 | 1 | 3 |
| | | | | | |
| --- | --- | --- | --- | --- | --- |
| Shots on Goal | 1st | 2nd | 3rd | OT | SOG |
| Maine | 14 | 7 | 11 | 7 | 39 |
| Vermont | 8 | 10 | 5 | 7 | 30 |
| | | | |
| --- | --- | --- | --- |
| Team Stats and Records | PP | PIM | SHGF |
| Maine (14-22-3) | 0/7 | 5/10 | 0 |
| Vermont (20-13-4) | 1/4 | 8/16 | 0 |
| | | | | | | | |
| --- | --- | --- | --- | --- | --- | --- | --- |
| Maine Goaltending | MIN | GA | 1 | 2 | 3 | OT | Saves |
| Sean Romeo (L, 7-13-1) | 76:05 | 3 | 7 | 9 | 5 | 6 | 27 |
| | | | | | | | |
| --- | --- | --- | --- | --- | --- | --- | --- |
| Vermont Goaltending | MIN | GA | 1 | 2 | 3 | OT | Saves |
| Mike Santaguida (W, 9-8-2) | 76:05 | 2 | 14 | 7 | 9 | 7 | 37 |
BURLINGTON, Vt. - Jonathan Turk rifled a centering pass from Anthony Petruzzelli high glove side on Sean Romeo with four minutes left in overtime on Sunday night to lift 17th-ranked Vermont past Maine 3-2 at Gutterson Fieldhouse.
No. 7 seed UVM claimed the best-of-three Hockey East Opening Round series 2-1 over the Black Bears and advances to face No. 3 seed Boston College next weekend in the Hockey East Quarterfinals at Conte Forum.
The Catamounts improved to 20-13-4 and posted their second straight 20-win season for the first time since NCAA Tournament teams of 1996 and 1997. The Black Bears finished their season with a record of 14-22-3.
Mike Santaguida posted a career-high 37 saves in the victory and the Catamounts went a perfect 7-for-7 on the penalty kill. Mike Paliotta registered a pair of assists to bring his team-high total to 26.
"Every student-athlete that participated tonight gave it absolutely everything they had," said head coach Kevin Sneddon. "We were fortunate to have Turk come down the slot and absolutely bury that one. We were resilient all weekend. I don't think anybody watching could say that our guys didn't absolutely leave everything they possibly had out there.
Vermont held a 2-0 lead heading into the third period, but Maine stormed back to force overtime. Just 2:05 into the final frame, defenseman Ben Hutton collected a pass in the left circle from Dan Renouf and lifted a shot past Santaguida.
With under five minutes remaining in regulation, Devin Shore capitalized on a turnover in the low right circle as he spun and fired a shot top shelf glove side to tie the score at two.
The teams traded chances in overtime before Petruzzelli put a shot on goal near the right post. Romeo fumbled the puck as the freshman picked it up and skated behind the net. Petruzzelli fed a backhand pass into the slot for a cutting Turk, and the junior stepped into a one-time drive to win the game.
"I saw just saw a loose puck at the point and tried to get a shot down low," said Turk. "Petruzzelli got it behind the net, kind of gave a no-look pass, it found me and I just tried to shoot it through the net as hard as I could. It was awesome, the biggest goal I've ever scored in my life."
For the first time in the series, UVM scored first through Brady Shaw on the power play at the 11:25 mark of the opening period. Paliotta fired a slap shot on goal from the right point, and Brendan Bradley's tip deflected off Shaw's skate inside the left post to open the scoring. Shaw posted his team-best seventh power play tally of the season.
Kevin Irwin doubled the lead eight and a half minutes into the second, wristing a shot into the upper right corner past Romeo's glove on a transition rush. Colin Markison and Paliotta collected the assists on Irwin's seventh of the year.
"I loved the way we battled back. We were real positive. It's tough giving up a lead that way but we found a way to win and that's what's important right now," said Paliotta.
Turk's game-winner was his third of the season. Maine finished the night with a 39-30 edge in shots as Romeo tallied 27 saves.
The Catamounts begin the best-of-three league quarterfinals next Friday night (March. 13) against Boston College in Chestnut Hill, Massachusetts. Pre-game radio coverage begins 30 minutes prior to faceoff each night on WVMT 620-AM, SportsJuice.com, and the TuneIn Radio app with Alastair Ingram on the call.
Pack Network will stream all the action next weekend on a pay-per-view basis via HockeyEastOnline.TV. Fans can purchase a league pass for up to 20 playoff games for $59.95, and individual games are available for $9.95 each.