Boston College Skates Past Army West Point, 5-1
Freshman forward Miles Wood posts goal and two assists for Eagles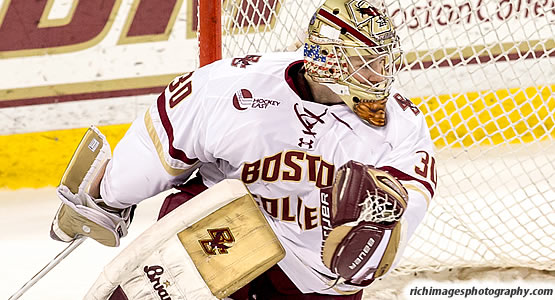 Junior goaltender Thatcher Demko made 23 saves for the Eagles
| | | | | | | |
| --- | --- | --- | --- | --- | --- | --- |
| Prd | Time | Team | Score | Type | Scored By | Assists |
| 1st | 10:04 | BC | 1-0 | EV | Miles Wood (1) | - |
| 2nd | 12:01 | BC | 2-0 | EV GW | Chris Calnan (1) | Austin Cangelosi/1, Miles Wood/1 |
| 2nd | 18:57 | BC | 3-0 | PP | Casey Fitzgerald (1) | Scott Savage/1, Miles Wood/2 |
| 3rd | 3:26 | BC | 4-0 | EV | Chris Brown (1) | Alex Tuch/1, Casey Fitzgerald/1 |
| 3rd | 6:16 | ARM | 1-4 | PP | Trevor Fidler (1) | Mike Preston/1, Conor Andrle/1 |
| 3rd | 7:59 | BC | 5-1 | PP | Zach Sanford (1) | Teddy Doherty/1, Alex Tuch/2 |
| | | | | |
| --- | --- | --- | --- | --- |
| Scoring | 1st | 2nd | 3rd | Final |
| Boston College | 1 | 2 | 2 | 5 |
| Army West Point | 0 | 0 | 1 | 1 |
| | | | | |
| --- | --- | --- | --- | --- |
| Shots on Goal | 1st | 2nd | 3rd | SOG |
| Boston College | 12 | 13 | 15 | 40 |
| Army West Point | 8 | 10 | 6 | 24 |
| | | | |
| --- | --- | --- | --- |
| Team Stats and Records | PP | PIM | SHGF |
| Boston College (1-0-0) | 2/10 | 12/40 | 0 |
| Army West Point (0-1-0) | 1/6 | 17/58 | 0 |
| | | | | | | |
| --- | --- | --- | --- | --- | --- | --- |
| Boston College Goaltending | MIN | GA | 1 | 2 | 3 | Saves |
| Thatcher Demko (W, 1-0-0) | 59:55 | 1 | 8 | 10 | 5 | 23 |
| Empty Net | 0:05 | 0 | | | | |
| | | | | | | |
| --- | --- | --- | --- | --- | --- | --- |
| Army West Point Goaltending | MIN | GA | 1 | 2 | 3 | Saves |
| Parker Gahagen (L, 0-1-0) | 60:00 | 5 | 11 | 11 | 13 | 35 |
WEST POINT, N.Y. - Freshman forward Miles Wood registered a goal and two assists and junior goaltender Thatcher Demko made 23 saves as Boston College earned a 5-1 win against Army West Point on Friday at Tate Rink.
GAME INFORMATION
Score: No. 1 Boston College 5 // Army 1
Records: No. 1 Boston College (1-0-0, 0-0-0 HEA) // Army (0-1-0, 0-0-0 Atlantic)
Location: Tate Rink // West Point, N.Y.)
Attendance: 2,761 (sell out)
Length of Game: 2:15

BC Starters: R. Fitzgerald (LW) - White (C) - Gilmour (RW) - Doherty (LD) - Santini (RD) - Demko (G)
Army Starters: Roberts (LW) - Hearn (C) - Kozlak (RW) - Nick (LD) - Preston (RD) - Gahagen (G)
BC HIGHLIGHTS AND GAME NOTES
- Boston College is now 38-3-1 all-time against Army. - The Eagles are now 13-8-1 in season openers under Jerry York. - Three of Boston College's five goals were scored by rookies. - Rookie Miles Wood scored the Eagles' first goal of the season at Army West Point. He becomes the second freshman in three season to score BC's first marker of the year. Ian McCoshen turned the trick at Michigan on Oct. 10, 2013 - Miles Wood (1-2-3) and Casey Fitzgerald (1-1-2) notched their first-career multi-point games while Alex Tuch accounted his eighth-career multi-point performance. - ESPN personality John Buccigross kicked off the opening night festivities by dropping the puck prior to the game. = Before BC heads to RPI, the Eagles were welcomed by Army to attend its football game against Duke tomorrow afternoon. TURNING POINT
Already possessing a 2-0 advantage, rookie Casey Fitzgerald blasted a one-timer from Scott Savage on the power play late in the second period (18:57) to give clear command to Boston College heading into the third period. HOW IT HAPPENED
Army West Point started off outfiring the Eagles early on, but Miles Wood made his presence felt in his debut with both a great defensive play and transitioned it into a 1-0 lead. The Manchester, Mass., native stole Army's outlet pass that came from behind the net and skated between the circles and ripped it past Gahagen unattested at 10:04 of the first period. Each club killed off a power play before Calnan took matters into his own hands for a 2-0 lead at 12:01 of the second frame. Wood won a battle in Army's end and sent it towards the middle of the sheet where Cangelosi was able to redirect the disk to Calnan in the flank. Calnan corralled the puck, raced down the right side and snapped it past Gahagen for BC's second marker. The Eagles couldn't capitalize on a power play at 15:46 of the second, but the Black Knights' Nick DeCenzo took a seat shortly after for tripping at 18:10 of the second period. First-year blue liner Casey Fitzgerald nailed a one-timer feed from Savage at the point at 18:57 to give BC a three-goal buffer heading into second intermission. Wood factored in again, winning a battle in the corner out to Savage on the blue line. The rookies' coming out party continued in the third at 3:26 period when Chris Brown took advantage of a clearing pass from Tuch. Tuch rimmed it to Army's end and the puck took a funny hop right to the stick of Brown in the slot. Brown buried the opportunity as Casey Fitzgerald triggered the play with the initial clear from behind BC's end Army took advantage of a Zach Sanford slashing call (5:51) when Trevor Fidler was able to beat Demko in a scrum in front for the power play tally at 6:16 for its lone goal of the night. Boston College took advantage of a neutral zone faceoff on the power play at 7:59. Sanford won the draw back to Tuch on the red line. Teddy Doherty jutted out to the left and accepted Tuch's dish with Sanford flanking to the right. Doherty perfectly timed the pass for Sanford on the doorstep to close out the 5-1 contest. BOSTON COLLEGE LEADERS
Points: Miles Wood (1 goal - 2 assists) Goals: Chris Brown (1), Chris Calnan (1), Casey Fitzgerald (1), Zach Sanford (1), Miles Wood (1) Assists: Miles Wood (2), Alex Tuch (2) Shots: Ryan Fitzgerald (7) Faceoffs Won: Austin Cangelosi (16-for-19) ARMY WEST POINT LEADERS
Points: Trevor Fidler (1 goal), Mike Preston (1 assist), Conor Andrle (1 assist) Goals: Trevor Fidler (1) Assists: Mike Preston (1), Conor Andrle (1) Shots: Trevor Pham (4), Joe Kozlak (4), Clint Carlisle 94) Faceoffs: Tyler Pham (6-for-20) SPECIAL TEAMS
Boston College: 2-for-10 Army: 1-for-6 PENALTIES
Boston College: 12 penalties - 40 minutes Army: 17 penalties - 58 minutes UP NEXT
Boston College will close out its opening road series when the Eagles travel north a couple hours to Rensselaer for a Sunday matinee at 2 p.m. The Eagles last played RPI to open the 2013-14 season at home. The Eagles first home contest of the season takes place on Friday, Oct. 16, when Big Ten opponent Wisconsin crashes Kelley Rink. BC and the Badgers square off at 7 p.m.