Saturday, October 24, 2015
Demko Posts Third Straight Shutout As Boston College Defeats Colorado College, 5-0
Junior goaltender Thatcher Demko records third-straight shutout with 21 saves for Eagles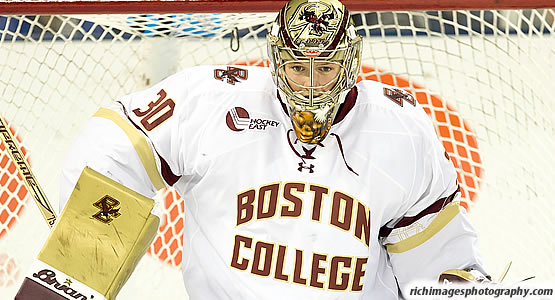 Junior goaltender Thatcher Demko made 21 saves for the Eagles
| | | | | | | |
| --- | --- | --- | --- | --- | --- | --- |
| Prd | Time | Team | Score | Type | Scored By | Assists |
| 1st | 2:23 | BC | 1-0 | EV GW | Adam Gilmour (1) | Scott Savage/2, Zach Sanford/1 |
| 1st | 15:16 | BC | 2-0 | EV | Austin Cangelosi (3) | Miles Wood/5, Chris Calnan/3 |
| 1st | 18:11 | BC | 3-0 | EV | Ian McCoshen (1) | Alex Tuch/4, Zach Sanford/2 |
| 2nd | 16:25 | BC | 4-0 | SH | Zach Sanford (4) | Chris Brown/1 |
| 3rd | 8:53 | BC | 5-0 | PP | Adam Gilmour (2) | Casey Fitzgerald/4, Scott Savage/3 |
| | | | | |
| --- | --- | --- | --- | --- |
| Scoring | 1st | 2nd | 3rd | Final |
| Boston College | 3 | 1 | 1 | 5 |
| Colorado College | 0 | 0 | 0 | 0 |
| | | | | |
| --- | --- | --- | --- | --- |
| Shots on Goal | 1st | 2nd | 3rd | SOG |
| Boston College | 8 | 14 | 15 | 37 |
| Colorado College | 7 | 9 | 5 | 21 |
| | | | |
| --- | --- | --- | --- |
| Team Stats and Records | PP | PIM | SHGF |
| Boston College (4-1-0) | 1/6 | 7/14 | 1 |
| Colorado College (0-6-0) | 0/6 | 7/17 | 0 |
| | | | | | | |
| --- | --- | --- | --- | --- | --- | --- |
| Boston College Goaltending | MIN | GA | 1 | 2 | 3 | Saves |
| Thatcher Demko (W, 4-1-0) | 60:00 | 0 | 7 | 9 | 5 | 21 |
| | | | | | | |
| --- | --- | --- | --- | --- | --- | --- |
| Colorado College Goaltending | MIN | GA | 1 | 2 | 3 | Saves |
| Jacob Nehama (L, 0-4-0) | 20:00 | 3 | 5 | 0 | 0 | 5 |
| Tyler Marble | 40:00 | 2 | 0 | 13 | 14 | 27 |
COLORADO SPRINGS, Colo. - Junior goaltender Thatcher Demko earned his third consecutive shutout with a 21-save performance as Boston College earned a weekend sweep with a 5-0 win against Colorado College on Saturday night at World Arena.
GAME INFORMATION
Score: No. 4 Boston College 5 // Colorado College 0
Records: No. 4 Boston College (4-1-0, 0-0-0 HEA) // Colorado College (0-6-0, 0-0-0 NCHC)
Location: Broadmoor World Arena // Colorado Springs, Colo.
Attendance: 7,044
Length of Game: 2:18
BC Starters: Wood (LW) - Cangelosi (C) - Calnan (RW) - Doherty (LD) - Santini (RD) - Demko (G)
CC Starters: Gooch (LW) - Bradley (C) - Ockey (RW) - Kivihalme (LD) - Radke (RD) - Nehama (G)
BC HIGHLIGHTS AND GAME NOTES
- The last time Boston College shutout three-consecutive opponents was about eight and a half years ago during the 2005-06 season with Cory Schneider at the helm. Boston College blanked Merrimack (5-0) on Jan. 14, 2006 and swept Vermont on Jan. 20-21 (2-0, 3-0).
- Thatcher Demko is the second goaltender to three shutouts this season (Charlie Lindgren - St. Cloud State) and is now tied for sixth all-time at Boston College with six career shutouts. The San Diego native is now tie with Parker Milner (2009-13) and Joe Carroll (1951-54).
- Adam Gilmour dialed up his first game-winning goal of the season and third-career multi-goal performance with the early strike at 2:23 of the first followed by a power play rip at 8:53 of the third period. The Hanover, Mass., native's last two-goal game was against UMass on Oct. 25, 2014. Gilmour now has the second-most power play goals (10) for a career and also gathered his fifth game winner as an Eagle.
- Zach Sanford notched his second-career three-point performance with his first-career short-handed tally along with a pair of assists. His first three-point showing took place at RIT on Oct. 18, 2014.
- Scott Savage doled out a pair of assists for his sixth-career two-point game and first since two assists against Vermont on Feb. 14, 2015.
- Christopher Brown logged his first-career assist while Ian McCoshen and Adam Gilmour attained their first goals of the season.
TURNING POINT
- Adam Gilmour tallied 2:23 into regulation and the Eagles never looked back. Thathcer Demko anchored a sturdy defensive effort, shutting out his third-consecutive opponent via 21 saves.
HOW IT HAPPENED
Boston College went full throttle off the draw and lit the lamp 2:23 into regulation. Zach Sanford raced the puck out of CC's zone and rimmed it around the net to Scott Savage in the far corner. Gilmour carved through the circles, put his stick in proper position and perfectly redirected Savage's dish over Jacob Nehama's glove to set the tempo in the first period.
Austin Cangelosi and Ian McCoshen closed out the first frame with two set plays. Chris Calnan ripped a puck off a CC forecheck behind the net and jutted it out to Miles Wood on the right dot. Wood streaked around and zipped the puck over to Cangelosi for the one-time feed. Cangelosi buried it at 15:16 for the 2-0 lead.
Alex Tuch and Zach Sanford worked the puck in the corner together to get it out to Ian McCoshen unattested on the blue line. Tuch backhanded the pass to McCoshen and he unloaded his lethal slapshot through traffic at 18:11 to give the Eagles a 3-0 lead heading into first intermission.
Jeremy Bracco was whistled for high-sticking at 14:45 of the second period, but the Eagles were still able to add a fourth in transition at 16:25 short handed. Sanford won a draw in BC's end and carted it through the zone, dishing to Christopher Brown to the right flank. Brown triggered but the puck sailed wide. Sanford was in position to gather the rebound and roof it over Nehama for the 4-0 lead heading into the second intermission.
Gilmour added his second goal of the night on the power play on a pop shot from out deep. Casey Fitzgerald provided Gilmour with dis at the top of the circle and Gilmour blasted it past Nehama at 8:53 of the third period to cap the 5-0 count. Savage added his second point of the night with the secondary assist.
BOSTON COLLEGE LEADERS
Points: Zach Sanford (1 goal - 2 assists)
Goals: Adam Gilmour (2 goals)
Assists: Jeremy Bracco (3)
Shots: Zach Sanford (5)
Faceoffs Won: Austin Cangelosi (10-for-13)
CC LEADERS
Points: n/a
Goals: n/a
Assists: n/a
Shots: Alex Roos (4)
Faceoffs Won: Sam Rothstein (7-for-14)
SPECIAL TEAMS
Boston College: 1-for-6
CC: 0-for-6
PENALTIES
Boston College: 7 penalties - 14 minutes
CC: 7 penalties - 17 minutes
UP NEXT
The Eagles will return to Kelley Rink for five-consecutive games, starting with Denver on Friday, Oct. 30, at 7 p.m. That following Tuesday, BC will kick off Hockey East play when it welcomes the Massachusetts to The Heights for a 7 p.m. contest. Maine comes to town that weekend for a Friday - Sunday series on Nov. 6-8. Michigan State pays Boston College a return visit from last season for a Friday night showdown on Nov. 13 at 7 p.m. to cap the five-game homestand.