Demko Makes 30 Saves As Boston College Upends Maine, 3-0
Junior goaltender Thatcher Demko posts fifth shutout of season with 30 saves for Eagles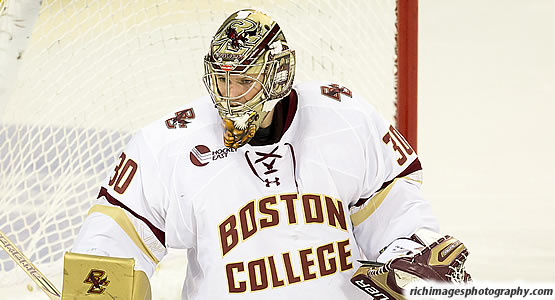 Junior goaltender Thatcher Demko stopped 30 shots for the Eagles
| | | | | | | |
| --- | --- | --- | --- | --- | --- | --- |
| Prd | Time | Team | Score | Type | Scored By | Assists |
| 1st | 4:51 | BC | 1-0 | EV GW | Steve Santini (1) | Colin White/6, Matthew Gaudreau/3 |
| 3rd | 14:40 | BC | 2-0 | EV | Colin White (4) | Steve Santini/2, Scott Savage/4 |
| 3rd | 18:47 | BC | 3-0 | EV EN | Alex Tuch (1) | Adam Gilmour/2, Zach Sanford/4 |
| | | | | |
| --- | --- | --- | --- | --- |
| Scoring | 1st | 2nd | 3rd | Final |
| Maine | 0 | 0 | 0 | 0 |
| Boston College | 1 | 0 | 2 | 3 |
| | | | | |
| --- | --- | --- | --- | --- |
| Shots on Goal | 1st | 2nd | 3rd | SOG |
| Maine | 11 | 12 | 7 | 30 |
| Boston College | 8 | 10 | 11 | 29 |
| | | | |
| --- | --- | --- | --- |
| Team Stats and Records | PP | PIM | SHGF |
| Maine (0-5-3) | 0/6 | 14/44 | 0 |
| Boston College (7-1-0) | 0/6 | 13/42 | 0 |
| | | | | | | |
| --- | --- | --- | --- | --- | --- | --- |
| Maine Goaltending | MIN | GA | 1 | 2 | 3 | Saves |
| Rob McGovern (L, 0-3-2) | 59:09 | 2 | 7 | 10 | 9 | 26 |
| Empty Net | 0:51 | 1 | | | | |
| | | | | | | |
| --- | --- | --- | --- | --- | --- | --- |
| Boston College Goaltending | MIN | GA | 1 | 2 | 3 | Saves |
| Thatcher Demko (W, 7-1-0) | 60:00 | 0 | 11 | 12 | 7 | 30 |
CHESTNUT HILL, Mass. - Junior goaltender Thatcher Demko earned his fifth shutout of the season with a 30 save performance as Boston College defeated Maine, 3-0, on Friday night at Kelley Rink.
GAME INFORMATION
Score: Maine 0 // No. 3 Boston College 3
Records: Maine (0-5-3, 0-1-0 Hockey East) // No. 3 Boston College (7-1-0, 2-0-0 HEA)
Location: Kelly Rink at Conte Forum // Chestnut Hill, Mass.
Attendance: 4,880
Length of Game: 2:26
BC Starters: Wood (LW) - Cangelosi (C) - Calnan (RW) - McCoshen (LD) - C. Fitzgerald (RD) - Demko (G)
Maine Starters: Vesey (LW) - Swavely (C) - Gibson (RW) - Renouf (LD) - Michel (RD) - McGovern (G)
BC HIGHLIGHTS AND GAME NOTES
- Boston College has now shutout five of its last six opponents and has only surrendered five goals in eight games. On average, goaltender Thatcher Demko and the rest of the defense are allowing only 0.75 goals per game, which is by far the lowest mark in all of college hockey (Harvard and Yale have each allowed 1.33 goals per game and only played three games thus far on the season).
- Thatcher Demko's unprecedented streak continued with his fifth shutout in six starts to pick up his eighth-career shutout. The San Diego native is now tied for fourth all-time in career shutouts (8) and is now four behind John Muse (12 - 2007-11) for third place all-time. The 6-foot-4 goaltender's goals against average of 0.75 over the course of eight starts is tops in the nation as is his .970 save percentage (191-of-197).
- Steve Santini recorded his first goal since a tally at RIT on Oct. 18, 2014, counting as his first-ever game winner in his 65th-career game. The Mahopac, N.Y., native also assisted on Colin White's goal for his second-career multi-point performance and first since a goal and an assist against New Hampshire on Dec. 6, 2013.
- Colin White has now accounted for six points in his last two games with a goal and an assist tonight and leads the Eagles in points (6-4-10) thus far. White, along with junior Matthew Gaudreau, are both riding career-best three-game point streaks. Gaudreau has racked up a goal and three assists while White has accumulated two goals and five assists over that span.
- Alex Tuch scored his first goal of the season, also counting as the Eagles' first empty-netter of 2015-16.
TURNING POINT
- Thatcher Demko continued to anchor the defense as the Eagles won their first game being outshot (30-29), but Steven Santini's wrister early on set the tone for Boston College as BC never looked back.
HOW IT HAPPENED
Despite letting an early power play go to waste, the Eagles converted minutes later on a snipe from Steve Santini with a slippery feed from Colin White at 4:51. Matthew Gaudreau performed the dirty work behind the net and maneuvered the puck to the far wall. White won a battle and delivered a perfect feed after Santini broke free in the slot. Santini accepted the pass and went bar down on Maine goaltender Rob McGovern for the early 1-0 lead.
Neither team scored in the second frame as a combined 68 penalty minutes were distributed between both clubs. The Black Bears finished the evening with 44 PIMs on 14 calls while Boston College was handed 42 minutes on 13 infractions.
Midway through the third frame, Colin White came free with a puck on BC's blue line and charged down the sheet towards McGovern. Bill Norman was in stride behind White and lassoed him down to the ice, yielding a penalty shot to White at 11:56. White lost the puck a bit during the penalty shot, but recovered it to gain a shot on McGovern. McGovern was in position to make the stop, through, keeping the 1-0 score intact.
Maine hailed for a timeout at 12:19, but it did not deter the Eagles from adding an insurance tally at 14:40 of the final frame. The scoring play started deep in BC's end when Scott Savage shifted over to Santini on the right dot. Santini connected with White down the right side and with a Maine defenseman in his face, White took the puck to his backhand and beat McGovern on the near post five-hole to double the lead, 2-0.
With 2:04 left in regulation, Maine coach Red Gendron opted for the extra attacker and pulled McGovern, but the attempt backfired as Tuch picked up his first goal of the year on the unguarded net at 18:47.
BOSTON COLLEGE LEADERS
Points: Colin White (1 goal - 1 assist - 2 point) / Steve Santini (1 goal - 1 assist - 2 point)
Goals: Steve Santini (1) / Colin White (1) / Alex Tuch (1)
Assists: White (1) / Gaudreau (1) / Santini (1) / Savage (1) / Gilmour (1) / Savage (1)
Shots: White (6)
Faceoffs Won: White (14-for-20)
MAINE LEADERS
Points: n/a
Goals: n/a
Assists: n/a
Shots: Sam Becker (5)
Faceoffs Won: Steven Swavely (13-for-21)
SPECIAL TEAMS
Boston College: 0-for-6
Maine: 0-for-6
PENALTIES
Boston College: 13 penalties - 42 minutes
Maine: 14 penalties - 44 minutes
UP NEXT
Boston College will play its third game in six days when the Eagles and Black Bears run it back this Sunday afternoon at 1 p.m. The following week, the Eagles will have only one game when Michigan State marches to Chestnut Hill for a Friday night game on Nov. 13 at 7 p.m.