Friday, November 13, 2015
Four Points From Fitzgerald Lead Boston College Past Michigan State, 6-4
Junior forward Ryan Fitzgerald has two goals and two assists for Eagles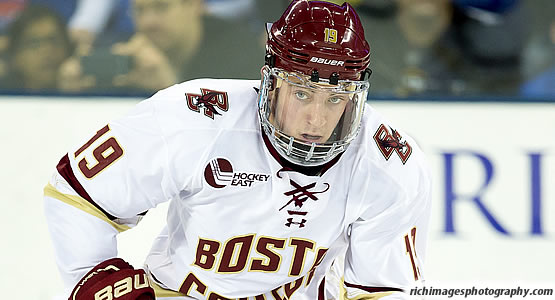 Junior forward Ryan Fitzgerald had two goals and two assists for the Eagles
| | | | | | | |
| --- | --- | --- | --- | --- | --- | --- |
| Prd | Time | Team | Score | Type | Scored By | Assists |
| 2nd | 4:30 | BC | 1-0 | EV | Colin White (5) | Matthew Gaudreau/5, Ryan Fitzgerald/5 |
| 2nd | 4:41 | MSU | 1-1 | EV | Mackenzie MacEachern (5) | Michael Ferrantino/7, Mason Appleton/6 |
| 2nd | 15:12 | BC | 2-1 | EV | Colin White (6) | Travis Jeke/1, Ryan Fitzgerald/6 |
| 3rd | 1:29 | BC | 3-1 | EV | Ryan Fitzgerald (6) | Matthew Gaudreau/6, Colin White/9 |
| 3rd | 12:13 | BC | 4-1 | EV | Alex Tuch (2) | Adam Gilmour/3, Zach Sanford/5 |
| 3rd | 12:43 | MSU | 2-4 | EV | JT Stenglein (6) | Travis Walsh/5, Thomas Ebbing/7 |
| 3rd | 12:57 | MSU | 3-4 | EV | Brennan Sanford (2) | Cody Milan/3 |
| 3rd | 14:15 | MSU | 4-4 | EV | Mason Appleton (3) | Michael Ferrantino/8, Zach Osburn/3 |
| 3rd | 18:06 | BC | 5-4 | PP GW | Miles Wood (4) | Austin Cangelosi/4, Casey Fitzgerald/6 |
| 3rd | 18:56 | BC | 6-4 | EV EN | Ryan Fitzgerald (7) | Miles Wood/8, Alex Tuch/5 |
| | | | | |
| --- | --- | --- | --- | --- |
| Scoring | 1st | 2nd | 3rd | Final |
| Michigan State | 0 | 1 | 3 | 4 |
| Boston College | 0 | 2 | 4 | 6 |
| | | | | |
| --- | --- | --- | --- | --- |
| Shots on Goal | 1st | 2nd | 3rd | SOG |
| Michigan State | 6 | 16 | 15 | 37 |
| Boston College | 17 | 8 | 11 | 36 |
| | | | |
| --- | --- | --- | --- |
| Team Stats and Records | PP | PIM | SHGF |
| Michigan State (4-4-1) | 0/7 | 7/14 | 0 |
| Boston College (9-1-0) | 1/6 | 8/16 | 0 |
| | | | | | | |
| --- | --- | --- | --- | --- | --- | --- |
| Michigan State Goaltending | MIN | GA | 1 | 2 | 3 | Saves |
| Jake Hildebrand (L, 4-4-1) | 59:08 | 5 | 17 | 6 | 7 | 30 |
| Empty Net | 0:52 | 1 | | | | |
| | | | | | | |
| --- | --- | --- | --- | --- | --- | --- |
| Boston College Goaltending | MIN | GA | 1 | 2 | 3 | Saves |
| Thatcher Demko (W, 9-1-0) | 59:45 | 4 | 6 | 15 | 12 | 33 |
| Empty Net | 0:15 | 0 | | | | |
CHESTNUT HILL, Mass. - Junior forward Ryan Fitzgerald scored two goals and also handed out two assists to lead Boston College to a 6-4 non-conference win against Michigan State on Friday night at Kelley Rink.
GAME INFORMATION
Score: Michigan State 4 // No. 2 Boston College 6
Records: Michigan State (4-4-1, 0-0-0 Big Ten) // No. 2 Boston College (9-1-0, 3-0-0 HEA)
Location: Kelly Rink at Conte Forum // Chestnut Hill, Mass.
Attendance: 5,437
Length of Game: 2:34
BC Starters: Wood (LW) - Cangelosi (C) - Calnan (RW) - McCoshen (LD) - Casey Fitzgerald (RD) - Demko (G)
Michigan State Starters: Stenglein (LW) - Ebbing (C) - Cox (RW) - Walsh (LD) - Draeger (RD) - Hildebrand (G)
BC HIGHLIGHTS AND GAME NOTES
- Thatcher Demko's second-consecutive shutout streak of three-straight shutouts was halted by Michigan State's Mackenzie MacEachern at 208 minutes and 36 seconds (208:36).
- Ryan Fitzgerald posted a career-best four points, including a pair of goals and two assists in the victory. The North Reading, Mass., native became the second Eagle to notch four points in a game, joining Colin White's four-point performance against UMass on Nov. 3. Fitgerald also lead the game with six shots on net.
- Colin White has accounted for 12 points in his last five games, including four goals and eight assists. The Hanover, Mass., native is currently riding a five-game point streak.
- Matthew Gaudreau is also in the midst of a career-best five-game point streak with a pair of assists in Friday's victory over MSU. The Carneys Point, N.J., native has notched one goal and six assists since joined forced with White and Fitzgerald on the third line.
- Travis Jeke logged an assist in the victory, his first since a helper at Denver on Nov. 1, 2014. Jeke has accounted for a pair of points in four games at left wing.
- Miles Wood scored his first-career game-winning goal and has now scored a power play goal in consecutive outings.
- Boston College has now matched its best start under Jerry York, joining the 2012-13 squad with a 9-1 start through 10 games played.
TURNING POINT
Alex Tuch scored at 12:13 of the third period, appearing to seal victory after giving BC a three-goal cushion with seven and a half minutes to play, but Michigan State scored three unanswered goals in 1:58 to tie it up, 4-4.Miles Wood tipped an Austin Cangelosi blast on the power play late in the third period (18:06) for the victory.
HOW IT HAPPENED
Both teams let a couple power play opportunities slip away in the first, but the beginning of the second period hosted a goal by each squad 11 seconds apart.
The Eagles struck first on a faceoff in Michigan State's zone. Colin White won the puck out to the flank and Ryan Fitzgerald rushed it deep into Spartan territory. Fitzgerald banked it off the backboards where Matthew Gaudreau was camped out behind the net. Gaudreau wriggled free and connected with White carving in through the middle for the successful one-timer at 4:30 for a 1-0 BC lead.
Eleven seconds later on a faceoff to Demko's left, the Spartans converted on a won draw that ended up behind the Eagles' net. Mason Appleton won a draw in which the puck squirted behind and Michael Ferrantino gave chase. MacKenzie MacEachern closely followed down the seam and MSU scored in similar fashion as White's goal to tie it, 1-1, at 4:41 of the second period.
With the game knotted up, the physicality of the game increased but the Eagles were able to recapture the lead later in the second session.
The Eagles tallied in transition after R. Fitzgerald relayed a puck out to Travis Jeke in the center of the ice. Jeke crafted a precise pass to White in stride down the left side of the sheet. White was smothered in one-on-one coverage, but we was able to dupe Michigan State's Jake Hildebrand with an unreal backhander top-shelf at 15:12 to give BC a 2-1 lead heading into second intermission.
The Eagles wasted little time extending their lead to start the third frame on a beautiful play through the zone capped off by R. Fitzgerald at 1:29.
White continued his sturdy play and blocked a shot in front of Demko and immediately turned it up to Gaudreau on the half wall. Fitzgerald broke loose down the right side and accepted a perfectly placed pass on MSU's blue line. Fitzgerald took the puck to his backhand and skated in hard on Hildebrand, tucking it through his pads for the 3-1 Eagle advantage.
The Eagles killed off a Zach Sanford slash at minutes later, Alex Tuch sniped one unattested on the breakaway at 12:13. Sanford ran the puck around BC's net and shuffled it over to Adam Gilmour on the far wall. Much like the previous Eagle tallies, Boston College used it speed and Gilmour's feed gave Tuch the breakaway. Tuch went bardown from between the circles to give BC a 4-1 advantage.
Thirty seconds later, Michigan State responded - quickly.
JT Stenglein and Brennan Sanford attacked within 14 seconds apart at 12:43 and 12:57, respectively, in the third frame.
A minute and a half later, Mason Appleton found the back of the net on a dish from Michael Ferrantino to erase BC's three-goal advantage and tie, 4-4, at 14:15.
Despite coughing up the three-goal lead, the Eagles were not deterred and converted on a late interference call to MSU's Joe Coz at 17:04.
Casey Fitzgerald connected with Austin Cangelosi and the top of the zone. Cangelosi ripped it towards Hildebrand and Miles Wood was in perfect position to have the puck redirect off his skate and into the back of the net for the game-winning goal at 18:06.
Ryan Fitzgerald added the late empty-netter with 1:04 left in regulation on a great feed from Wood to ice the Eagles' victory, 6-4.
BOSTON COLLEGE LEADERS
Points: Ryan Fitzgerald (2 goals - 2 assists)
Goals: Ryan Fitzgerald (2) / Colin White (2)
Assists: Ryan Fitzgerald (2) / Matthew Gaudreau (2)
Shots: Ryan Fitzgerald (6)
Faceoffs Won: Austin Cangelosi (18-for-25)
MICHIGAN STATE LEADERS
Points: Mason Appleton (1 goal - 1 assist) / Michael Ferrantino (2 assists)
Goals: Sanford (1) / McEachern (1) / Stenglein (1) / Appleton (1)
Assists Ferrantino (2)
Shots: McEachern (4) / Ferrantino (4) / Cox (4)
Faceoffs Won: Thomas Ebbing (18-for-30)
SPECIAL TEAMS
Boston College: 1-for-6
Michigan State: 0-for-7
PENALTIES
Boston College: 8 penalties - 16 minutes
Michigan State: 7 penalties - 14 minutes
UP NEXT
Boston College will have an eight-day hiatus and jump back into conference action on the road at New Hampshire on Saturday night at 7 p.m. Following the game at the Whittemore Center, the Eagles will make their second-ever trip to the XL Center to take on Connecticut for a 7 p.m. puck drop on Tuesday, Nov. 24. BC will cap the month of November with a post-Thanksgiving affair against RIT on Saturday, Nov. 28 at 4 p.m.