Saturday, December 5, 2015
Northeastern And Boston College Battle To 3-3 Tie
Sophomore forward Nolan Stevens scores two goals for Huskies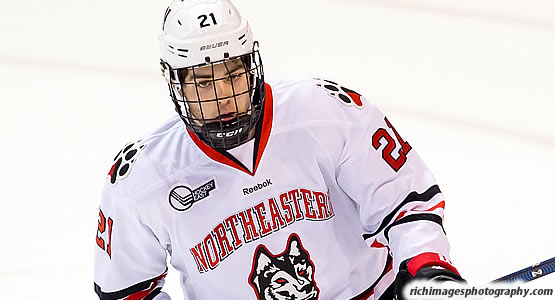 Sophomore forward Nolan Stevens scored two goals for the Huskies
| | | | | | | |
| --- | --- | --- | --- | --- | --- | --- |
| Prd | Time | Team | Score | Type | Scored By | Assists |
| 1st | 4:26 | BC | 1-0 | EV | Miles Wood (7) | Ian McCoshen/2, Austin Cangelosi/7 |
| 1st | 10:03 | BC | 2-0 | EV | Alex Tuch (4) | Adam Gilmour/5, Zach Sanford/9 |
| 1st | 10:34 | NOE | 1-2 | EV | Nolan Stevens (6) | Zach Aston-Reese/9, John Stevens/5 |
| 3rd | 8:32 | NOE | 2-2 | EV | Lincoln Griffin (1) | Matt Benning/4, Dylan Sikura/7 |
| 3rd | 11:11 | BC | 3-2 | SH | Colin White (8) | - |
| 3rd | 17:46 | NOE | 3-3 | EV GT | Nolan Stevens (7) | Zach Aston-Reese/10, Eric Williams/5 |
| | | | | | |
| --- | --- | --- | --- | --- | --- |
| Scoring | 1st | 2nd | 3rd | OT | Final |
| Northeastern | 1 | 0 | 2 | 0 | 3 |
| Boston College | 2 | 0 | 1 | 0 | 3 |
| | | | | | |
| --- | --- | --- | --- | --- | --- |
| Shots on Goal | 1st | 2nd | 3rd | OT | SOG |
| Northeastern | 8 | 6 | 17 | 5 | 36 |
| Boston College | 12 | 8 | 5 | 1 | 26 |
| | | | |
| --- | --- | --- | --- |
| Team Stats and Records | PP | PIM | SHGF |
| Northeastern (2-11-3) | 0/6 | 1/2 | 0 |
| Boston College (12-1-1) | 0/1 | 8/35 | 1 |
| | | | | | | | |
| --- | --- | --- | --- | --- | --- | --- | --- |
| Northeastern Goaltending | MIN | GA | 1 | 2 | 3 | OT | Saves |
| Ryan Ruck (T, 0-8-2) | 64:32 | 3 | 10 | 8 | 4 | 1 | 23 |
| Empty Net | 0:28 | 0 | | | | | |
| | | | | | | | |
| --- | --- | --- | --- | --- | --- | --- | --- |
| Boston College Goaltending | MIN | GA | 1 | 2 | 3 | OT | Saves |
| Thatcher Demko (T, 12-1-1) | 65:00 | 3 | 7 | 6 | 15 | 5 | 33 |
CHESTNUT HILL, Mass. - Boston College and Northeastern skated to a 3-3 draw on Saturday night at Kelley Rink; Thatcher Demko stopped 20 of his 33 shots in the third period and overtime session, combined
Score: Northeastern 3 // No. 2 Boston College 3
Records: Northeastern (2-11-3, 0-7-3 Hockey East) // No. 2 Boston College (12-1-1, 5-0-1 HEA)
Location: Kelly Rink at Conte Forum // Chestnut Hill, Mass.
Attendance: 4,672
Length of Game: 2:32
BC Starters: Wood (LW) - (LW) - Cangelosi (C) - Brown (RW) - McCoshen (LD) - Casey Fitzgerald (RD) - Demko (G)
Northeastern Starters: N. Stevens (LW) - J. Stevens (C) - Aston-Reese (RW) - Owens (LD) - Cockerill (RD) - (G) Ruck
BC HIGHLIGHTS AND GAME NOTES
- Boston College entered its first overtime session of the season against Northeastern on Saturday night. The Huskies snapped Boston College's 11-game winning streak dating back to Wisconsin on Oct. 16.
- Colin White scored his first-career short-handed goal at 11:11 of the third period. The Hanover, Mass., native is riding a nine-game point streak (6-13-19) dating back to the Denver contest on Oct. 30.
- Thatcher Demko matched a season high with 33 saves (Michigan State - Nov. 13). The San Diego native turned away 20 of the 33 shots in the third period and overtime session, combined.
- Miles Wood scored his seventh goal of the season and is on a six-game point streak. The Manchester, Mass., native has scored a goal in five of those six games.
- Northeastern's penalty-killing unit went 6-for-6, including a five-minute power play for Northeastern and a 5-on-3 opportunity midway through the third period.
- The 3-3 draw between BC and NU was the first tie between the two clubs at Kelley Rink since Feb. 18, 2011 (7-7).
TURNING POINT
- Colin White scored a go-ahead goal at 11:11 of the third period to reclaim a 3-2 lead, but Northeastern's Nolan Stevens tallied his second marker of the night with 2:14 left in regulation to force the tie. Thatcher Demko preserved the stalemate making 20 stops in the final 25 minutes of play.
HOW IT HAPPENED
The Eagles struck first on a tactical possession in Northeastern's end at 4:25 of the first period.
Austin Cangelosi was the catalyst of the opening score by sending the puck from the near wall to Ian McCoshen in the slot. McCoshen rifled a slap shot at NU's Ryan Ruck and the disc caromed forcefully off his pad where Miles Wood was in position to toss it back through the five-hole to give BC an early 1-0 advantage.
Boston College struck minutes later on a beautiful goal by Alex Tuch with crisp passing from linemates Zach Sanford and Adam Gilmour through the zone.
Sanford quarterbacked the play from deep in BC's end and sent a pass to Tuch in the flat. Tuch switched it over to Gilmour on the right flank and he gave it right back to Tuch on the blue line. With Northeastern's Eric Williams draped all over Tuch, the sophomore muscled through the slot and beat Ruck with a nifty deke at 10:03 of the first frame to make it a 2-0 affair.
The Huskies responded 31 seconds later on a Nolan Stevens tally at 10:34. Zach Aston-Reese set N. Stevens up on the crease and beat Thatcher Demko to cut the Eagle advantage in half, 2-1.
The second period yielded no score despite a goal being called back on Ryan Fitzgerald at 8:26. Steve Santini sent a home-run pass up the boards where R. Fitzgerald sprinted to the goal and snuck it by Ruck, but the goal was disallowed because it was deemed goaltender interference. The BC penalty-killing unit came up huge at the end of the second, allowing only three shots on a Wood five-minute major contact to the head at 14:18.
Northeastern tied it up at 8:32 on a tip drill from Lincoln Griffin at 8:32. Dylan Sikura set up Matt Benning with a one-timer in the slot and Griffin was able to redirect the blast in between the circles to knot it up, 2-2.
Momentum looked to keep swinging in Northeastern's favor after the Huskies gained a 5-on-3 advantage following a Josh Couturier boarding call (8:40) and a Ryan Fitzgerald trip (9:23). BC killed off the Couturier infraction and just as the R. Fitzgerald trip was about to expire, Colin White stripped Garret Cockerill of the puck on BC's blue line and dashed towards Ruck on the breakaway. White made one quick move and snapped it over Ruck's glove for the short-handed go-ahead goal at 11:11 of the third stanza.
Northeastern responded at 17:46 when N. Stevens scored in a jam off the near post. Eric Williams sent the puck into the slot where Aston-Reese was able to bounce a shot off Demko. N. Stevens gathered it and sent it to the back of the net in the scrum to tie it again, 3-3, and force overtime.
No blood was drawn in the overtime session despite the Huskies outtriggering BC, 5-1. Demko stopped 20 shots in the final 25 minutes of play to preserve the league point.
BOSTON COLLEGE LEADERS
Points: Miles Wood (1 goal) / Alex Tuch (1 goal) / Colin White (1 goal) / Ian McCoshen (1 assist) / Austin Cangelosi (1 assist) / Adam Gilmour (1 assist) / Zach Sanford (1 assist)
Goals: Miles Wood (1) / Alex Tuch (1) / Colin White (1)
Assists: Ian McCoshen (1) / Austin Cangelosi (1) / Adam Gilmour (1) / Zach Sanford (1)
Shots: Ian McCoshen (4)
Faceoffs Won: Austin Cangelosi (12-for-21)
NORTHEASTERN LEADERS
Points: Nolan Stevens (2 goals) / Zach Aston-Reese (2 assists)
Goals: Nolan Stevens (2)
Assists: Zach Aston-Reese (2)
Shots: Adam Gaudette (5)
Faceoffs Won: Mike McMurtry (10-of-19)
SPECIAL TEAMS
Boston College: 0-for-1
Northeastern: 0-for-6
PENALTIES
Boston College: 8 penalties - 35 minutes
Northeastern: 1 penalty - 2 minutes
UP NEXT
The Eagles will close out the regular season series tomorrow afternoon at 4 p.m. with a Sunday matinee at Matthews Arena against Northeastern. The following Thursday, Boston College will play its last game before its holiday tournament trip to Florida, hosting Notre Dame on Thursday night, Dec. 10, for a 7 p.m. puck drop.