Northeastern Upends Boston College, 5-4, To Advance To Hockey East Title Game
Freshman forward Adam Gaudette and sophomore forward Nolan Stevens each record goal and assist for Huskies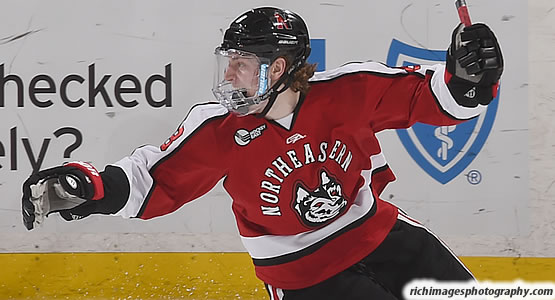 Freshman forward Adam Gaudette had a goal and an assist for the Huskies
| | | | | | | |
| --- | --- | --- | --- | --- | --- | --- |
| Prd | Time | Team | Score | Type | Scored By | Assists |
| 1st | 0:15 | BC | 1-0 | EV | Miles Wood (9) | Chris Brown/9, Steve Santini/17 |
| 1st | 14:08 | NOE | 1-1 | EV | Zach Aston-Reese (13) | Nolan Stevens/21, Garret Cockerill/13 |
| 1st | 19:59.1 | NOE | 2-1 | EV | Adam Gaudette (11) | Mike McMurtry/21, Dylan Sikura/16 |
| 2nd | 1:10 | BC | 2-2 | EV | Colin White (19) | Matthew Gaudreau/17, Ian McCoshen/14 |
| 2nd | 2:55 | NOE | 3-2 | PP | Nolan Stevens (18) | John Stevens/23, Adam Gaudette/18 |
| 2nd | 10:55 | NOE | 4-2 | PP | Eric Williams (8) | Kevin Roy/15, Dylan Sikura/17 |
| 2nd | 13:54 | BC | 3-4 | PP | Miles Wood (10) | Ryan Fitzgerald/22, Teddy Doherty/12 |
| 3rd | 9:44 | NOE | 5-3 | EV GW | Lincoln Griffin (6) | - |
| 3rd | 10:50 | BC | 4-5 | EV | Alex Tuch (15) | Zach Sanford/25, Steve Santini/18 |
| | | | | |
| --- | --- | --- | --- | --- |
| Scoring | 1st | 2nd | 3rd | Final |
| Northeastern | 2 | 2 | 1 | 5 |
| Boston College | 1 | 2 | 1 | 4 |
| | | | | |
| --- | --- | --- | --- | --- |
| Shots on Goal | 1st | 2nd | 3rd | SOG |
| Northeastern | 10 | 12 | 10 | 32 |
| Boston College | 4 | 7 | 14 | 25 |
| | | | |
| --- | --- | --- | --- |
| Team Stats and Records | PP | PIM | SHGF |
| Northeastern (21-13-5) | 2/6 | 4/8 | 0 |
| Boston College (26-7-5) | 1/3 | 7/14 | 0 |
| | | | | | | |
| --- | --- | --- | --- | --- | --- | --- |
| Northeastern Goaltending | MIN | GA | 1 | 2 | 3 | Saves |
| Ryan Ruck (W, 19-10-4) | 59:48 | 4 | 3 | 5 | 13 | 21 |
| Empty Net | 0:12 | 0 | | | | |
| | | | | | | |
| --- | --- | --- | --- | --- | --- | --- |
| Boston College Goaltending | MIN | GA | 1 | 2 | 3 | Saves |
| Thatcher Demko (L, 25-7-4) | 59:30 | 5 | 8 | 10 | 9 | 27 |
| Empty Net | 0:30 | 0 | | | | |
BOSTON- Nolan Stevens (Sea Isle City, N.J.) and Adam Gaudette (Braintree, Mass.) each had a goal and an assist as sixth-seed Northeastern held off top-seeded Boston College in the second semifinal of the 2016 Hockey East Championship at TD Garden Friday.
BONUS LINK: Final Game Packet - Includes Notes and Quotes (PDF Format)
Northeastern (21-13-5) will play fourth-seeded UMass Lowell in Saturday's title game at 7 p.m. at TD Garden (TV: NESN, NBS Sports Network). The River Hawks outlasted Providence, 2-1, in triple overtime in Friday's semifinal lidlifter. Saturday's champion will earn Hockey East's automatic bid to the 2016 NCAA Men's Hockey Championship.
The red-hot Huskies extended the nation's longest current winning streak to a program-record 12 games and head to the title game with a 19-1-2 mark in its last 22 games. Northeastern snapped a seven-game semifinal losing streak with the victory and will make its first title game appearance in 28 years, when it won its lone championship in 1988.
Northeastern had a 2-1 edge after one period allowing an early goal and taking the lead in the final second. The Eagles needed just 15 seconds to open the scoring on a goal by freshman Miles Wood (Manchester, Mass.) who converted a feed from Christopher Brown (Bloomfield Hills, Mich.). Steve Santini (Mahopac, N.Y.) also picked up an assist. Northeastern answered at 14:08 as Zach Aston-Reese (Staten Island, N.Y.) took a feed from Nolan Stevens and snuck in between the defense to tie it at one apiece.
With nine-tenths of a second before intermission, Gaudette gave NU its first lead with assists going to Mike McMurtry (Greely, Ontario) and Dylan Sikura (Aurora, Ontario).
The Eagles tied it at 2-2 only 1:10 after the break as freshman Colin White (Hanover, Mass.) tallied his 19th of the year, set up by junior Matthew Gaudreau (Carneys Point, N.J.).
Special teams took over and just 1:45 later Nolan Stevens regained the lead for NU on the power play, set up by Gaudette and his brother John Stevens (Sea Isle, N.J.). Eric Williams (Newmarket, Ontario) made it 4-2 at 10:55 again cashing in again with an extra skater with assists to Sikura and Kevin Roy (Lac-Beauport, Quebec).
BC got one back two minutes later, also on the power play, on Wood's second of the contest, assisted by Ryan Fitzgerald (No. Reading, Mass.) and Teddy Doherty (Hopkinton, Mass.). Goalie Thatcher Demko (San Diego, Calif.) kept it at 4-3 with robbing Sikura with a sliding stop with 21 seconds before the second intermission.
Northeastern added big goal to make it 5-3 at 9:44 of the third as Lincoln Griffin (Walpole, Mass.) took of advantage of a turnover at the BC blueline for an unassisted goal. Boston College answered quickly only 1:06 later when Alex Tuch (Baldwinsville, N.Y.) deposited a rebound of a shot by Zach Sanford (Manchester, N.H.) to make it 5-4. Santini added an assist, his second of the night.
Huskies goalie Ryan Ruck (Coto de Caza, Calif.), who finished with 21 saves, 13 in the third period, closed out the Eagles who fall to 26-7-5 with the loss. NU went two-for-six on the power play while BC was one-for-three.
Notes: Its the third time the two Green Line rivals have met in the semis and the first NU win ... BC's first three goals were scored by two freshmen. White was named Pro Ambitions Hockey East Rookie of the Year Thursday ... It was the second time this season that Demko, a first team Hockey East All-Star and the Co-Warrior Player of the year, allowed more than four goals. Merrimack scored five in a tie with BC on February 13, 2016.