Jerry York Earns 1,000th Win As Boston College Tops Massachusetts, 8-0
Boston College head coach Jerry York earns 1,000th career victory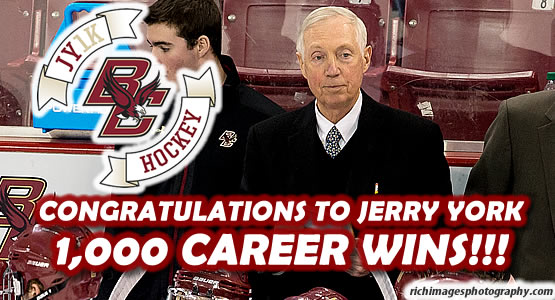 Boston College head coach Jerry York earned his 1,000th career victory
| | | | | | | |
| --- | --- | --- | --- | --- | --- | --- |
| Prd | Time | Team | Score | Type | Scored By | Assists |
| 1st | 4:49 | BC | 1-0 | EV GW | Ian McCoshen (6) | Josh Couturier/2, Teddy Doherty/9 |
| 1st | 7:59 | BC | 2-0 | EV | Alex Tuch (9) | Steve Santini/9, Zach Sanford/18 |
| 1st | 14:13 | BC | 3-0 | EV | Chris Calnan (3) | - |
| 1st | 15:13 | BC | 4-0 | EV | Colin White (13) | Ryan Fitzgerald/16, Matthew Gaudreau/12 |
| 1st | 17:54 | BC | 5-0 | SH | Miles Wood (8) | Scott Savage/9, Alex Tuch/9 |
| 2nd | 2:28 | BC | 6-0 | SH | Austin Cangelosi (10) | Miles Wood/15 |
| 2nd | 11:38 | BC | 7-0 | PP | Teddy Doherty (9) | Ian McCoshen/8, Colin White/17 |
| 2nd | 17:27 | BC | 8-0 | EV | Ryan Fitzgerald (14) | Michael Kim/1, Matthew Gaudreau/13 |
| | | | | |
| --- | --- | --- | --- | --- |
| Scoring | 1st | 2nd | 3rd | Final |
| Boston College | 5 | 3 | 0 | 8 |
| Massachusetts | 0 | 0 | 0 | 0 |
| | | | | |
| --- | --- | --- | --- | --- |
| Shots on Goal | 1st | 2nd | 3rd | SOG |
| Boston College | 13 | 14 | 11 | 38 |
| Massachusetts | 6 | 8 | 6 | 20 |
| | | | |
| --- | --- | --- | --- |
| Team Stats and Records | PP | PIM | SHGF |
| Boston College (16-4-3) | 1/2 | 4/8 | 2 |
| Massachusetts (7-13-4) | 0/4 | 2/4 | 0 |
| | | | | | | |
| --- | --- | --- | --- | --- | --- | --- |
| Boston College Goaltending | MIN | GA | 1 | 2 | 3 | Saves |
| Thatcher Demko (W, 15-4-2) | 60:00 | 0 | 6 | 8 | 6 | 20 |
| | | | | | | |
| --- | --- | --- | --- | --- | --- | --- |
| Massachusetts Goaltending | MIN | GA | 1 | 2 | 3 | Saves |
| Nic Renyard (L, 4-9-4) | 54:13 | 6 | 8 | 11 | 11 | 30 |
| Alex Wakaluk | 5:47 | 2 | 0 | 0 | 0 | 0 |
AMHERST, Mass. - Boston College head coach Jerry York became the first college hockey coach to reach 1,000 wins as the Eagles got a 20-save shutout performance from Thatcher Demko in Friday's 8-0 victory against Massachusetts at Mullins Center.
GAME INFORMATION
Score: No. 4 Boston College 8 // Massachusetts 0
Records: No. 4 Boston College (16-4-3, 9-1-3 HEA) // Massachusetts (7-13-4, 2-8-4 HEA)
Location: Mullins Center // Amherst, Mass.
Attendance: 4,673
Length of Game: 2:10
Boston College Starters: Wood (LW) - Cangelosi (C) - Gilmour (RW) - Santini (LD) - Savage (RD) - Demko (G)
Massachusetts Starters: Trento (LW) - Kravchenko (C) - Walsh (RW) - Hetnik (LD) - Gallacher (RD) - Renyard (G)
#JY1K HIGHLIGHTS
- Boston College coach Jerry York has reached the 1,000-win mark for his career in his 1,703rd game as a head coach. In all, York's record is 1,000-595-108 (.619) in 44 seasons at the head coach level and 533-260-74 (.658) in his 22nd season at the helm of Boston College. York is the 128th coach across the big four (football, basketball, baseball and hockey) professional sports leagues and Division I college athletics. At the collegiate level, York is the 55th head coach to reach 1,000-career victories and the first to do so in college hockey. York remains the winningest coach in the history of the game.
- In his 1,000-career victories, Jerry York has defeated 69 different programs spread out through his tenures at Clarkson, Bowling Green and Boston College.
- The all time total goal count in Coach York's 1,000 victories is 5,421 goals for and 2,395 goals against.
- Coach York's all-time records:
             - CLARKSON: 125-87-3
             - BOWLING GREEN: 342-248-31
             - BOSTON COLLEGE: 533-260-74
- Massachusetts is the team Coach York has most defeated in his 44-year coaching career. Friday's win marked his 56th triumph over the Minutemen, with all 56 of those having come at The Heights.
#JY1K NIGHT
- JY1K Night will be scheduled for Friday, Feb. 5, 2016, against New Hampshire. Be sure to arrive early for a special presentation.
BC HIGHLIGHTS AND GAME NOTES
- Several career game milestones occurred Friday night against UMass or have already taken place last weekend at BU on Jan. 26. Austin Cangelosi and Ryan Fitzgerald played in their 100th-career games tonight while Adam Gilmour dressed in his 100th game at BU. Teddy Doherty took part in his 125th game on Jan. 16 while Travis Jekedonned the maroon and gold for the 50th time at Agganis Arena last Saturday.
- Speaking of milestones, Thatcher Demko picked up his 10th-career shutout and seventh blanking of the season via 20 saves, and did so by winning his 50th-career game. The San Diego native is one shutout shy of tying Cory Schneider for the record (8) and is five behind Schneider's record of 15 shutouts. Over the course of two and a half years as BC's primary netminder, Demko has pieced together a .675 winning percentage on The Heights.
- The last time Boston College defeated a Hockey East team by eight goals was on Jan. 31, 2003, when the Eagles skated by Massachusetts, 9-0, at Conte Forum.
- Austin Cangelosi and Miles Wood both scored their first-career short-handed goals Friday night at UMass.
- Michael Kim picked up his first-career point on Ryan Fitzgerald's tally late in the third. Friday was Kim's sixth-career game as an Eagle.
- Thirteen different skaters scored at least one point in Friday's 8-0 victory while eight different Eagles scored a goal.
- Teddy Doherty scored his fifth power play goal of the season and sixth of his career.
- The Eagles outscored UMass by a combined score of 15-0 in their two contests against one another.
TURNING POINT
Ian McCoshen scored five minutes into the first period and the rest was history. Boston College hung a five spot on Massachusetts in the first period and added three more in the second to certify head coach Jerry York won his 1,000th-carer game.
HOW IT HAPPENED
Boston College's early pressure paid dividends as the Eagles throttled UMass in the opening period, outscoring its opponent, 5-0.
The Eagles struck first after heavy pressure paid off in UMass' zone at 4:49 of the first period. Teddy Dohertykicked the puck out to the slot where Josh Couturier awaited the one-timer pass to Ian McCoshen. Couturier slid the disc along the blue line and McCoshen unleashed his patented slapper through traffic for a 1-0 lead.
Alex Tuch added the Eagles' second strike three minutes later at 7:59 on a laser from the left dot. Zach Sanfordwon the puck out the Minutemen's near corner out to Steve Santini on the opposite dot. Santini discovered Tuch sprinting down the left side and the sent the home run pass from blue line to blue line. Tuch gathered it and ripped it past Nic Renyard for a 2-0 lead.
Exactly one minute later, Chris Calnan buried one on the crease off a turnover in Massachusetts' end. The puck squirted out to the goal mouth where Calnan was camped out and his backhander made it 3-0 and chased Renyard out of net for Alex Wakaluk.
Colin White found the back of the net and was the beneficiary off of heavy forechecking in UMass' end. Michael Kim lashed out at a rush up towards Thatcher Demko and Matthew Gaudreau was able to storm and move the puck out of harms way out to White in transition. White made one quick move in front and got one past Wakaluk at 15:13 of the first period for a 4-0 lead.
White followed shortly after with a slashing penalty, but the Eagles were still able to capitalize down a man afterMiles Wood rushed the net at 17:54. Scott Savage wrangled it free from UMass atop BC's blue line and shifted to Wood out front for the 5-0 lead with a short-handed marker.
Boston College did not relent in the second, adding its second short-handed tally 2:28 into the middle stanza. McCoshen was flagged for roughing at 2:03 but a beautiful give and go crafted by Austin Cangelosi and Wood made it a 6-0 affair. Steve Santini sent the pass out to Cangelosi with Wood on his tail. Cangelosi dropped the pass off between his legs for Wood who carried it over to the far post and reunited with Cangelosi on the doorstep for another short-handed attack.
Doherty netted BC's first power play tally of the night at 11:38 on a rebound in front, capitalizing on a Ray Pigozzi high-stick at 9:49.. White provided McCoshen with an open look and the puck pinballed out to Doherty just below the right dot for the put back and a 7-0.
Before the second period concluded, Fitzgerald benefitted off of a huge blast from Michael Kim at 17:27. Kim hammered a slapshot from within the blue line and Fitzgerald nipped the puck with the blade of his stick for the 8-0 lead.
BOSTON COLLEGE LEADERS
Points: Ian McCoshen (1-1-2), Alex Tuch (1-1-2), Teddy Doherty (1-1-2), Ryan Fitzgerald (1-1-2), Miles Wood (1-1-2), Colin White (1-1-2), Matthew Gaudreau (0-2-2)
Goals: Ian McCoshen (1), Alex Tuch (1), Chris Calnan (1), Colin White (1), Miles Wood (1), Austin Cangelosi (1),Teddy Doherty (1), Ryan Fitzgerald (1)
Assists: Matthew Gaudreau (2)
Shots: Ryan Fitzgerald (7)
MASSACHUSETTS LEADERS
Points: -
Goals: -
Assists: -
Shots: Ben Gallacher (4)
SPECIAL TEAMS
Boston College: 1-for-2
Massachusetts: 0-for-4
PENALTIES
Boston College: 4 penalties - 8 minutes
Massachusetts: 1 penalties - 2 minutes