Tuesday, November 3, 2015
White, Demko Lead Boston College Past Massachusetts, 7-0
Freshman forward Colin White posts goal and three assists and junior goaltender Thatcher Demko stops 26 shots for Eagles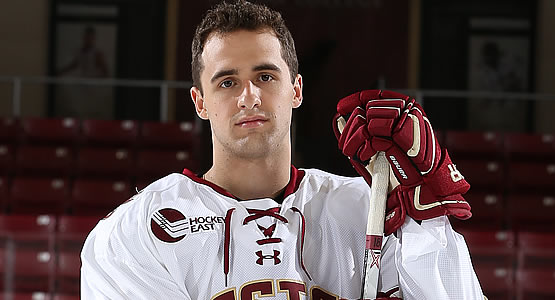 Freshman forward Colin White had a goal and three assists for the Eagles
| | | | | | | |
| --- | --- | --- | --- | --- | --- | --- |
| Prd | Time | Team | Score | Type | Scored By | Assists |
| 2nd | 1:33 | BC | 1-0 | EV GW | Adam Gilmour (3) | - |
| 2nd | 6:45 | BC | 2-0 | EV | Travis Jeke (1) | Chris Brown/2, JD Dudek/1 |
| 2nd | 8:11 | BC | 3-0 | EV | Scott Savage (1) | Colin White/3, Matthew Gaudreau/1 |
| 2nd | 11:16 | BC | 4-0 | EV | Ryan Fitzgerald (4) | Miles Wood/7, Colin White/4 |
| 2nd | 11:27 | BC | 5-0 | EV | Colin White (3) | Ryan Fitzgerald/4 |
| 2nd | 15:10 | BC | 6-0 | PP | Teddy Doherty (3) | Colin White/5, Casey Fitzgerald/5 |
| 3rd | 13:01 | BC | 7-0 | PP | Teddy Doherty (4) | Matthew Gaudreau/2, Chris Brown/3 |
| | | | | |
| --- | --- | --- | --- | --- |
| Scoring | 1st | 2nd | 3rd | Final |
| Massachusetts | 0 | 0 | 0 | 0 |
| Boston College | 0 | 6 | 1 | 7 |
| | | | | |
| --- | --- | --- | --- | --- |
| Shots on Goal | 1st | 2nd | 3rd | SOG |
| Massachusetts | 5 | 11 | 10 | 26 |
| Boston College | 12 | 16 | 5 | 33 |
| | | | |
| --- | --- | --- | --- |
| Team Stats and Records | PP | PIM | SHGF |
| Massachusetts (4-2-1) | 0/4 | 8/38 | 0 |
| Boston College (6-1-0) | 2/5 | 8/27 | 0 |
| | | | | | | |
| --- | --- | --- | --- | --- | --- | --- |
| Massachusetts Goaltending | MIN | GA | 1 | 2 | 3 | Saves |
| Nic Renyard (L, 2-1-1) | 31:27 | 5 | 12 | 9 | 0 | 21 |
| Alex Wakaluk | 28:33 | 2 | 0 | 1 | 4 | 5 |
| | | | | | | |
| --- | --- | --- | --- | --- | --- | --- |
| Boston College Goaltending | MIN | GA | 1 | 2 | 3 | Saves |
| Thatcher Demko (W, 6-1-0) | 60:00 | 0 | 5 | 11 | 10 | 26 |
CHESTNUT HILL, Mass. - Freshman forward Colin White had a goal and three assists and junior goaltender Thatcher Demko made 26 saves to lead Boston College to a 7-0 win against Massachusetts on Tuesday night at Kelley Rink.
Score: Massachusetts 0 // No. 3 Boston College 7
Records: Massachusetts (4-2-1, 0-1-1 Hockey East) // No. 3 Boston College (6-1-0, 1-0-0 HEA)
Location: Kelly Rink at Conte Forum // Chestnut Hill, Mass.
Attendance: 2,873
Length of Game: 2:21
BC Starters: Wood (LW) - Cangelosi (C) - Calnan (RW) - McCoshen (LD) - Casey Fitzgerald (RD) - Demko (G)
UMass Starters: Plevy (LW) - Kravchenko(C) - Trento (RW) - Lagesson (LD) - Fryer (RD) - Renyard (G)
BC HIGHLIGHTS AND GAME NOTES
- For the first time in Boston College hockey history, the Eagles have shutout their fourth opponent in five outings. Thatcher Demko has backstopped all four of those blankings and is the first BC goalie in program history with that distinction. The closest Boston College has ever come to this current record is when the Eagles shutout four teams in six games from Jan. 23 to Feb. 11, 2000.
- With the 7-0 shutout, Thatcher Demko is now tied for fourth all-time on the single season shutouts list with Matti Kaltiainen (2003-04() and Scott Clemmensen (1997-98). For a career, the San Diego native ranks fifth all-time in career shutouts, posting his seventh with victory on Nov. 3 over Massachusetts. Demko ranks alone in fifth and is now currently one shutout behind one behind Jack Fitzgerald (1922-25) and Matti Kaltiainen (2001-05) for a career. Cory Schneider (2004-07) is the Eagle record holder for career shutouts with 15.
- Over the course of BC's four shutouts in five games, the Eagles have outscored their opponents by a combined 25-3. BC's 7-0 shutout was the largest margin of victory in a blanking since the 11-0 win over Army on Nov. 10, 2013.
- The last time Boston College scored six goals in a period was almost 20 years ago. The Eagles posted a six spot against St. Lawrence on Nov. 25, 1995 in a 10-4 victory.
- Boston College actually shutout UMass by an identical score on Dec. 9, 2005 (7-0).
- Rookie Colin White broke out for a team-best four-point performance with a goal and three assists. The Hanover, Mass., native is the lone active Eagle to record three assists in a game this season.
- Captain Teddy Doherty recorded his third power play goal in two games after not netting one since his freshman season on Dec. 1, 2012.
- Senior Travis Jeke, playing his third-career game at forward, scored his first goal since Dec. 27, 2013, against Bowling Green at CONSOL Energy Center at the Three Rivers Classic in Pittsburgh. The Pittsburgh native has scored four career goals in 35 games dressed.
- Junior Scott Savage found the back of the net for the first time in over a season, tallying for the first time since Feb. 15, 2014, against Vermont. The San Clemente, Calif., native netted his fifth goal in 80 games as an Eagle on the blue line.
- Both junior Matthew Gaudreau and rookie Christopher Brown notched their first-career multi-point performances. Each forward doled out a pair of assists while Gaudreau has notched three points in his last two games.
- JD Dudek recorded his first-career point by assists on Travis Jeke's goal in the first period.
- Adam Gilmour scored his second game-winning goal of the season and sixth of his career at 1:33 of the second period.
- Ryan Fitzgerald is not eligible to play for Boston College in Friday's tilt against Maine due to a disqualification for cross-checking at 11:16 of the second period.
TURNING POINT
Adam Gilmour charged Carmine Buono on the blue line, wrestled the puck free and scored at 1:33 of the second period, acting as the catalyst for the Eagles' highest scoring period in nearly 20 years.
HOW IT HAPPENED
The Eagle defense stifled the Minutemen in the first frame, allowing only five shots through to Demko. Massachusetts did not register its first shot of the contest until 11:46 of the first period.
Boston College continued to dictate the tempo and momentum finally gave way at 1:33 of the second period. Massachusetts attempted to rim it back to Carmine Buono on the Minutemen blue line, but Gilmour's heavy pursuit jostled the puck loose to create a 2-on-1 deep in UMass territory. Gilmour looked off his flanker and carried the puck to the crease himself and beat Nic Renyard five-hole for the 1-0 BC lead.
Gilmour's goal opened the floodgates as Boston College put up five more tallies to complete the six-goal second period.
Travis Jeke lit the lamp at 6:45 thanks to great forechecking from Christopher Brown. Brown wrangled the puck from behind the net out to JD Dudek on the left flank. With a large amount of space between Jeke and his nearest pursuer, Dudek deferred to Jeke on the right dot for the layup and a 2-0 advantage.
Savage added the Eagles' third marker on a rip from the slot at 8:11. Matthew Gaudreau won a battle along the boards and the puck careened to Colin White behind UMass' cage. White emerged with it and backhanded it to Savage for the successful slapper and a 3-0 cushion.
Just about three minutes later, White created a three-on-zero situation for the Eagles with Miles Wood and Ryan Fitzgerald in pursuit as well.
White kicked the puck up ahead to Wood on the red line where he and Fitzgerald played give-and-go in front of Renyard before Fitzgerald popped it over his right pad at 11:16 for the 4-0 lead. Following Fitzgerald's tally, UMass skipper John Micheletto elected to pull Renyard in favor of Alex Wakaluk.
The goaltender change did not phase the Eagles as White scored 11 seconds later to make it a 5-0 affair.
Fitzgerald forechecked behind the net, coercing UMass to cough the puck up to White in the right circle. Without hesitation, White wristed it past Wakaluk at 11:27 to add BC's fifth of the period.
Following a slew of penalties that resulted in a pair of disqualifications (Ryan Fitzgerald - cross checking / Ben Gallacher - spearing) at 11:45, Doherty cashed in on a Steven Iacobellis five-minute major (spearing) penalty at 15:10 to cap the six-goal spurt. White and Colin Fitzgerald worked the disc around the top of the zone to free up Doherty for the rip between the circles for the 6-0 lead.
With the game in hand, Doherty netted his second power play goal of the game at 13:01 following a Dennis Kravchenko slashing penalty at 12:14. Brown relayed the puck across the sheet to Gaudreau on the far side where the winger left a touch pass for Doherty on left dot. Doherty stepped into it and smoked it over the goal line to cap the Eagles' seven-goal explosion.
BOSTON COLLEGE LEADERS
Points: Colin White (1 goal - 3 assists - 4 points)
Goals: Teddy Doherty (2)
Assists: White (3)
Shots: Doherty (5) / R. Fitzgerald (5)
Faceoffs Won: White (9-for-16)
UMASS LEADERS
Points: n/a
Goals: n/a
Assists: n/a
Shots: Dennis Kravchenko (5)
Faceoffs Won: Kravchenko (9-for-16)
SPECIAL TEAMS
Boston College: 2-for-5
Massachusetts: 0-for-4
PENALTIES
Boston College: 8 penalties - 27 minutes
Massachusetts: 8 penalties - 38 minutes
UP NEXT
Boston College stays on The Heights as part of its five-game homestand and will continue with league play when the Eagles host Maine on Friday and Sunday, Nov. 6-8. Friday's contest will commence at 7 p.m. while Sunday's matinee will drop at 1 p.m. The following week, the Eagles will have only one game when Michigan State marches to Chestnut Hill for a Friday night game on Nov. 13 at 7 p.m.