Saturday, November 28, 2015
UMass Lowell Ties Brown, 5-5; Takes Shootout To Win Friendship Four Tourney
Sophomore forward C.J. Smith has two goals and assist for River Hawks; UML wins shootout 1-0 to capture Belpot Trophy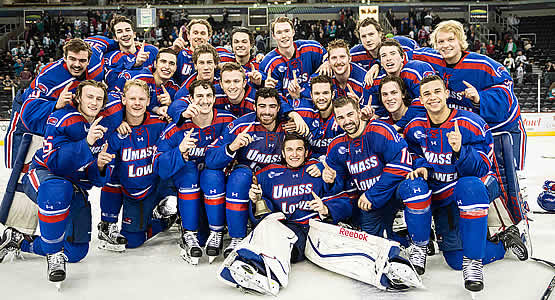 The No. 4 ranked UMass Lowell Hockey team capture the inaugural Belpot Trophy
| | | | | | | |
| --- | --- | --- | --- | --- | --- | --- |
| Prd | Time | Team | Score | Type | Scored By | Assists |
| 1st | 1:45 | UML | 1-0 | EV | Ryan McGrath (5) | Joe Gambardella/10, Adam Chapie/7 |
| 1st | 17:08 | UML | 2-0 | PP | Chris Forney (1) | Adam Chapie/8, Michael Kapla/6 |
| 1st | 18:40 | BRN | 1-2 | EV | Tommy Marchin (6) | Mark Naclerio/6, Nick Lappin/8 |
| 2nd | 8:09 | BRN | 2-2 | EV | Joe Prescott (2) | Max Willman/2 |
| 2nd | 8:33 | UML | 3-2 | EV | C.J. Smith (5) | - |
| 2nd | 13:25 | UML | 4-2 | EV | Adam Chapie (7) | C.J. Smith/9, Dylan Zink/4 |
| 2nd | 15:17 | BRN | 3-4 | EV | Nick Lappin (6) | Max Gottlieb/8, Tommy Marchin/5 |
| 2nd | 16:48 | BRN | 4-4 | EV | Mark Naclerio (4) | Nick Lappin/9, Tommy Marchin/6 |
| 3rd | 4:05 | BRN | 5-4 | EV | Zack Pryzbek (2) | - |
| 3rd | 19:21 | UML | 5-5 | EV EA GT | C.J. Smith (6) | Michael Kapla/7, Ryan McGrath/4 |
| | | | | | |
| --- | --- | --- | --- | --- | --- |
| Scoring | 1st | 2nd | 3rd | OT | Final |
| Brown | 1 | 3 | 1 | 0 | 5 |
| UMass Lowell | 2 | 2 | 1 | 0 | 5 |
| | | | | | |
| --- | --- | --- | --- | --- | --- |
| Shots on Goal | 1st | 2nd | 3rd | OT | SOG |
| Brown | 4 | 13 | 3 | 4 | 24 |
| UMass Lowell | 11 | 13 | 15 | 1 | 40 |
| | | | |
| --- | --- | --- | --- |
| Team Stats and Records | PP | PIM | SHGF |
| Brown (2-4-3) | 0/1 | 5/10 | 0 |
| UMass Lowell (10-1-4) | 1/5 | 1/2 | 0 |
| | | | | | | | |
| --- | --- | --- | --- | --- | --- | --- | --- |
| Brown Goaltending | MIN | GA | 1 | 2 | 3 | OT | Saves |
| Tim Ernst (T, 2-3-3) | 65:00 | 5 | 9 | 11 | 14 | 1 | 35 |
| | | | | | | | |
| --- | --- | --- | --- | --- | --- | --- | --- |
| UMass Lowell Goaltending | MIN | GA | 1 | 2 | 3 | OT | Saves |
| Kevin Boyle (T, 10-1-4) | 63:19 | 5 | 3 | 10 | 2 | 4 | 19 |
| Empty Net | 1:41 | 0 | | | | | |
BELFAST, Northern Ireland, United Kingdom -- Sophomore forward C.J. Smith (Des Moines, Iowa) scored the extra attacker game-tying goal with 39 seconds left and junior defenseman Dylan Zink (Madison, Wis.) scored the only goal in the shootout to help the No. 4 ranked UMass Lowell Hockey team capture the inaugural Belpot Trophy in the 5-5 tie against Brown at SSE Arena on Saturday night in the "Friendship Four" Championship Game.
The River Hawks now own a 10-1-4 record, while Brown moves to 2-4-3 overall.
Smith scored two goals on the night, added one assist and registered a game-high eight shots on goal with a +2 rating in the tie for the River Hawks. He was named "Man of the Match" for his efforts in the Championship Game.
Senior forward Ryan McGrath (O'Fallon, Mo.) gave the River Hawks a 1-0 lead just two minutes into the first period with a wrister the beat the Brown goalie glove side. Sophomore defenseman Chris Forney (Thief River Falls, Minn.) scored his second career goal on the power play with 2:52 left in the period to give UMass Lowell a 2-0 lead, but Brown struck back quickly with a goal by Tommy Marchin with 1:20 left in the opening period and the River Hawks went to the locker room up 2-1. The River Hawks owned a 11-4 shot advantage at the end of the first period.
Joe Prescott opened the scoring in the second period for the Bears at 8:09, but Smith gave the River Hawks a 3-2 lead with a wrap around goal at 8:33 of the second. Adam Chapie (Oxford, Mich.) added his seventh goal of the season at 13:25 to give the River Hawks a 4-2 lead, but Brown stormed back to tie the game a 4-4 on goals by Nick Lappin at 15:17 and Mark Naclerio at 16:48. Chapie finished the night with three points (1g,2a) for the River Hawks.
Brown's Zack Pryzbek scored the go-ahead goal for the Bears just 4:05 into the third period to make it a 5-4 game.
UMass Lowell outshot Brown, 40-24, which included a 15-3 edge in the third frame. Kevin Boyle (Manalapan, N.J.) stopped 19 shots and all three shots in the shootout, while Tim Ernst made 35 saves and recorded two saves in the three-round shootout for Brown.
The River Hawks return to action on Saturday, December 5th at UConn in Hockey East action. Game time from the XL Center in Hartford, Conn. is 3 p.m.