Oksanen Leads Boston University To 5-4 Win Over Northeastern
Senior forward Ahti Oksanen registers game-winning goal and two assists for Terriers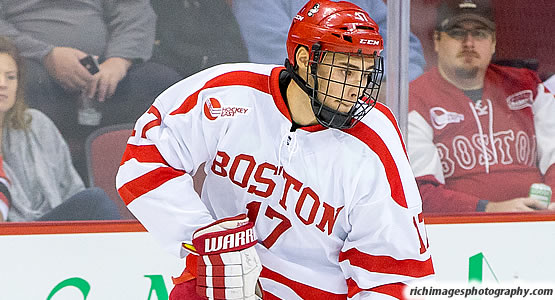 Senior forward Ahti Oksanen had a goal and two assists for the Terriers
| | | | | | | |
| --- | --- | --- | --- | --- | --- | --- |
| Prd | Time | Team | Score | Type | Scored By | Assists |
| 1st | 10:01 | BU | 1-0 | EV | Matt Grzelcyk (1) | Charlie McAvoy/3, Ryan Cloonan/4 |
| 2nd | 5:56 | BU | 2-0 | EV | Brandon Fortunato (3) | Jakob Forsbacka Karlsson/6, Ahti Oksanen/3 |
| 2nd | 7:41 | NOE | 1-2 | EV | Adam Gaudette (2) | Matt Benning/2, Dylan Sikura/3 |
| 2nd | 13:50 | NOE | 2-2 | PP | Garret Cockerill (1) | Dalen Hedges/2, Dylan Sikura/4 |
| 2nd | 14:24 | BU | 3-2 | EV | Ryan Cloonan (4) | - |
| 2nd | 14:36 | NOE | 3-3 | EV | Dylan Sikura (2) | Nolan Stevens/2, Colton Saucerman/2 |
| 2nd | 15:05 | NOE | 4-3 | EV | Eric Williams (2) | Garret Cockerill/1, Adam Gaudette/2 |
| 3rd | 3:52 | BU | 4-4 | EV | Brandon Hickey (4) | Ahti Oksanen/4, Danny O'Regan/7 |
| 3rd | 6:28 | BU | 5-4 | EV GW | Ahti Oksanen (3) | Matt Grzelcyk/1, Danny O'Regan/8 |
| | | | | |
| --- | --- | --- | --- | --- |
| Scoring | 1st | 2nd | 3rd | Final |
| Northeastern | 0 | 4 | 0 | 4 |
| Boston University | 1 | 2 | 2 | 5 |
| | | | | |
| --- | --- | --- | --- | --- |
| Shots on Goal | 1st | 2nd | 3rd | SOG |
| Northeastern | 12 | 9 | 19 | 40 |
| Boston University | 16 | 7 | 6 | 29 |
| | | | |
| --- | --- | --- | --- |
| Team Stats and Records | PP | PIM | SHGF |
| Northeastern (1-6-1) | 1/8 | 4/8 | 0 |
| Boston University (4-3-0) | 0/3 | 9/18 | 0 |
| | | | | | | |
| --- | --- | --- | --- | --- | --- | --- |
| Northeastern Goaltending | MIN | GA | 1 | 2 | 3 | Saves |
| Ryan Ruck (L, 0-3-0) | 57:50 | 5 | 15 | 5 | 4 | 24 |
| Empty Net | 2:10 | 0 | | | | |
| | | | | | | |
| --- | --- | --- | --- | --- | --- | --- |
| Boston University Goaltending | MIN | GA | 1 | 2 | 3 | Saves |
| Connor LaCouvee (W, 3-1-0) | 59:30 | 4 | 12 | 5 | 19 | 36 |
| Empty Net | 0:30 | 0 | | | | |
BOSTON - Senior Ahti Oksanen tallied three points, including the game-winning goal in the third period, to push the No. 10/11 Boston University men's ice hockey team to a 5-4 victory over Northeastern on Friday evening at Agganis Arena in the opener a home-and-home series.
Making his season debut following offseason knee surgery, senior captain Matt Grzelcyk opened the scoring and assisted on Oksanen's game-winner.to help the Terriers improve to 4-3-0 overall and 2-2-0 in Hockey East play.
After allowing four second-period goals, sophomore netminder Connor LaCouvee turned aside all 19 shots he faced in the third to allow BU to come back from a 4-3 deficit. LaCouvee finished with a career-best 36 saves.
Freshman Ryan Cloonan and sophomore defensemen Brandon Fortunato and Brandon Hickey all found the back of the net for BU. Cloonan and Hickey now share the team lead in goals this season with four.
After the Terriers took a 2-0 lead on Fortunato's marker at 5:56 of the second, the visitors went on to score four goals in a span 7:24. Dylan Sikura registered a goal and two assists during the run, which resulted in a 4-3 lead for the Huskies after two periods.
Hickey tied the game at 4-4 at 3:52 of the third when Oksanen found him wide open at the top of the crease on a rush.
Oksanen potted the game-winner when he received a tape-to-tape return pass from Grzelcyk at the foot of the right circle and buried the puck at the 6:28 mark of the final stanza.
Senior Danny O'Regan assisted on the game-tying and game-winning goals to increase his team-leading point total to nine.
Ryan Ruck made 24 saves for the Huskies, who held a 40-29 shot advantage. Northeastern went 1-for-8 on the power play while the Terriers went 0-for-3.
The two teams will wrap up their weekend series on Saturday (Nov. 7) at Matthews Arena.