Boston University Falls To US Under-18 Team In Exhibition, 7-4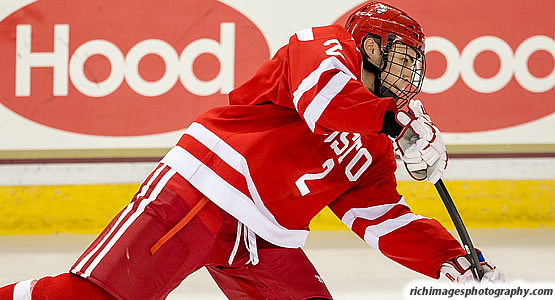 Senior forward Ahti Oksanen scored two goals for the Terriers
| | | | | | | |
| --- | --- | --- | --- | --- | --- | --- |
| Prd | Time | Team | Score | Type | Scored By | Assists |
| 1st | 0:43 | U18 | 1-0 | EV | Trent Frederic | - |
| 1st | 5:43 | BU | 1-1 | EV | Ahti Oksanen | Jordan Greenway, Danny O'Regan |
| 1st | 11:31 | U18 | 2-1 | EV | Kieffer Bellows | Clayton Keller, J.D. Greenway |
| 2nd | 13:13 | BU | 2-2 | EV | Danny O'Regan | Jordan Greenway, John MacLeod |
| 2nd | 14:11 | U18 | 3-2 | EV | Kieffer Bellows | Clayton Keller, Joey Anderson |
| 2nd | 14:39 | U18 | 4-2 | EV | Casey Mittelstadt | Will Lockwood, Luke Martin |
| 3rd | 6:29 | BU | 3-4 | EV | Matt Lane | Bobo Carpenter, Charlie McAvoy |
| 3rd | 13:06 | U18 | 5-3 | EV GW | Griffin Luce | Clayton Keller, Kieffer Bellows |
| 3rd | 15:12 | U18 | 6-3 | EV | Will Lockwood | Keenan Suthers, Chad Krys |
| 3rd | 17:16 | U18 | 7-3 | PP | Trent Frederic | Matthew Hellickson, Luke Martin |
| 3rd | 18:35 | BU | 4-7 | PP | Ahti Oksanen | Danny O'Regan, Charlie McAvoy |
| | | | | |
| --- | --- | --- | --- | --- |
| Scoring | 1st | 2nd | 3rd | Final |
| USA Under-18 Team | 2 | 2 | 3 | 7 |
| Boston University | 1 | 1 | 2 | 4 |
| | | | | |
| --- | --- | --- | --- | --- |
| Shots on Goal | 1st | 2nd | 3rd | SOG |
| USA Under-18 Team | 7 | 7 | 8 | 22 |
| Boston University | 15 | 14 | 16 | 45 |
| | | | |
| --- | --- | --- | --- |
| Team Stats and Records | PP | PIM | SHGF |
| USA Under-18 Team | 1/4 | 6/12 | 0 |
| Boston University | 1/4 | 5/10 | 0 |
| | | | | | | |
| --- | --- | --- | --- | --- | --- | --- |
| USA Under-18 Team Goaltending | MIN | GA | 1 | 2 | 3 | Saves |
| Jake Oettinger (W) | 60:00 | 4 | 14 | 13 | 14 | 41 |
| | | | | | | |
| --- | --- | --- | --- | --- | --- | --- |
| Boston University Goaltending | MIN | GA | 1 | 2 | 3 | Saves |
| Connor LaCouvee | 28:38 | 2 | 5 | 0 | 0 | 5 |
| Sean Maguire (L) | 31:22 | 5 | 0 | 5 | 5 | 10 |
BOSTON, Mass. - Playing in its second and final exhibition contest of the season, the No. 6 Boston University men's ice hockey team dropped a 7-4 contest to the U.S. National Under-18 Team on Friday evening at Agganis Arena. The Terriers will take on Wisconsin in their home opener on Saturday at 7 p.m.
Senior Ahti Oksanen scored twice while classmate Danny O'Regan recorded a goal and two assists. Their linemate, freshman Jordan Greenway, chipped in with two assists. Senior Matt Lane also found the back of the net for BU, which held a commanding 45-22 shot advantage.
The U18 squad was paced by three-point nights from Kiefer Bellows (2g, 1a) and Clayton Keller (3a). Trent Frederic scored their first and seventh goals while Griffin Luce, Casey Mittelstadt and Will Lookwood each potted a goal.
The Terriers never held a lead, drawing even at 1-1 and 2-2 before the visitors scored breakaway goals 28 seconds apart late in the second to take the lead for good.
Lane's goal made it a 4-3 Team USA lead with 13:31 remaining in regulation, but the cushion was stretched to 7-3 after a trio of goals ended any chance of a Terrier comeback.
Jake Oettinger made 41 saves for the U18s while sophomore Connor LaCouvee (5) and senior Sean Maguire (10) combined for 15 saves for BU. Each team went 1-for-4 on the power play.