Friday, December 11, 2015
Boston University Downed By Yale, 3-2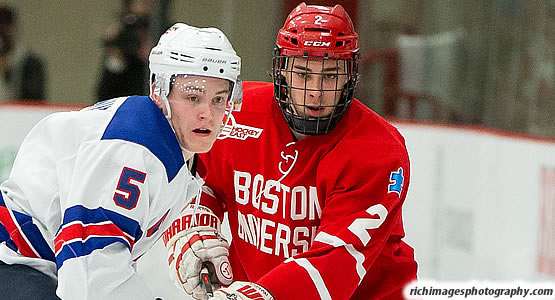 Senior forward Ahti Oksanen scored a goal for the Terriers
| | | | | | | |
| --- | --- | --- | --- | --- | --- | --- |
| Prd | Time | Team | Score | Type | Scored By | Assists |
| 2nd | 6:55 | BU | 1-0 | EV | Ahti Oksanen (9) | Jordan Greenway/6, Connor LaCouvee/2 |
| 2nd | 18:13 | YAL | 1-1 | EV | Ryan Hitchcock (5) | Mitch Witek/4, Stu Wilson/7 |
| 2nd | 19:40 | YAL | 2-1 | PP | John Hayden (5) | Ryan Hitchcock/3, Joe Snively/5 |
| 3rd | 6:31 | YAL | 3-1 | EV GW | John Hayden (6) | Joe Snively/6, Rob O'Gara/4 |
| 3rd | 17:18 | BU | 2-3 | PP EA | Bobo Carpenter (3) | Charlie McAvoy/6, Brandon Fortunato/11 |
| | | | | |
| --- | --- | --- | --- | --- |
| Scoring | 1st | 2nd | 3rd | Final |
| Boston University | 0 | 1 | 1 | 2 |
| Yale | 0 | 2 | 1 | 3 |
| | | | | |
| --- | --- | --- | --- | --- |
| Shots on Goal | 1st | 2nd | 3rd | SOG |
| Boston University | 9 | 10 | 10 | 29 |
| Yale | 10 | 18 | 3 | 31 |
| | | | |
| --- | --- | --- | --- |
| Team Stats and Records | PP | PIM | SHGF |
| Boston University (8-6-3) | 1/1 | 3/17 | 0 |
| Yale (6-4-2) | 1/2 | 2/4 | 0 |
| | | | | | | |
| --- | --- | --- | --- | --- | --- | --- |
| Boston University Goaltending | MIN | GA | 1 | 2 | 3 | Saves |
| Connor LaCouvee (L, 6-3-3) | 57:46 | 3 | 10 | 16 | 2 | 28 |
| Empty Net | 2:14 | 0 | | | | |
| | | | | | | |
| --- | --- | --- | --- | --- | --- | --- |
| Yale Goaltending | MIN | GA | 1 | 2 | 3 | Saves |
| Alex Lyon (W, 6-3-2) | 60:00 | 2 | 9 | 9 | 9 | 27 |
NEW HAVEN, Conn. - The No. 11/12 Boston University men's ice hockey team opened a weekend in Connecticut with a 3-2 loss to No. 15 Yale on Friday evening at Ingalls Rink. The Terriers fall to 8-6-3 with the loss.
Junior John Hayden scored two goals, including the winner, for Yale, which improves to 6-4-2 on the year.
The Terriers opened the scoring 6:55 into the middle period when senior Ahti Oksanen took a feed from freshman Jordan Greenway and sent it home for his team-leading ninth tally of the season.
The tables turned quickly, however, late in the second as Ryan Hitchcock tied it up for Yale at the right crease at 18:13 and BU freshman Ryan Cloonan received a five-minute boarding major and game misconduct 50 seconds later.
It was the first power play for either team and the Bulldogs took advantage of it right away with Hayden cashing in with 20 seconds left in the stanza.
BU was able to kill off the rest of the major, but the Elis made it a 3-1 contest when Hayden added his second of the night on a 3-on-2 at 6:31 of the third.
The lone power play of the game for BU came with 4:30 left in regulation. The Terriers were successful against the nation's top penalty kill with freshman Bobo Carpenter converting from the left circle off a pass from classmate Charlie McAvoy with 12 seconds left in the man advantage.
BU pulled goaltender Connor LaCouvee in favor of an extra attacker with just over two minutes left in regulation but was unable to come up with a late equalizer.
Yale held a 31-29 shot advantage and got a 27-save performance from Alex Lyon. LaCouvee made 28 stops for BU.
The Terriers will return to action on Saturday (Dec. 12) when they visit second-ranked and undefeated Quinnipiac in the first-ever meeting between the two schools. Game time is set for 7 p.m.