Nichols Stops 44 Shots To Backbone UConn To 1-0 Win At Maine
Junior goaltender Rob Nichols makes 44 saves to earn eighth career shutout for the Huskies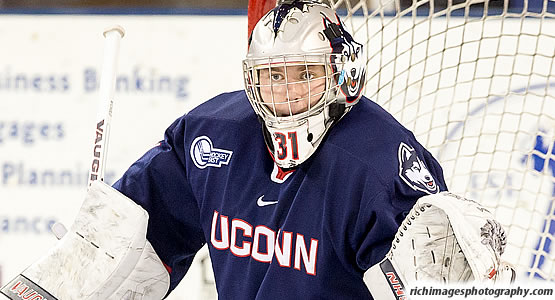 Junior goaltender Rob Nichols made 44 saves for the Huskies
| | | | | | | |
| --- | --- | --- | --- | --- | --- | --- |
| Prd | Time | Team | Score | Type | Scored By | Assists |
| 1st | 6:24 | CON | 1-0 | EV GW | Shawn Pauly (4) | Maxim Letunov/16, Tage Thompson/9 |
| | | | | |
| --- | --- | --- | --- | --- |
| Scoring | 1st | 2nd | 3rd | Final |
| Connecticut | 1 | 0 | 0 | 1 |
| Maine | 0 | 0 | 0 | 0 |
| | | | | |
| --- | --- | --- | --- | --- |
| Shots on Goal | 1st | 2nd | 3rd | SOG |
| Connecticut | 7 | 6 | 6 | 19 |
| Maine | 8 | 21 | 15 | 44 |
| | | | |
| --- | --- | --- | --- |
| Team Stats and Records | PP | PIM | SHGF |
| Connecticut (8-13-1) | 0/2 | 5/10 | 0 |
| Maine (5-13-4) | 0/4 | 3/6 | 0 |
| | | | | | | |
| --- | --- | --- | --- | --- | --- | --- |
| Connecticut Goaltending | MIN | GA | 1 | 2 | 3 | Saves |
| Rob Nichols (W, 7-12-1) | 60:00 | 0 | 8 | 21 | 15 | 44 |
| | | | | | | |
| --- | --- | --- | --- | --- | --- | --- |
| Maine Goaltending | MIN | GA | 1 | 2 | 3 | Saves |
| Rob McGovern (L, 1-9-2) | 58:50 | 1 | 6 | 6 | 6 | 18 |
| Empty Net | 1:10 | 0 | | | | |
ORONO, Maine - The University of Maine Men's Ice Hockey team fell to UCONN 1-0 Friday night at Alfond Arena in front of 3,215 fans.
With the loss, Maine falls to 5-13-4 overall and 2-6-1 in Hockey East play, while UCONN improves to 8-13-1 and picks up their fourth Hockey East win and are 4-7-1 in the conference.
Maine outshot UCONN 44-19 throughout the game and had four power play opportunities in which they were able to target 15 on net, but weren't able to get the puck pass UCONN's goalie, Rob Nichols, who had an impressive night in goal for UCONN. Nichols stopped all 44 shots he faced.
Rob McGovern had 18 saves in goal for Maine and only allowed one goal 6:24 into the first period from Shawn Pauley. The goal came off of a rebound shot by Max Letunov and gave the Huskies a 1-0 advantage.
The Black Bears were unable to break through Nichols and the Huskies defense that blocked 14 shots and were held scoreless.
With 1:10 remaining in the game, Maine elected to pull McGovern for the extra attacker and only had one shot attempt.
The Black Bears return to action tomorrow night as they wrap-up the two game series against the Huskies with a 7:00 p.m. puck drop.