Friday, February 19, 2016
Merrimack College Upends Maine, 6-4
Sophomore forward Brett Seney and junior forward Hampus Gustafsson each post goal and an assist for Warriors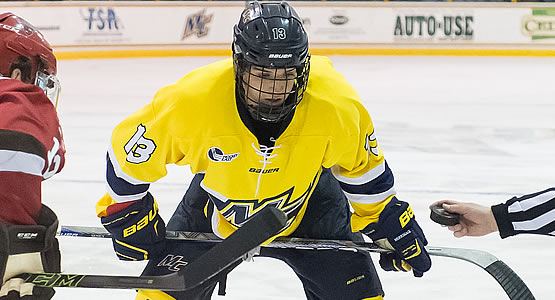 Sophomore forward Brett Seney had a goal and an assist for the Warriors
| | | | | | | |
| --- | --- | --- | --- | --- | --- | --- |
| Prd | Time | Team | Score | Type | Scored By | Assists |
| 1st | 7:01 | MER | 1-0 | PP | Hampus Gustafsson (8) | Brett Seney/17, Mathieu Foget/6 |
| 1st | 8:22 | MNE | 1-1 | EV | Dan Renouf (6) | CÚdric Lacroix/3, Andrew Tegeler/9 |
| 1st | 12:50 | MER | 2-1 | EV | Justin Hussar (6) | - |
| 1st | 16:53 | MER | 3-1 | EV | Marc Biega (4) | Mathieu Foget/7 |
| 2nd | 4:14 | MER | 4-1 | EV | Brett Seney (7) | Hampus Gustafsson/13, Ludvig Larsson/3 |
| 2nd | 15:25 | MER | 5-1 | EV GW | Michael Babcock (3) | Chris LeBlanc/4, Derek Petti/6 |
| 2nd | 17:33 | MNE | 2-5 | PP | Will Merchant (11) | Steven Swavely/8 |
| 2nd | 19:19 | MNE | 3-5 | PP | Will Merchant (12) | Steven Swavely/9 |
| 3rd | 4:46 | MNE | 4-5 | EV | Eric Schurhamer (2) | Brendan Robbins/5, Steven Swavely/10 |
| 3rd | 19:01 | MER | 6-4 | EV EN | Ben Bahe (8) | Jared Kolquist/11, Hampus Gustafsson/14 |
| | | | | |
| --- | --- | --- | --- | --- |
| Scoring | 1st | 2nd | 3rd | Final |
| Merrimack | 3 | 2 | 1 | 6 |
| Maine | 1 | 2 | 1 | 4 |
| | | | | |
| --- | --- | --- | --- | --- |
| Shots on Goal | 1st | 2nd | 3rd | SOG |
| Merrimack | 11 | 12 | 8 | 31 |
| Maine | 5 | 18 | 7 | 30 |
| | | | |
| --- | --- | --- | --- |
| Team Stats and Records | PP | PIM | SHGF |
| Merrimack (9-15-7) | 1/4 | 4/8 | 0 |
| Maine (7-20-6) | 2/3 | 5/10 | 0 |
| | | | | | | |
| --- | --- | --- | --- | --- | --- | --- |
| Merrimack Goaltending | MIN | GA | 1 | 2 | 3 | Saves |
| Collin Delia (W, 8-12-6) | 60:00 | 4 | 4 | 16 | 6 | 26 |
| | | | | | | |
| --- | --- | --- | --- | --- | --- | --- |
| Maine Goaltending | MIN | GA | 1 | 2 | 3 | Saves |
| Matt Morris | 24:14 | 4 | 8 | 3 | 0 | 11 |
| Rob McGovern (L, 1-11-3) | 34:23 | 1 | 0 | 7 | 7 | 14 |
| Empty Net | 1:23 | 1 | | | | |
ORONO, Maine -- The University of Maine Men's ice hockey team falls to Merrimack 6-4 Friday night at Alfond Arena.
Maine falls to 7-20-6 on the season, 4-13-2 in Hockey East play. Merrimack improves to 9-15-7 and 3-9-7 in Hockey East.
Matt Morris started in goal for Maine and Collin Delia was in net for Merrimack.
Five minutes into the first period, Maine was called of a tripping penalty. Merrimack took advantage of the power play opportunity and scored the first goal of the game by Hampus Gustafsson.
Minutes later, the Black Bears responded with a goal of their own by Dan Renouf and was assisted by Cedric Lacroix to tie the game at 1-1.
Merrimack had an aggressive first period offensive attack, Justin Hussar cleaned up his own rebound to regain the lead, 2-1.
Towards the end of the first period, defenseman Marc Biega scored to give the Warriors a 3-1 advantage.
Maine was outshot in the first period 11-5.
Merrimack opened the second with their third straight goal from Brett Seney and increase their lead 4-1. Matt Morris was replaced by Rob McGovern in goal for the Black Bears.
The Warriors scored their fifth goal of the night from Michael Babcock, 15:25 into the second to take a commanding 5-1 lead.
Merrimack was whistled for a cross checking penatly. On the power play, Maine's leading goal scorer Will Merchant trimmed the Warrior lead to 5-2.
One minute after the Black Bear power play goal, Maine was on the power play again after a slashing penalty was called on Merrimack. Will Merchant scored his second power play goal of the night to bring the score 5-3 Merrimack.
Maine outshot the Warriors 18-12 in the second period.
Four minutes into the third, Eric Schurhamer scored from the blue line to cut Merrimack's lead to one, 5-4.
Merrimack had a power play opportunity with 6:36 remaining in the game. Merrimack fired three shots on net but the Black Bears killed the penalty.
With under two minutes to play in the game, Maine elected to pull McGovern for the extra attacker. Merrimack was able to intercept the puck and skate for an empty net goal by Ben Bahe to clinch, 6-4.
Matt Morris finished with 11 saves, McGovern with 14 and Collin Delia had 26 saves.
Maine returns to action tomorrow night at 7:00 p.m. for Senior Night.