Saturday, February 27, 2016
Vogler Makes 26 Saves As Merrimack Defeats Vermont, 2-0
Freshman goaltender Drew Vogler makes 26 saves for Warriors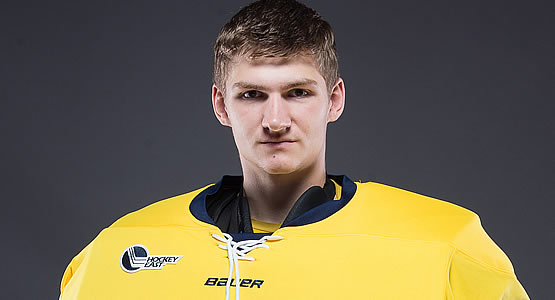 Freshman goaltender Drew Vogler made 26 saves for the Warriors
| | | | | | | |
| --- | --- | --- | --- | --- | --- | --- |
| Prd | Time | Team | Score | Type | Scored By | Assists |
| 3rd | 4:06 | MER | 1-0 | EV GW | Ludvig Larsson (3) | Jonathan Lashyn/5, Hampus Gustafsson/16 |
| 3rd | 19:11.6 | MER | 2-0 | EV EN | Ben Bahe (10) | Hampus Gustafsson/17, Brian Christie/15 |
| | | | | |
| --- | --- | --- | --- | --- |
| Scoring | 1st | 2nd | 3rd | Final |
| Vermont | 0 | 0 | 0 | 0 |
| Merrimack | 0 | 0 | 2 | 2 |
| | | | | |
| --- | --- | --- | --- | --- |
| Shots on Goal | 1st | 2nd | 3rd | SOG |
| Vermont | 5 | 10 | 11 | 26 |
| Merrimack | 10 | 8 | 7 | 25 |
| | | | |
| --- | --- | --- | --- |
| Team Stats and Records | PP | PIM | SHGF |
| Vermont (12-20-3) | 0/4 | 6/12 | 0 |
| Merrimack (11-16-7) | 0/3 | 7/25 | 0 |
| | | | | | | |
| --- | --- | --- | --- | --- | --- | --- |
| Vermont Goaltending | MIN | GA | 1 | 2 | 3 | Saves |
| Mike Santaguida (L, 4-10-2) | 59:10 | 1 | 10 | 8 | 5 | 23 |
| Empty Net | 0:50 | 1 | | | | |
| | | | | | | |
| --- | --- | --- | --- | --- | --- | --- |
| Merrimack Goaltending | MIN | GA | 1 | 2 | 3 | Saves |
| Drew Vogler (W, 3-4-1) | 60:00 | 0 | 5 | 10 | 11 | 26 |
NO. ANDOVER, Mass. - Freshman goaltender Drew Vogler stopped 26 shots as Merrimack locked down seventh place in Hockey East with a 2-0 win against Vermont on Saturday at Lawler Rink.
How It Happened
With a chance to clinch the No. 7 seed in the 2016 Hockey East Tournament on the line with a win, Merrimack welcomed back Vermont to Lawler Rink also looking for its first weekend sweep of the same Hockey East opponent since November of the 2012-13 season.
Penalties muddied up the late portions of the first. Vermont momentarily went to a five-minute major power play, but the Catamounts committed back-to-back infractions 23 seconds apart to give the Warriors a 4-on-3 power play through the final two minutes of the period, but the hosts were unable to capitalize and the game entered the second still scoreless.
Vermont had a bit more than two minutes of carry-over time from the aforementioned Merrimack major penalty, but the Warrior penalty kill stayed perfect, and then came through again moments afterward to keep it a 0-0 contest.
Merrimack would get another power play near the midpoint of the second but mustered only two shots on goal during that man advantage. The two sides would play 4-on-4 with about five minutes to play in the period, but the game stayed knotted at 0-0 heading to the third.
Larsson changed that just past the 4:00-mark, racing down the left wing side and beating Vermont goaltender Mike Santaguida with a snap shot up high to push the home side up by a goal. Juniors Jonathan Lashyn (Saskatoon, Saskatchewan) and Hampus Gustafsson (Ljungby, Sweden) each helped set up the tally.
Vermont had an opportunity to tie it with a power play midway through the third, but Merrimack's penalty kill came through again. The Warriors would have a power play of their own moments after the Vermont man advantage expired, but they, too, would come up empty, as both sides stayed separated by a goal heading into the final minutes.
Santaguida would head to the bench with about 90 seconds to play looking for the extra-attacker equalizer; instead, Gustafsson would flip the puck up out of the zone onto the stick of senior Ben Bahe (Stillwater, Minn.), who cashed in on the empty-net marker to wrap up the Warriors' first weekend sweep against the same league opponent since a home-and-home sweep of Northeastern on Nov. 2-3, 2012.
How They Scored
MC #1 (L. Larsson/Lashyn/H. Gustafsson) | P3 4:06 - Snap shot high from the middle of the near circle.
MC #2 (Bahe/H. Gustafsson/Christie) | P3 19:12 - Wrist shot from the top of the circle into the empty net.
Notes and Numbers
- Larsson's goal was his first in over two months and third of his freshman season; the last time he lit the lamp was on Dec. 20 against Canisius at home
- Freshman goaltender Drew Vogler (Florissant, Mo.) turned away all 26 shots he saw to pick up his first career shutout and first by any Merrimack goaltender since 2015 graduate Rasmus Tirronen blanked Vermont in a 0-0 tie last Feb. 21 in Burlington
- Merrimack will host a home playoff series for only the third time since joining the Division I ranks in 1984-85; the previous two were in 1996-97 (Boston College, loss) and 2010-11 (Maine, win)
- Goaltenders: W - Drew Vogler (26 saves, 3-4-1) // L - Mike Santaguida (23 saves, 4-10-2)
- Power Plays: Merrimack (0-3) // Vermont (0-4)
- SOG (MC-UVM): 10-5 // 8-10 // 7-11 // 25-26
- Faceoffs: MC - 43-of-75 (57.3%)
Up Next
Merrimack begins postseason play when it hosts 10th-seeded New Hampshire in Game 1 of the Opening Round of the 2016 Hockey East Tournament beginning Thursday, March 3, at 7 p.m. Game 2 will be held on Friday (March 4), also at 7 p.m., and Game 3 would fall on Sunday, March 6, at 7 p.m. Tickets are available for purchase online at http://www.merrimackathletics.com/Tickets, over the phone (978-837-5324) or by visiting the Box Office during business hours (Monday-Friday, 10 a.m. - 4 p.m.).