Saturday, January 9, 2016
Northeastern Earns Weekend Sweep With 4-2 Win At St. Lawrence
Sophomore forward Nolan Stevens has two goals and assist for Huskies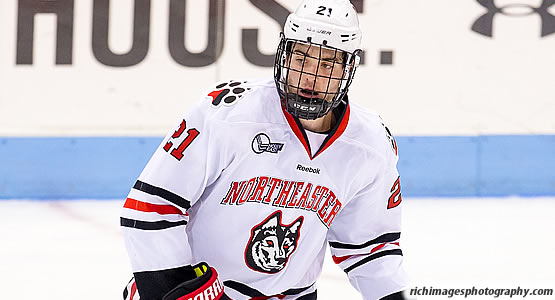 Sophomore forward Nolan Stevens had two goals and an assist for the Huskies
| | | | | | | |
| --- | --- | --- | --- | --- | --- | --- |
| Prd | Time | Team | Score | Type | Scored By | Assists |
| 1st | 7:40 | NOE | 1-0 | PP | Nolan Stevens (8) | Adam Gaudette/4, John Stevens/7 |
| 1st | 19:58.7 | STL | 1-1 | PP | Brian Ward (6) | Drew Smolcynski/6, Gavin Bayreuther/8 |
| 2nd | 18:47 | NOE | 2-1 | EV | Matt Benning (3) | Adam Gaudette/5, Mike McMurtry/9 |
| 3rd | 2:37 | NOE | 3-1 | PP GW | Matt Benning (4) | Zach Aston-Reese/12, Adam Gaudette/6 |
| 3rd | 10:20 | STL | 2-3 | EV | Ben Masella (1) | R.J. Gicewicz/1, Joe Sullivan/6 |
| 3rd | 18:21 | NOE | 4-2 | EV | Nolan Stevens (9) | Zach Aston-Reese/13, John Stevens/8 |
| | | | | |
| --- | --- | --- | --- | --- |
| Scoring | 1st | 2nd | 3rd | Final |
| Northeastern | 1 | 1 | 2 | 4 |
| St. Lawrence | 1 | 0 | 1 | 2 |
| | | | | |
| --- | --- | --- | --- | --- |
| Shots on Goal | 1st | 2nd | 3rd | SOG |
| Northeastern | 9 | 9 | 15 | 33 |
| St. Lawrence | 8 | 10 | 11 | 29 |
| | | | |
| --- | --- | --- | --- |
| Team Stats and Records | PP | PIM | SHGF |
| Northeastern (5-12-4) | 2/6 | 7/14 | 0 |
| St. Lawrence (10-7-2) | 1/7 | 6/23 | 0 |
| | | | | | | |
| --- | --- | --- | --- | --- | --- | --- |
| Northeastern Goaltending | MIN | GA | 1 | 2 | 3 | Saves |
| Ryan Ruck (W, 3-9-3) | 60:00 | 2 | 7 | 10 | 10 | 27 |
| | | | | | | |
| --- | --- | --- | --- | --- | --- | --- |
| St. Lawrence Goaltending | MIN | GA | 1 | 2 | 3 | Saves |
| Arthur Brey (L, 0-2-1) | 59:57 | 4 | 8 | 8 | 13 | 29 |
| Empty Net | 0:03 | 0 | | | | |
CANTON, N.Y. - Matt Benning and Nolan Stevens each scored twice, and Northeastern (5-12-4) used a pair of power play tallies to earn a 4-2 victory and a weekend sweep against No. 13 St. Lawrence on Saturday night at Appleton Arena.
Adam Gaudette (three assists) and Zach Aston-Reese (two assists) also had strong nights for the Huskies to make NU 3-0-1 in its last four games, and 4-1-2 in its last seven. Ryan Ruck was solid again in goal for the Huskies, making 27 saves during a back and forth bout with the Saints. Arthur Brey made 29 stops in goal for the hosts.
NU jumped out to a 1-0 lead for the second straight night, and traded goals with St. Lawrence until a Benning goal early in the third period put the visitors up by two. After SLU fought back to make it a one-goal game once again, Nolan Stevens added an insurance marker with less than two minutes to play in the game.
Northeastern outshot St. Lawrence 33-29 and was 2-of-6 on the power play while holding SLU to a 1-of-7 showing.
Goal descriptions:
- Nolan Stevens gave the Huskies a 1-0 lead with a power play tally less than eight minutes into the contest, his team-leading eighth goal of the year. With Michael Laidley in the box for holding, Northeastern made quick work of its power play opportunity, cashing in just six seconds in as Stevens rocketed home a pass from Adam Gaudettefrom atop the crease.
- The Saints fought back to tie the score with 1.3 seconds remaining in the first on a goal from Brian Ward. With St. Lawrence already on a five-on-three skating advantage, Colton Saucerman had his stick knocked out of his hands by a SLU forward, enabling Drew Smolcynski to hit Ward with a cross-ice pass for the score with NU unable to get a stick in the passing lane.
- Near the end of a physical and up-tempo second period, the Huskies took a 2-1 lead thanks to a goal from Benning. With NU controlling the puck in the attacking zone, Mike McMurtry shoveled the puck to Gaudette in the left corner. Gaudette then spotted Benning creeping in from the point, fired the puck up to him, and Benning ripped a low shot to beat Brey shortside.
- After SLU was issued a major penalty for butt-ending at the end of the second period to give NU a five-minute power play to start the third frame, Benning buried his second of the evening less than three minutes in. Northeastern used extended zone time in the SLU end before Gaudette hit Zach Aston-Reese with a pass atop the crease. Instead of shooting, however, Aston-Reese patiently waited for Benning to take a couple strides in from the point. Aston-Reese then fed his teammate with the pass, and Benning fired a wrist shot into the open net for a two-goal NU lead.
- St. Lawrence struck back with 9:40 remaining in regulation as Ben Masella made it a one-goal game, collecting a loose puck just inside the blue line and sending a puck through traffic and past Ruck for his first goal of the year.
- The Huskies put the game away with 1:39 left in regulation when Nolan Stevens buried his second of the evening, picking a cross-ice pass from Aston-Reese out of midair to extend the Northeastern lead to 4-2.
Stats of the game:
- Northeastern is now 18-14-3 all-time against St. Lawrence, and 4-1-0 against teams from the ECAC this season.
- Gaudette had a career-high three assists to extend his point streak to three games (one goal, four assists), a season-long.
- Nolan Stevens has six goals and four assists in his last eight games, while John Stevens has one goal and five assists in his last six.
The road ahead:
- Northeastern will be back in action on Friday night when the Huskies return home for the resumption of Hockey East play against New Hampshire (7 p.m.). Friday will be Northeastern's "Skating Strides Against Breast Cancer" game, an initiative now in its 10th season that has raised more than $300,000 for various breast cancer charities.