Friday, November 27, 2015
Zink Sends UMass Lowell Past Northeastern, 3-2, In Overtime At Friendship Four
Junior defenseman Dylan Zink scores game-winning goal for River Hawks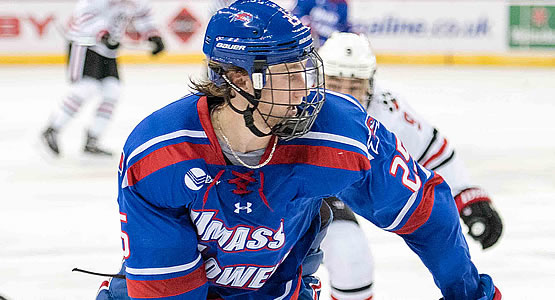 Junior defenseman Dylan Zink scored the game-winning goal for the River Hawks
| | | | | | | |
| --- | --- | --- | --- | --- | --- | --- |
| Prd | Time | Team | Score | Type | Scored By | Assists |
| 2nd | 0:52 | NOE | 1-0 | PP | Nolan Stevens (4) | Dylan Sikura/6, Zach Aston-Reese/8 |
| 2nd | 15:46 | UML | 1-1 | PP | Dylan Zink (4) | C.J. Smith/8, Nick Master/6 |
| 3rd | 5:11 | NOE | 2-1 | EV | Ryan Rosenthal (1) | Brendan Collier/1, Jarrett Fennell/2 |
| 3rd | 19:00 | UML | 2-2 | PP EA | Ryan McGrath (4) | Michael Kapla/4, Joe Gambardella/9 |
| OT | 1:13 | UML | 3-2 | EV GW | Dylan Zink (5) | Michael Kapla/5, Robert Francis/1 |
| | | | | | |
| --- | --- | --- | --- | --- | --- |
| Scoring | 1st | 2nd | 3rd | OT | Final |
| UMass Lowell | 0 | 1 | 1 | 1 | 3 |
| Northeastern | 0 | 1 | 1 | 0 | 2 |
| | | | | | |
| --- | --- | --- | --- | --- | --- |
| Shots on Goal | 1st | 2nd | 3rd | OT | SOG |
| UMass Lowell | 8 | 9 | 2 | 1 | 20 |
| Northeastern | 7 | 6 | 9 | 0 | 22 |
| | | | |
| --- | --- | --- | --- |
| Team Stats and Records | PP | PIM | SHGF |
| UMass Lowell (10-1-3) | 2/3 | 5/21 | 0 |
| Northeastern (1-11-2) | 1/4 | 3/6 | 0 |
| | | | | | | | |
| --- | --- | --- | --- | --- | --- | --- | --- |
| UMass Lowell Goaltending | MIN | GA | 1 | 2 | 3 | OT | Saves |
| Kevin Boyle (W, 10-1-3) | 60:17 | 2 | 7 | 5 | 8 | 0 | 20 |
| Empty Net | 0:56 | 0 | | | | | |
| | | | | | | | |
| --- | --- | --- | --- | --- | --- | --- | --- |
| Northeastern Goaltending | MIN | GA | 1 | 2 | 3 | OT | Saves |
| Ryan Ruck (L, 0-8-1) | 61:13 | 3 | 8 | 8 | 1 | 0 | 17 |
BELFAST, Northern Ireland, United Kingdom -- Junior defenseman Dylan Zink (Madison, Wis.) tied a career-high with two goals, including the game-winner just 1:13 into overtime to lead the No. 4 UMass Lowell Hockey team to a 3-2 victory against Northeastern on Friday night in Hockey East action at SSE Arena in front of 4,538 fans in the second semifinal of the "Friendship Four" Tournament.
With the victory, the River Hawks improve to 10-1-3 overall and 6-0-3 in Hockey East play. Northeastern falls to 1-11-2 and 0-7-2 in league play. Zink was named "Man of the Match" for his efforts in the River Hawks' win.
Senior forward Ryan McGrath (O'Fallon, Mo.) tied the game at 2-2 with a extra attacker power play (6x4) tally with one minute left in regulation for his fourth goal of the season.
Nolan Stevens got the Huskies on the scoreboard first with his fourth of the season just 52 seconds into the second frame. Zink tied the game with his fourth marker of the season 15 minutes later in the second stanza. Ryan Rosenthal scored his first goal of the season to give Northeastern a 2-1 lead at 5:11 of the third period.
The teams skated to a scoreless first period, as UMass Lowell owned a 8-7 shot advantage. Northeastern finished the game with a 22-20 shot edge.
Senior goaltender Kevin Boyle (Manalapan, N.J.) amassed 20 saves on the night, including eight in the third period in his 10th win of the season, while Ryan Ruck fell to 0-8-1 with his 17-save effort for Northeastern. UMass Lowell finished the night 2-for-3 on the power play and the Huskies went 1-for-4.
The River Hawks will play Brown University in the "Friendship Four" Championship Game on Saturday, November 28th (2:30 pm ET) at SSE Arena for the first ever Belpot Trophy.