Friday, November 27, 2015
Massachusetts Upended By Quinnipiac, 4-1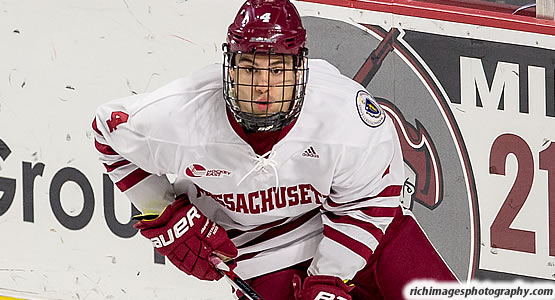 Junior defenseman Marc Hetnik scored a goal for the Minutemen
| | | | | | | |
| --- | --- | --- | --- | --- | --- | --- |
| Prd | Time | Team | Score | Type | Scored By | Assists |
| 1st | 6:58 | QUI | 1-0 | EV | Alex Miner-Barron (1) | Travis St. Denis/7, Sam Anas/8 |
| 1st | 7:22 | QUI | 2-0 | EV GW | Sam Anas (9) | Travis St. Denis/8, Landon Smith/8 |
| 1st | 17:18 | QUI | 3-0 | EV | Landon Smith (2) | Alex Miner-Barron/1, Sam Anas/9 |
| 3rd | 5:11 | UMA | 1-3 | EV | Marc Hetnik (1) | William Lagesson/3, Kurt Keats/3 |
| 3rd | 10:17 | QUI | 4-1 | EV | Andrew Taverner (4) | K.J. Tiefenwerth/6, Tommy Schutt/1 |
| | | | | |
| --- | --- | --- | --- | --- |
| Scoring | 1st | 2nd | 3rd | Final |
| Quinnipiac | 3 | 0 | 1 | 4 |
| Massachusetts | 0 | 0 | 1 | 1 |
| | | | | |
| --- | --- | --- | --- | --- |
| Shots on Goal | 1st | 2nd | 3rd | SOG |
| Quinnipiac | 13 | 11 | 10 | 34 |
| Massachusetts | 4 | 4 | 10 | 18 |
| | | | |
| --- | --- | --- | --- |
| Team Stats and Records | PP | PIM | SHGF |
| Quinnipiac (12-0-2) | 0/4 | 4/8 | 0 |
| Massachusetts (6-4-4) | 0/4 | 4/8 | 0 |
| | | | | | | |
| --- | --- | --- | --- | --- | --- | --- |
| Quinnipiac Goaltending | MIN | GA | 1 | 2 | 3 | Saves |
| Michael Garteig (W, 12-0-2) | 59:24 | 1 | 4 | 4 | 9 | 17 |
| Empty Net | 0:36 | 0 | | | | |
| | | | | | | |
| --- | --- | --- | --- | --- | --- | --- |
| Massachusetts Goaltending | MIN | GA | 1 | 2 | 3 | Saves |
| Nic Renyard (L, 4-3-4) | 58:36 | 4 | 10 | 11 | 9 | 30 |
| Empty Net | 1:24 | 0 | | | | |
AMHERST, Mass. - Three first period goals, including two just 24 seconds apart, helped carry #3 Quinnipiac past Massachusetts hockey, 4-1, on Friday night at the Mullins Center. The loss leaves the Minutemen at 6-4-4 on the season, while the Bobcats remain undefeated at 12-0-2.
Junior Marc Hetnik netted his first goal of the season for UMass' lone tally of the night, while freshman Kurt Keats picked up an assist for his third point in as many games.
Quinnipiac opened the scoring with a tally 6:58 into the first period. Alex Miner-Barron wristed home a shot from the top of the right faceoff circle with Travis St. Denis and Sam Anas earning assists on the play. The Bobcats quickly added another just 24 seconds later as Anas tapped in his ninth of the season from the doorstep at the 7:22 mark off a rebound from St. Denis and Landon Smith.
Before the end of the frame, Quinnipiac expanded the margin to 3-0 when Smith knocked in a rebound from Alex Miner-Barron and Anas at the 17:18 mark.
Freshman Joseph Widmar had two of the best chances of the night for the Minutemen through two periods, hitting the crossbar late in the first and having his scoring chance on a 2-on-1 two minutes into the second period turned aside by Michael Garteig.
UMass eventually broke though with a goal at the 5:11 mark of the third. Keats sent the puck up the wall to William Lagesson at the blueline, who fed Hetnik at the opposite point. Hetnik's blast beat Garteig to end the shutout bid.
The Minutemen nearly added a second with sustained offensive zone pressure shortly after getting on the board, but the Bobcats sealed the win with their fourth goal of the evening 10:17 into the period as. K.J. Tiefenwerth and Tommy Schutt set up Andrew Taverner's fourth of the season
The Bobcats out-shot UMass 34-18 on the night and went 0-for-4 on the power play while the Minutemen were 0-for-4, as well. Freshman Nic Renyard totaled 30 saves for UMass and his Quinnipiac counterpart Garteig made17 stops en route to the win.
The teams will be back in action tomorrow afternoon with the second game of the weekend series set for 4 p.m. in Hamden, Conn.