Tuesday, November 8, 2016
Late Dudek Goal Sends Boston College Past New Hampshire, 5-3
Sophomore forward JD Dudek scores game-winning goal for Eagles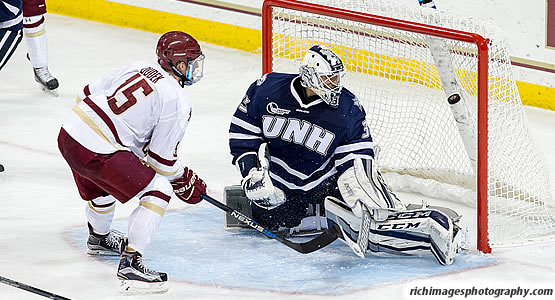 Sophomore forward JD Dudek scored a game-winning goal for the Eagles
| | | | | | | |
| --- | --- | --- | --- | --- | --- | --- |
| Prd | Time | Team | Score | Type | Scored By | Assists |
| 1st | 7:36 | BC | 1-0 | PP | Christopher Brown (4) | Scott Savage/5, Austin Cangelosi/3 |
| 2nd | 8:06 | BC | 2-0 | EV | Casey Fitzgerald (4) | Colin White/3, Ryan Fitzgerald/6 |
| 2nd | 11:50 | BC | 3-0 | EV | Matthew Gaudreau (4) | Austin Cangelosi/4, Luke McInnis/2 |
| 2nd | 15:24 | UNH | 1-3 | EV | Liam Blackburn (3) | Brendan van Riemsdyk/5, Matt Dawson/1 |
| 3rd | 9:21 | UNH | 2-3 | PP | Jason Salvaggio (4) | Michael McNicholas/4, Patrick Grasso/4 |
| 3rd | 15:51 | UNH | 3-3 | PP | Matias Cleland (1) | Liam Blackburn/2, Tyler Kelleher/8 |
| 3rd | 17:33 | BC | 4-3 | EV GW | JD Dudek (3) | Matthew Gaudreau/8, Chris Calnan/6 |
| 3rd | 19:59 | BC | 5-3 | PP EN | Colin White (6) | Ryan Fitzgerald/7, Austin Cangelosi/5 |
| | | | | |
| --- | --- | --- | --- | --- |
| Scoring | 1st | 2nd | 3rd | Final |
| New Hampshire | 0 | 1 | 2 | 3 |
| Boston College | 1 | 2 | 2 | 5 |
| | | | | |
| --- | --- | --- | --- | --- |
| Shots on Goal | 1st | 2nd | 3rd | SOG |
| New Hampshire | 9 | 9 | 11 | 29 |
| Boston College | 9 | 17 | 5 | 31 |
| | | | |
| --- | --- | --- | --- |
| Team Stats and Records | PP | PIM | SHGF |
| New Hampshire (4-4-1) | 2/6 | 4/8 | 0 |
| Boston College (9-2-1) | 2/3 | 7/14 | 0 |
| | | | | | | |
| --- | --- | --- | --- | --- | --- | --- |
| New Hampshire Goaltending | MIN | GA | 1 | 2 | 3 | Saves |
| Daniel Tirone (L, 4-3-1) | 59:28 | 4 | 8 | 15 | 3 | 26 |
| Empty Net | 0:32 | 1 | | | | |
| | | | | | | |
| --- | --- | --- | --- | --- | --- | --- |
| Boston College Goaltending | MIN | GA | 1 | 2 | 3 | Saves |
| Joseph Woll (W, 7-2-1) | 60:00 | 3 | 9 | 8 | 9 | 26 |
CHESTNUT HILL, Mass. - Sophomore winger JD Dudek tallied his third goal of the season in game-winning fashion with only 2:27 left in regulation to preserve No. 3 Boston College's unbeaten string and extend it to nine games (8-0-1); senior Austin Cangelosi tallies ninth point in four games with a playmaker to help power BC past New Hampshire on Tuesday night at Kelley Rink.
SCORE
New Hampshire - 3 / No. 3 Boston College - 5
LOCATION
Kelley Rink / Chestnut Hill, Mass.
RECORDS
New Hampshire (4-4-1) / No. 3 Boston College - (9-2-1)
BC HIGHLIGHTS & GAME NOTES
- JD Dudek scored his first-career game-winning goal in thrilling fashion, putting the dagger in New Hampshire with 2:27 left in regulation. The Auburn, N.H. native now has three goals to his name this season.
- Senior assistant captain Austin Cangelosi claimed the team's point lead (8-5-13) by securing his second-career three-assist performance. The last time the Estero, Fla. native turned in a playmaker (three assists) was against Penn State in the Three Rivers Classic at CONSOL Energy Center on Dec. 28, 2013. Cangelosi has accounted for nine points in his last four outings. He currently ranks 75th, nationally, with 1.08 points per game.
- Matthew Gaudreau accounted for his fourth multi-point performance of the season with a goal and an assist in Tuesday's victory. The Carneys Point, N.J. native is tied with Christopher Brown for the second-most points (4-8-12) on the Eagles' roster.
- Sophomore forward Christopher Brown netted his first-career power play goal in his 53rd game as an Eagle. The Bloomfield Hills, Mich. product has been on a tear and came into Tuesday night's game as Boston College's leading scorer (3-8-11) and is now tied with Gaudreau for second (4-8-12).
- Sophomore Casey Fitzgerald netted his fourth goal of the season midway through the second period. The second-year blue liner was BC's leading scoring defenseman coming into Tuesday's tilt and upped his point total to 11 (4-7-11) in as many games.
- Colin White netted his sixth goal of the season with 1.3 seconds left to ice the contest with the empty netter.
- Boston College extended its longest unbeaten streak in college hockey, winning eight of its last nine games and tying once. The Eagles have not lost in their last nine outings.
GOAL DESCRIPTIONS
FIRST GOAL (1-0 - BC) FIRST PERIOD - Christopher Brown - 7:36 - POWER PLAY
- New Hampshire's Shane Eiserman was whistled for elbowing at 7:18 of the first period and it took the Eagles only 18 seconds to draw first blood with the extra man. Austin Cangelosi provided Scott Savage with a one-timer from the top of the right circle. Savage hammered it into Danny Tirone's chest and the puck bobbled into the crease where Christopher Brown was in position to shove it over the goal line for the 1-0 lead at 7:36.
SECOND GOAL (2-0 - BC) SECOND PERIOD - Casey Fitzgerald - 8:06 - EVEN STRENGTH
- Boston College earned a faceoff to Tirone's right after constant pressure and Casey Fitzgerald hammered one home off the draw to add to the Eagles' lead, 2-0. Older brother, Ryan Fitzgerald, won the draw and Colin White got his stick in the post-draw scrum and scooted back to C. Fitzgerald above the right dot. With a bunch of traffic in front of Tirone, C. Fitzgerald hammered the one-timer past Tirone's glove on the short side at 8:06.
THIRD GOAL (3-0 - BC) SECOND PERIOD - Matthew Gaudreau - 11:50 - EVEN STRENGTH
- The Eagles attacked in transition at the 11:50 mark on quick work out of BC's end. Scott Savage relayed a puck over to Luke McInnis on the Eagles' blue line and Boston College was off the races with a 2-on-1. McInnis connected with Cangelosi in stride and Matthew Gaudreau chased the play down the left side. Cangelosi walked his defenseman down and zipped the tap-in pass to Gaudreau across the zone for the 3-0 lead.
FOURTH GOAL (3-1 - UNH) SECOND PERIOD - Brendan van Riemsdyk - 15:24 - EVEN STRENGTH
- New Hampshire responded with a faceoff play of its own a few minutes later on a tip in the slot. Liam Blackburn won a draw back to Brendan van Riemsdyk just within the blue line and van Riemsdyk took his chance. Blackburn spun into traffic and got his stick on the blast and redirected it past BC's Joe Woll at 15:24 to cut into the Eagles' lead, 3-1.
FIFTH GOAL (3-2 - UNH) THIRD PERIOD - Jason Salvaggio - 9:21 - POWER PLAY
- The Wildcats crawled to within one on the power play midway through the third frame to make it a 3-2 affair. Patrick Grasso wheeled it from the near boards and dished it to Michael McNicholas on the far post. Jason Salvaggio stormed through the circles and beat Woll with a quick snap shot after McNicholas' feed.
SIXTH GOAL (3-3 - UNH) THIRD PERIOD - Matias Cleland - 15:51 - POWER PLAY
- UNH tallied its third-straight goal to tie it up at 15:51 after the Wildcats cashed in on their second power play goal. Tyler Kelleher broke it out of UNH's end and linked up with Blackburn on Boston College's blue line. Blackburn kept it onsides, gained the zone and quickly deferred to Matias Cleland in the slot who snapped it past Woll at 15:51 to knot it, 3-3.
SEVENTH GOAL (4-3 - BC) THIRD PERIOD - JD Dudek - 17:33 - EVEN STRENGTH
- Strong forechecking from Chris Calnan yielded JD Dudek's game-winning goal with 2:27 left to play in regulation. Calnan dislodged the puck from New Hampshire behind the Wildcats net and backhanded it to Gaudreau waiting in the far corner. Gaudreau flung the puck at the net and Dudek flew in from the slot, got his stick on the puck and duped Tirone for the game-winning goal.
EIGHTH GOAL (5-3 - BC) THIRD PERIOD - Colin White - 19:59 - EMPTY NETTER
- Cangelosi kicked a pick out of the Eagles' end to Ryan Fitzgerald circling through BC's zone. With just a few ticks left, Colin White joined Fitzgerald on the charge and White finished off the Wildcats by depositing the empty-net goal from out deep with 1.3 seconds left to ice the 5-3 triumph.
BOSTON COLLEGE GAME LEADERS
Points: Austin Cangelosi (0 - 3 - 3)
Goals: Christopher Brown (1 - 0 - 1) / Casey Fitzgerald (1 - 0 - 1) / Matthew Gaudreau (1 - 0 - 1) / JD Dudek (1 - 0 - 1) / Colin White (1 - 0 - 1) /
Assists: Austin Cangelosi (0 - 3 - 3)
Shots: Colin White ( 6 )
Faceoffs Won: Austin Cangelosi (19 - of - 24)
SPECIAL TEAMS
New Hampshire: 2 - for - 6
Boston College: 2 - for - 3
PENALTIES
New Hampshire: 4 - of - 8
Boston College: 7 - of - 14
BOSTON COLLEGE LINES
R. Fitzgerald - White - Calnan
Cotton - Cangelosi - Brown
Gaudreau - Greco - Dudek
McPhee - Booth - Walker
Jes. Mattila - Moore
McInnis - Savage
Kim - C. Fitzgerald
Woll
Edquist
Milosz
UP NEXT
Boston College will remain at home for its first back-to-back home games of the season and welcome in Arizona State on Sunday, Nov. 13, for the first time in program history. Game time for the Sunday matinee is scheduled for 3 p.m.