Greenway Lifts Boston University Past Northeastern In Overtime, 3-2
Sophomore forward Jordan Greenway scores game-winning goal at 3:11 of overtime for Terriers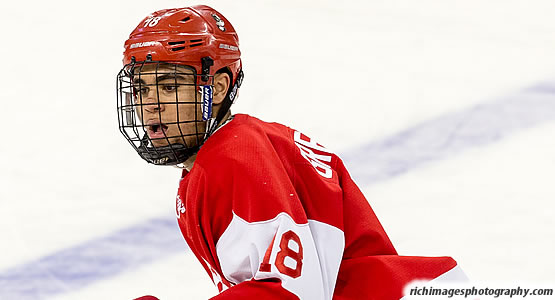 Sophomore forward Jordan Greenway scored the game-winning goal for the Terriers
| | | | | | | |
| --- | --- | --- | --- | --- | --- | --- |
| Prd | Time | Team | Score | Type | Scored By | Assists |
| 1st | 7:23 | NOE | 1-0 | EV | Zach Aston-Reese (31) | Nolan Stevens/12, Jeremy Davies/14 |
| 1st | 9:52 | NOE | 2-0 | EV | Dylan Sikura (21) | Jeremy Davies/15, Eric Williams/15 |
| 2nd | 7:33 | BU | 1-2 | PP | Dante Fabbro (6) | Brandon Hickey/11, Kieffer Bellows/7 |
| 3rd | 9:28 | BU | 2-2 | EV | Chase Phelps (3) | Patrick Curry/7 |
| OT | 3:11 | BU | 3-2 | PP GW | Jordan Greenway (9) | Clayton Keller/20, Charlie McAvoy/17 |
| | | | | | |
| --- | --- | --- | --- | --- | --- |
| Scoring | 1st | 2nd | 3rd | OT | Final |
| Northeastern | 2 | 0 | 0 | 0 | 2 |
| Boston University | 0 | 1 | 1 | 1 | 3 |
| | | | | | |
| --- | --- | --- | --- | --- | --- |
| Shots on Goal | 1st | 2nd | 3rd | OT | SOG |
| Northeastern | 16 | 8 | 7 | 4 | 35 |
| Boston University | 10 | 14 | 7 | 4 | 35 |
| | | | |
| --- | --- | --- | --- |
| Team Stats and Records | PP | PIM | SHGF |
| Northeastern (18-14-5) | 0/4 | 6/12 | 0 |
| Boston University (22-10-3) | 2/5 | 5/10 | 0 |
| | | | | | | | |
| --- | --- | --- | --- | --- | --- | --- | --- |
| Northeastern Goaltending | MIN | GA | 1 | 2 | 3 | OT | Saves |
| Ryan Ruck (L, 18-13-4) | 63:05 | 3 | 10 | 13 | 6 | 3 | 32 |
| Empty Net | 0:06 | 0 | | | | | |
| | | | | | | | |
| --- | --- | --- | --- | --- | --- | --- | --- |
| Boston University Goaltending | MIN | GA | 1 | 2 | 3 | OT | Saves |
| Jake Oettinger (W, 19-9-3) | 63:11 | 2 | 14 | 8 | 7 | 4 | 33 |
BOSTON - Sophomore Jordan Greenway's power-play goal 3:11 into overtime lifted the No. 8/6 Boston University men's ice hockey team to a 3-2 victory over Northeastern on Friday night in game one of a Hockey East quarterfinal series at Agganis Arena.
THE RUNDOWN
Final Score: #8/6 Boston University 3, Northeastern 2
Records: BU (22-10-3), Northeastern (18-14-5)
Location: Agganis Arena - Boston, Mass.
HOW IT HAPPENED
- The visiting Huskies scored goals just over two minutes apart before the midpoint of the opening period to take a 2-0 lead.
- BU got a goal back at the 7:33 mark of the second stanza when freshman Dante Fabbro scored just four seconds into a power-play chance. Junior Brandon Hickey and freshman Kieffer Bellows assisted on Fabbro's sixth goal of the season.
- Junior Chase Phelps tied the game with 10:32 remaining in regulation. Freshman Patrick Curry forced a turnover behind the Northeastern goal, collected the puck and fed a wide-open Phelps in front of the net. Phelps converted for his third goal of the season.
- Greenway's ninth goal of the season sealed the victory. As a Terrier power play entered its final seconds, freshman Chad Krys gloved down a Northeastern clearing attempt at center ice and quickly dished the puck to sophomore Charlie McAvoy in the offensive end. McAvoy then passed to freshman Clayton Keller, who fed Greenway for the winner.
GAME NOTES
- BU finished the game 2-for-5 on the power play and held Northeastern's power play, which entered the night ranked second in the nation, to zero goals on four attempts.
- Freshman Jake Oettinger was terrific between the pipes for BU. He made 33 saves, including 19 over the final 43 minutes of the contest.
- Sophomore Bobo Carpenter and junior John MacLeod left the game due to injuries in the first period and Carpenter had his career-best nine-game point streak come to an end.
- Both teams recorded 35 shots on goal.
GAME TWO TOMORROW
- The teams are back on the Agganis ice on Saturday (March 11) for game two of the quarterfinal series.
- The game will be televised live by ASN and shown locally on NESN.