Late Krys Goal Sends Boston University Past Northeastern, 3-2
Freshman defenseman Chad Krys scores in final minute for Terriers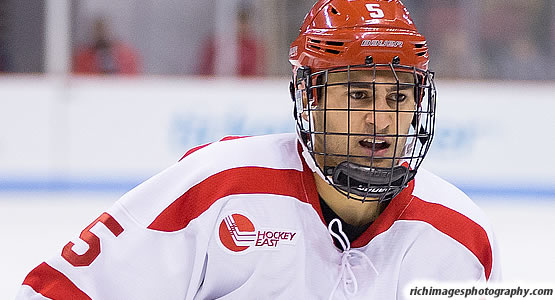 Freshman defenseman Chad Krys scored the game-winning goal for the Terriers
| | | | | | | |
| --- | --- | --- | --- | --- | --- | --- |
| Prd | Time | Team | Score | Type | Scored By | Assists |
| 1st | 2:23 | NOE | 1-0 | EV | Biagio Lerario (1) | Tanner Pond/2, Mike Jamieson/1 |
| 1st | 11:21 | NOE | 2-0 | EV | Nolan Stevens (10) | Matt Filipe/12, Ryan Shea/13 |
| 2nd | 14:38 | BU | 1-2 | PP | Jakob Forsbacka Karlsson (13) | Clayton Keller/21, Charlie McAvoy/18 |
| 3rd | 3:01 | BU | 2-2 | EV | Nick Roberto (5) | Jakob Forsbacka Karlsson/17, Charlie McAvoy/19 |
| 3rd | 19:35.1 | BU | 3-2 | PP GW | Chad Krys (5) | Jakob Forsbacka Karlsson/18, Charlie McAvoy/20 |
| | | | | |
| --- | --- | --- | --- | --- |
| Scoring | 1st | 2nd | 3rd | Final |
| Northeastern | 2 | 0 | 0 | 2 |
| Boston University | 0 | 1 | 2 | 3 |
| | | | | |
| --- | --- | --- | --- | --- |
| Shots on Goal | 1st | 2nd | 3rd | SOG |
| Northeastern | 7 | 11 | 8 | 26 |
| Boston University | 10 | 8 | 10 | 28 |
| | | | |
| --- | --- | --- | --- |
| Team Stats and Records | PP | PIM | SHGF |
| Northeastern (18-15-5) | 0/3 | 5/10 | 0 |
| Boston University (23-10-3) | 2/3 | 5/10 | 0 |
| | | | | | | |
| --- | --- | --- | --- | --- | --- | --- |
| Northeastern Goaltending | MIN | GA | 1 | 2 | 3 | Saves |
| Ryan Ruck (L, 18-14-4) | 59:07 | 3 | 10 | 7 | 8 | 25 |
| Empty Net | 0:53 | 0 | | | | |
| | | | | | | |
| --- | --- | --- | --- | --- | --- | --- |
| Boston University Goaltending | MIN | GA | 1 | 2 | 3 | Saves |
| Jake Oettinger (W, 20-9-3) | 60:00 | 2 | 5 | 11 | 8 | 24 |
BOSTON - In a game that followed a near-exact script as Friday's series opener, freshman Chad Krys scored a power-play goal with 24.9 seconds left in regulation to lift No. 8/6 Boston University to a 3-2 victory over Northeastern and a spot in the Hockey East semifinals.
THE RUNDOWN
Final Score: #8/6 Boston University 3, Northeastern 2
Records: BU (23-10-3), Northeastern (18-15-5)
Location: Agganis Arena - Boston, Mass.
HOW IT HAPPENED
- For the second time in as many nights, the second-seeded Terriers rallied from a 2-0 deficit to come away with a 3-2 triumph and sweep No. 8-seed Northeastern.
- Sophomore Jakob Forsbacka Karlsson had a hand in all three goals and drew the penalty that led to Krys' power-play winner.
- Northeastern opened the scoring 2:23 into the game and added another at 11:21 of the first period.
- A power-play goal from Forsbacka Karlsson got BU on the board at 14:38 of the middle stanza.
- With 16:59 left in the third, senior Nick Roberto scored his first goal since Dec. 10 on a wrister in transition.
- Krys potted the game-winner after a rebound from a Forsbacka Karlsson shot made its way to him in the left circle.
GAME NOTES
- The Terriers will be playing in the Hockey East semifinals for the 13th time in the past 16 seasons.
- BU allowed the first goal for the eighth straight game.
- Over the past six games, the Terriers have outscored their opponents 11-1 in the third period.
- BU held a slim 28-26 shot advantage and got a 24-save performance from freshman Jake Oettinger.
- The Terriers penalty kill was a perfect 7-for-7 in the series against the second-ranked power play in the nation.
- With the win, the Terriers broke the school record for consecutive home wins in the Hockey East tournament.
- Sophomore Charlie McAvoy assisted on all three BU goals.
UP NEXT
- The Terriers will either face third-seeded Boston College or 10th-seeded New Hampshire in the Hockey East semifinals on Friday (March 17) at TD Garden.