Friday, December 30, 2016
UMass Lowell Holds Off Colgate, 3-2, At Ledyard Bank Classic
Senior forward Joe Gambardella posts goal and assist for River Hawks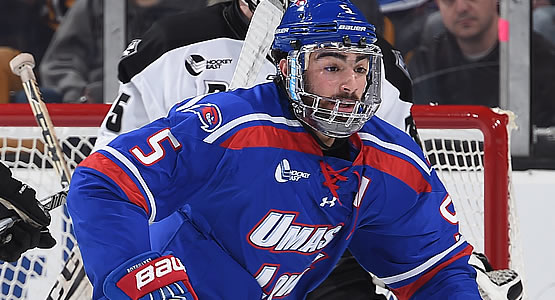 Senior forward Joe Gambardella had a goal and an assist for the River Hawks
| | | | | | | |
| --- | --- | --- | --- | --- | --- | --- |
| Prd | Time | Team | Score | Type | Scored By | Assists |
| 1st | 18:23 | UML | 1-0 | EV | Colin O'Neill (3) | Kenny Hausinger/3, Ryan Lohin/8 |
| 2nd | 4:12 | UML | 2-0 | PP | Mattias Göransson (4) | C.J. Smith/10, Joe Gambardella/17 |
| 2nd | 17:20 | UML | 3-0 | EV GW | Joe Gambardella (9) | - |
| 3rd | 5:15 | CLG | 1-3 | PP | Adam Dauda (5) | Bobby McMann/6, John Snodgrass/9 |
| 3rd | 18:22 | CLG | 2-3 | EV EA | Tim Harrison (6) | Brett Corkey/5, Bobby McMann/7 |
| | | | | |
| --- | --- | --- | --- | --- |
| Scoring | 1st | 2nd | 3rd | Final |
| Colgate | 0 | 0 | 2 | 2 |
| UMass Lowell | 1 | 2 | 0 | 3 |
| | | | | |
| --- | --- | --- | --- | --- |
| Shots on Goal | 1st | 2nd | 3rd | SOG |
| Colgate | 7 | 7 | 14 | 28 |
| UMass Lowell | 12 | 12 | 4 | 28 |
| | | | |
| --- | --- | --- | --- |
| Team Stats and Records | PP | PIM | SHGF |
| Colgate (4-10-4) | 1/4 | 5/10 | 0 |
| UMass Lowell (11-5-3) | 1/4 | 5/10 | 0 |
| | | | | | | |
| --- | --- | --- | --- | --- | --- | --- |
| Colgate Goaltending | MIN | GA | 1 | 2 | 3 | Saves |
| Charlie Finn (L, 3-8-3) | 58:46 | 3 | 11 | 10 | 4 | 25 |
| Empty Net | 1:14 | 0 | | | | |
| | | | | | | |
| --- | --- | --- | --- | --- | --- | --- |
| UMass Lowell Goaltending | MIN | GA | 1 | 2 | 3 | Saves |
| Tyler Wall (W, 10-4-1) | 60:00 | 2 | 7 | 7 | 12 | 26 |
HANOVER, N.H. - The No. 7 ranked UMass Lowell Hockey team defeated ECAC foe Colgate, 3-2, in the opening game of the 28th annual Ledyard Classic at Thompson Arena hosted by Dartmouth College on Friday afternoon.
The River Hawks improve their record to 11-5-3 with the victory, while the Raiders drop to 4-10-4 with the loss.
Freshman forward Colin O'Neill (Odenton, Md.) got the River Hawks on the scoreboard first with just 1:37 left in the opening period for his third career marker. UMass Lowell held a 12-7 shot advantage on Colgate at the end of the first period.
Freshman defenseman Mattias Goransson (Slottsbron, Sweden) extended the River Hawks lead to 2-0 with a power play marker for his fourth goal of his River Hawk career just 4:12 into the second period. Senior forward Joe Gambardella (Staten Island, N.Y.) scored his ninth goal of the year with 2:40 left in the second frame to give UMass Lowell a 3-0 lead at the end of the second frame. Gambardella picked off a pass from Colgate player and beat Colgate goalie Charlie Finn high glove side.
Adam Dauda added a power play goal for his fifth goal of the season to get Colgate on the scoreboard just 5:15 into the third frame. Colgate's Tim Harrison tipped a shot by Brett Corkey to cut the UMass Lowell lead to 3-2 on an extra attacker goal with just 1:38 left in the final frame.
Freshman goaltender Tyler Wall (Leamington, Ont.) notched 26 saves in his 10th win (14th career start). Finn recorded 25 stops for the Raiders in the losing effort to drop his record to 3-8-3 on the season.
The River Hawks went 1-for-4 on the power play and killed off 3-for-4 power play opportunities by Colgate.
Senior forward Evan Campbell (Port Coquitlam, B.C.) led the way for the River Hawks from the faceoff circle winning 14-of-24 (58%). Senior captain Michael Kapla (Eau Claire, Wis.) totaled a game-high five shots on goal for the River Hawks.
The River Hawks return to action in the final day of the tournament at Thompson Arena on Saturday, December 31st to face either Army or Dartmouth (4/7pm).