Bjork Goal Sends Notre Dame Past Merrimack, 2-1
Junior forward Anders Bjork scores at 16:18 of third period for Fighting Irish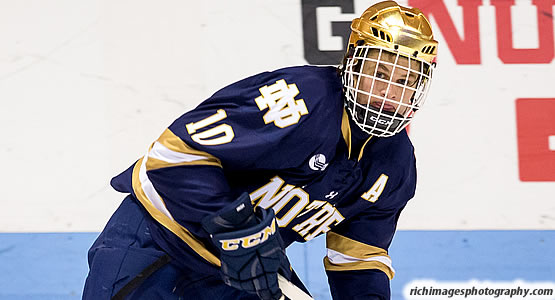 Junior forward Anders Bjork scored the game-winning goal for the Fighting Irish
| | | | | | | |
| --- | --- | --- | --- | --- | --- | --- |
| Prd | Time | Team | Score | Type | Scored By | Assists |
| 1st | 5:18 | MER | 1-0 | PP | Derek Petti (2) | Hampus Gustafsson/6, Jace Hennig/7 |
| 2nd | 12:18 | NDM | 1-1 | EV | Andrew Oglevie (10) | Bobby Nardella/10, Dennis Gilbert/8 |
| 3rd | 16:18 | NDM | 2-1 | EV GW | Anders Bjork (15) | Jack Jenkins/2 |
| | | | | |
| --- | --- | --- | --- | --- |
| Scoring | 1st | 2nd | 3rd | Final |
| Notre Dame | 0 | 1 | 1 | 2 |
| Merrimack | 1 | 0 | 0 | 1 |
| | | | | |
| --- | --- | --- | --- | --- |
| Shots on Goal | 1st | 2nd | 3rd | SOG |
| Notre Dame | 15 | 14 | 7 | 36 |
| Merrimack | 7 | 10 | 5 | 22 |
| | | | |
| --- | --- | --- | --- |
| Team Stats and Records | PP | PIM | SHGF |
| Notre Dame (13-7-2) | 0/4 | 6/12 | 0 |
| Merrimack (7-11-3) | 1/6 | 4/8 | 0 |
| | | | | | | |
| --- | --- | --- | --- | --- | --- | --- |
| Notre Dame Goaltending | MIN | GA | 1 | 2 | 3 | Saves |
| Cal Petersen (W, 13-7-2) | 60:00 | 1 | 6 | 10 | 5 | 21 |
| | | | | | | |
| --- | --- | --- | --- | --- | --- | --- |
| Merrimack Goaltending | MIN | GA | 1 | 2 | 3 | Saves |
| Collin Delia (L, 1-5-0) | 58:45 | 2 | 15 | 13 | 6 | 34 |
| Empty Net | 1:15 | 0 | | | | |
NORTH ANDOVER, Mass. - Sophomore Derek Petti (Tewksbury, Mass.) gave the Merrimack College men's ice hockey team a 1-0 first-period lead, but 13th-ranked Notre Dame scored the next two goals and held on to hand the Warriors a 2-1 setback in both schools' weekend series opener on Friday night at Lawler Rink.
The Basics
Score: Notre Dame 2, Merrimack 1
Records: Merrimack (7-11-3, 1-5-3 HEA) | #13/13 Notre Dame (13-7-2, 6-3-1 HEA)
Location: Lawler Rink | North Andover, Mass.
Attendance: 2251
Game Duration: 2:07
How It Happened
- The Warriors were the aggressor at the onset and that resulted in an early power play on which they capitalized, as sophomore Derek Petti (Tewksbury, Mass.) lit the lamp for the second time this season to push the home side out to an early 1-0 lead. Junior Jace Hennig (Fort Moody, British Columbia) carried the puck into the offensive zone through the center slot and dished to the left goal line extended to senior Hampus Gustafsson (Ljungby, Sweden), who found a seam on a centering feed in the right crease to Petti, who turned and fired a shot through traffic and past Notre Dame netminder Cal Petersen's five-hole.
- The Fighting Irish leveled the game 12:18 into the second period, as Andrew Oglevie got behind the Merrimack defense and scored on a breakaway. Junior Collin Delia (Rancho Cucamonga, Calif.) nearly made the save after the puck glanced off the cross bar but the goal was verified after review.
- Merrimack had its opportunities in the final frame, getting three consecutive power plays over a seven-minute span, but came up empty on all three to keep the game tied.
- Notre Dame would capitalize on those missed opportunities, as Anders Bjork's 15th goal of the year at 16:18 pushed the Fighting Irish in front for good. Jack Jenkins took away the puck at the right half wall and centered the puck from the right goal extended; the puck caromed off a skater and sound up on Bjork's stick at the left crease for a wide-open look, which proved to be the game-winner.
Notes & Notables
- Merrimack has now lost three in a row at home for the first time since the end of the 2014-15 regular season, when it lost to Boston College (4-2) and Maine (4-3, 5-3) from Feb. 6-14.
Merrimack Lineup
Hennig | Gustafsson | Irvine
Seney | Kramer | Tavernier
Petti | L. Larsson | LeBlanc
Babcock | A. Larsson | Tibbet
Biega | Kovacevic
Kolquist | Titcomb
Lashyn| Cook
Delia
Vogler
Pantano
Game Leaders (MC // UND)
Points: Three players (1) // Five players (1)
Goals: Derek Petti (1) // Andrew Oglevie/Anders Bjork (1)
Assists: Two players (1) // Four players (1)
Shots: Four players (3) // Three players (5)
Faceoffs Won: Hampus Gustafsson (9) // Jake Evans (12)
Saves: Collin Delia (34-for-36) // Cal Petersen (21-for-22)
Facts and Figures (MC // UND)
Power Plays: 1-6 // 0-4
Penalties: 4 Penalties - 8 Minutes // 6 Penalties - 12 Minutes
Faceoffs: 26 // 26
SOG: 7-15 // 10-14 // 5-7 // 22-36
Up Next
Merrimack and Notre Dame will conclude the weekend two-game series back at Lawler Rink tomorrow evening. Puck drop is set for 6 p.m.