Thursday, December 29, 2016
Merrimack College Tops Northern Michigan, 4-2, At Florida College Classic
Brett Seney, Ludvig Larsson and Chris LeBlanc each record goal and assist for the Warriors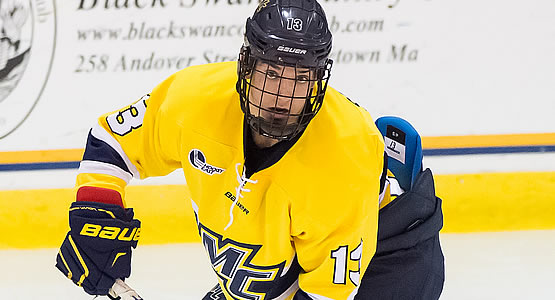 Junior forward Brett Seney had a goal and an assist for the Warriors
| | | | | | | |
| --- | --- | --- | --- | --- | --- | --- |
| Prd | Time | Team | Score | Type | Scored By | Assists |
| 1st | 18:17 | MER | 1-0 | PP | Hampus Gustafsson (9) | Logan Coomes/4, Johnathan Kovacevic/7 |
| 2nd | 9:42 | MER | 2-0 | EV | Chris LeBlanc (3) | Ludvig Larsson/4 |
| 3rd | 0:21 | NMU | 1-2 | PP | Gerard Hanson (4) | Brock Maschmeyer/7, Dominik Shine/4 |
| 3rd | 2:03 | MER | 3-1 | EV EA DP GW | Brett Seney (6) | Jared Kolquist/4, Chris LeBlanc/2 |
| 3rd | 4:10 | MER | 4-1 | EV | Ludvig Larsson (3) | Brett Seney/10, Johnathan Kovacevic/8 |
| 3rd | 13:14 | NMU | 2-4 | EV | Dominik Shine (8) | Gerard Hanson/9, Darien Craighead/6 |
| | | | | |
| --- | --- | --- | --- | --- |
| Scoring | 1st | 2nd | 3rd | Final |
| Northern Michigan | 0 | 0 | 2 | 2 |
| Merrimack | 1 | 1 | 2 | 4 |
| | | | | |
| --- | --- | --- | --- | --- |
| Shots on Goal | 1st | 2nd | 3rd | SOG |
| Northern Michigan | 2 | 4 | 8 | 14 |
| Merrimack | 17 | 9 | 7 | 33 |
| | | | |
| --- | --- | --- | --- |
| Team Stats and Records | PP | PIM | SHGF |
| Northern Michigan (4-16-2) | 1/5 | 6/12 | 0 |
| Merrimack (7-9-3) | 1/5 | 6/12 | 0 |
| | | | | | | |
| --- | --- | --- | --- | --- | --- | --- |
| Northern Michigan Goaltending | MIN | GA | 1 | 2 | 3 | Saves |
| Atte Tolvanen (L, 3-16-2) | 58:24 | 4 | 16 | 8 | 5 | 29 |
| Empty Net | 1:36 | 0 | | | | |
| | | | | | | |
| --- | --- | --- | --- | --- | --- | --- |
| Merrimack Goaltending | MIN | GA | 1 | 2 | 3 | Saves |
| Drew Vogler (W, 6-6-3) | 59:42 | 2 | 2 | 4 | 6 | 12 |
| Empty Net | 0:18 | 0 | | | | |
ESTERO, Fla. - The Merrimack College men's ice hockey team saw four different skaters record a goal and post multi-point performances to close out the 2016 Florida College Hockey Classic on a high note, as the Warriors topped Northern Michigan, 4-2, in the tournament's consolation game on Thursday afternoon at Germain Arena.
The Basics
Score: Merrimack 4, Northern Michigan 2
Records: Merrimack (7-9-3, 1-4-3 HEA) | Northern Michigan (4-16-2, 2-11-1 WCHA)
Location: Germain Arena | Estero, Fla.
Attendance: TBA
Game Duration: 2:02
How It Happened
1st Period
- Merrimack dominated possession in the opening stanza, limiting Northern Michigan to a meager five shot attempts, with only two of those winding up on net, but the game was still scoreless heading to the later portion of the period.
- But while on the Warriors' second power play of the afternoon, senior Hampus Gustafsson (Ljungby, Sweden) snapped a stretch of 37 power plays without converting after burying his team-high ninth tally of the season at 18:17 to give the Navy and Gold a 1-0 lead after 20 minutes.
2nd Period
- After each side traded power plays, another senior in Chris LeBlanc (Winthrop, Mass.) doubled the Merrimack lead directly off a faceoff win, as the Winthrop, Massachusetts, product's third of the year at the 9:42 mark pushed the Warriors ahead, 2-0, and that score went unchanged through the remainder of the second.
3rd Period
- Penalties piled up toward the early portion of the third period; the first one allowed Northern Michigan to get to within a goal off a power play tally from Gerard Hanson just 21 seconds into the period, but junior Brett Seney (London, Ontario) first goal in six games came just past the two-minute mark while the Warriors were skating with an extra attacker on a delayed penalty to restore their two-goal lead.
- Then just after Merrimack's fifth power play of the night expired, sophomore Ludvig Larsson (Malmo, Sweden) tickled the twine for his third marker of the year at 4:10 to give the Warriors a 4-1 advantage early in the final frame.
- The Wildcats cut the deficit to two off the stick of Dominik Shine at 13:14 and were in position to claw closer after back-to-back penalties were levied against the Warriors late in regulation, but Merrimack would hold on to snap a three-game losing streak and end the month of December and the 2016 calendar year on a high note.
Notes & Notables
- Merrimack snapped a stretch of 36 power play chances without a goal after capitalizing on its second man advantage of Thursday afternoon. It was the Warriors' first power play goal since a 3-1 home loss to UMass on Nov. 11.
- The meeting between Merrimack and Northern Michigan was the first in the history of both programs; the only two Division I programs that the Warriors have not faced are now Michigan Tech and Penn State.
- LeBlanc secured his second career three-point game, matching his previous single-game high that was set against Arizona State on Jan. 31, 2016; it was also the third career two-point game for Larsson, which matches his single-game high.
Goal Descriptions
MC #1 (Gustafsson/Coomes/Kovacevic) | P1 18:17 (PP) - Johnathan Kovacevic takes an outlet pass down the right side to Logan Coomes for a give-and-go feed at the blue line to Hampus Gustafsson, who carries the puck around the edge of the far circle toward the low slot before scoring on a backhand shot that goes over the shoulder.
MC #2 (LeBlanc/L. Larsson) | P2 9:42 - Right off a faceoff win from Ludvig Larsson, Chris LeBlanc scores low from the left circle over the glove side.
NMU #1 (Hanson/Maschmeyer/Shine) | P2 9:42 - Snap shot from the near dot that squeezes through the wickets.
MC #3 (Seney/LeBlanc/Kolquist) | P3 2:03 (EA) - Puck played down the left wing side by Seney, who carries it over the blue line and between the circles where he beats the goaltender with a wrist shot low blocker side.
MC #4 (L. Larsson/Seney/LeBlanc) | P3 4:10 - Rebound shot near the bottom of the right wing circle.
NMU #2 (L. Larsson/Seney/LeBlanc) | P3 4:10 - Gerard Hanson carries the puck into the zone 2-on-2 and passes right-to-left to Dominik Shine, whose wrist shot from the far dot goes in over the left shoulder.
MERRIMACK LINEUP
Hennig | Gustafsson | Irvine
Seney | A. Larsson | Tavernier
Babcock | L. Larsson | LeBlanc
Coomes | Kramer | Tibbet
Biega | Kovacevic
Kolquist | Titcomb
Lashyn| Cook
Vogler
Delia
Pantano
Game Leaders (MC // NMU)
Points: Four players (2) // Gerard Hanson/Dominik Shine (2)
Goals: Four players (1) // Gerard Hanson/Dominik Shine (1)
Assists: Johnathan Kovacevic (2) // Four players (1)
Shots: Brett Seney (5) // Troy Loggins (3)
Faceoffs Won: Ludvig Larsson/Hampus Gustafsson (10) // Shane Sooth (12)
Saves: Drew Vogler (12-for-14) // Atte Tolvanen (29-for-33)
Facts and Figures (MC // NMU)
Power Plays: 1-5 // 1-5
Penalties: 6 Penalties - 12 Minutes // 6 Penalties - 12 Minutes
Faceoffs: 32 // 23
SOG: 17-2 // 9-4 // 7-8 // 33-14
Up Next
Merrimack will open the 2017 portion and conclude the non-conference portion of its schedule when it returns home to welcome Cornell to Lawler Rink next Saturday (Jan. 7) at 7 p.m.