Saturday, February 11, 2017
Notre Dame Defeats Maine, 4-2, To Sweep Weekend Series
Sophomore forward Dylan Malmquist scores two goals for Fighting Irish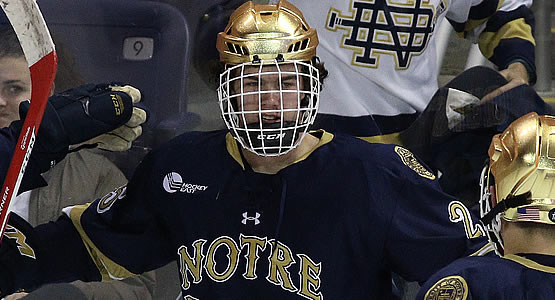 Sophomore forward Dylan Malmquist scored two goals for the Fighting Irish
| | | | | | | |
| --- | --- | --- | --- | --- | --- | --- |
| Prd | Time | Team | Score | Type | Scored By | Assists |
| 1st | 0:26 | MNE | 1-0 | EV | Blaine Byron (14) | Eric Schurhamer/7, Cam Brown/28 |
| 2nd | 3:03 | MNE | 2-0 | EV | Brendan Robbins (5) | Blaine Byron/18, Cam Brown/29 |
| 2nd | 8:44 | NDM | 1-2 | PP | Jordan Gross (8) | Anders Bjork/23, Bobby Nardella/11 |
| 2nd | 18:41 | NDM | 2-2 | PP | Dylan Malmquist (7) | Bobby Nardella/12, Jordan Gross/18 |
| 3rd | 2:46 | NDM | 3-2 | EV GW | Dylan Malmquist (8) | Dennis Gilbert/16, Dawson Cook/4 |
| 3rd | 16:21 | NDM | 4-2 | EV | Andrew Oglevie (18) | Jake Evans/21, Cal Burke/8 |
| | | | | |
| --- | --- | --- | --- | --- |
| Scoring | 1st | 2nd | 3rd | Final |
| Notre Dame | 0 | 2 | 2 | 4 |
| Maine | 1 | 1 | 0 | 2 |
| | | | | |
| --- | --- | --- | --- | --- |
| Shots on Goal | 1st | 2nd | 3rd | SOG |
| Notre Dame | 10 | 17 | 13 | 40 |
| Maine | 6 | 8 | 5 | 19 |
| | | | |
| --- | --- | --- | --- |
| Team Stats and Records | PP | PIM | SHGF |
| Notre Dame (17-9-4) | 2/5 | 4/8 | 0 |
| Maine (10-17-3) | 0/4 | 5/10 | 0 |
| | | | | | | |
| --- | --- | --- | --- | --- | --- | --- |
| Notre Dame Goaltending | MIN | GA | 1 | 2 | 3 | Saves |
| Cal Petersen (W, 17-9-4) | 60:00 | 2 | 5 | 7 | 5 | 17 |
| | | | | | | |
| --- | --- | --- | --- | --- | --- | --- |
| Maine Goaltending | MIN | GA | 1 | 2 | 3 | Saves |
| Matt Morris (L, 1-5-0) | 58:16 | 4 | 10 | 15 | 11 | 36 |
| Empty Net | 1:44 | 0 | | | | |
Men's Hockey finished up the back end of their two-game set against the University of Notre Dame Saturday night at Alfond Arena.
The first period began with a hot start as Blaine Byron capitalized on a rebound opportunity just 26 seconds into the frame. Eric Schurhamer and Cam Brown would both pick up assists on the play. The rest of the period would remain deadlocked as Matt Morris was a perfect 10 for 10 between the pipes for Maine and Cal Petersen stopped 5 of 6 scoring bids for the Irish.
The second period would start off similarly for the Black Bears, this time as Brendan Robbins would score his second goal of the weekend on a rush opportunity courtesy of assists from Blaine Byron and Cam Brown. Cam Brown's assist would be the 100th point of his career. Maine, however, would fall into penalty trouble as Jordan Gross would score a powerplay goal on assists from Anders Bjork and Bobby Nardella 8:44 into the period. At the 18:41 mark of the frame, Dylan Malmquist would capitalize on another powerplay chance, assisted by Nardella and Gross. The Irish and Black Bears would skate to a 2-2 tie entering the second intermission.
The Irish found their luck in the third period as Dylan Malmquist would notch his second of the night, 2:46 into the frame on assists from Dennis Gilbert and Dawson Cook. Maine would continue to press throughout the frame but were unable to capitalize on Petersen and the Irish. Andrew Oglevie would stretch the lead to 2 16:21 into the third on assists from Jake Evans and Cal Burke.
Matt Morris would make 36 stops in the loss as Cal Petersen stopped 17 of 19 bids from Maine. The Black Bears hit the road this coming weekend and look toward the Warriors of Merrimack College for their last road Hockey East Matchup before senior weekend against Northeastern at Alfond Arena.