Friday, February 24, 2017
Providence College Skates Past Massachusetts, 6-2
Junior defenseman Jake Walman had two goals and an assist for the Friars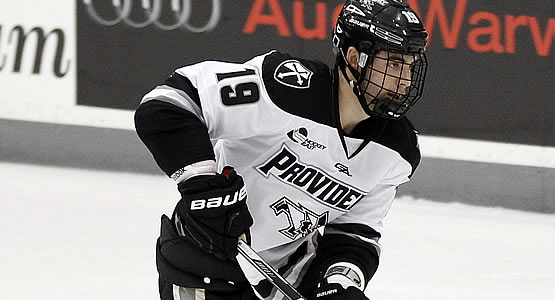 Junior defenseman Jake Walman posts two goals and assist for Friars
| | | | | | | |
| --- | --- | --- | --- | --- | --- | --- |
| Prd | Time | Team | Score | Type | Scored By | Assists |
| 1st | 3:28 | PRV | 1-0 | EV | Shane Kavanagh (3) | Conor MacPhee/2 |
| 1st | 6:45 | PRV | 2-0 | EV | Spenser Young (2) | Erik Foley/15, Jake Walman/15 |
| 1st | 7:57 | PRV | 3-0 | EV GW | Scott Conway (11) | Ryan Tait/4, Kasper Björkqvist/4 |
| 1st | 17:35 | UMA | 1-3 | EV | Ivan Chukarov (2) | Joseph Widmar/4, Callum Fryer/4 |
| 2nd | 9:50 | PRV | 4-1 | PP | Jake Walman (6) | Spenser Young/8, Brian Pinho/23 |
| 2nd | 14:10 | PRV | 5-1 | PP | Jake Walman (7) | Scott Conway/11, Brian Pinho/24 |
| 3rd | 0:33 | UMA | 2-5 | EV | Jake Horton (3) | Ray Pigozzi/8, Steven Iacobellis/12 |
| 3rd | 14:15 | PRV | 6-2 | EV | Josh Wilkins (11) | Erik Foley/16 |
| | | | | |
| --- | --- | --- | --- | --- |
| Scoring | 1st | 2nd | 3rd | Final |
| Providence | 3 | 2 | 1 | 6 |
| Massachusetts | 1 | 0 | 1 | 2 |
| | | | | |
| --- | --- | --- | --- | --- |
| Shots on Goal | 1st | 2nd | 3rd | SOG |
| Providence | 12 | 9 | 14 | 35 |
| Massachusetts | 3 | 14 | 14 | 31 |
| | | | |
| --- | --- | --- | --- |
| Team Stats and Records | PP | PIM | SHGF |
| Providence (19-9-5) | 2/7 | 3/6 | 0 |
| Massachusetts (5-26-2) | 0/3 | 7/14 | 0 |
| | | | | | | |
| --- | --- | --- | --- | --- | --- | --- |
| Providence Goaltending | MIN | GA | 1 | 2 | 3 | Saves |
| Hayden Hawkey (W, 19-9-5) | 60:00 | 2 | 2 | 14 | 13 | 29 |
| | | | | | | |
| --- | --- | --- | --- | --- | --- | --- |
| Massachusetts Goaltending | MIN | GA | 1 | 2 | 3 | Saves |
| Alex Wakaluk (L, 0-3-0) | 60:00 | 6 | 9 | 7 | 13 | 29 |
AMHERST, Mass. - Junior defenseman Jake Walman scored two goals and added an assist to lead Providence College to a 6-2 win against Massachusetts on Friday night at Mullins Center.
THE BASICS:
RESULT: No. 10 Providence 6, Massachusetts 2
LOCATION: Mullins Center (Amherst, Mass.)
RECORDS: Massachusetts (5-26-2, 2-18-1 HEA); Providence (19-9-5, 11-7-3 HEA)
THE LEAD: A 3-0 start helped No. 10 Providence skate past University of Massachusetts hockey, 6-2 on Friday night at the Mullins Center. The contest marked Senior Night for the Minutemen as captain Steven Iacobellis, assistant captain Brennan Baxandall, assistant captain Alex Wakaluk, Marc Hetnik and Ray Pigozzi were honored in a postgame ceremony following the final home game of their UMass careers.
FIRST PERIOD:
Providence took a quick 1-0 lead 3:28 into the first as Conor MacPhee set up a tally by Shane Kavanagh from the high slot. The Friars added a second goal at the 6:45 mark with Erik Foley and Jake Walman feeding Spencer Young for a quick wrister from the right faceoff circle. Just over a minute later, Providence notched its third of the period with Scott Conway cleaning up a rebound from Ryan Tait and Kasper Bjorkqvist at 7:57. UMass cut into the three-goal deficit late in the frame when sophomore Joseph Widmar set up a one-timer from the right point by classmate Ivan Chukarov. Callum Fryer earned an assist on the play, as well.
SECOND PERIOD:
UMass started the second with an 11-1 shot advantage, but Providence pulled away with two power-play goals from Walman in the period. The first came at the 9:50 mark, while the second was with a 5-on-3 advantage for the Friars 14:10 into the stanza.
THIRD PERIOD:
Jake Horton notched his third goal of the season just 33 seconds into the third, flinging an outlet pass from Pigozzi and Iacobellis past Hayden Hawkey from center ice. The Friars later capped the night's scoring at the 14:15 mark when Foley set up Josh Wilkins in the slot.
FROM COACH CARVEL:
"I thought we stressed all week that we were going to play the hardest working, most physical team in our league and that we needed to be prepared and we weren't. The first 10 minutes were embarrassing, the way that we allowed them to score. I called a timeout and basically told them 'there's no secrets in hockey and you need to out-work and out-will your opponent', which is all they were doing to us. I thought the rest of the way we settled down, we competed."
INSIDE THE NUMBERS:
- Providence edged UMass in shots in the contest, 35-31 and went 2-for-7 on the power play, while the Minutemen were 0-for-3. Wakaluk totaled 29 saves for UMass, while Hawkey stopped 29 for the Friars, as well.
- Chukarov's goal was his second of the season and eighth point of the year, matching his freshman year total of eight points in 36 games.
- With his fourth assist of the season, Widmar now has five points (2g, 3a) in the past seven games. His current total, of two goals and four assists match his freshman year numbers over 32 games played in 2015-16.
- Fryer's assist, his fourth of the year, equals his freshman year total of four helpers in 34 games.
- Horton's goal was his third of the year and seventh point of the season.
- Pigozzi's assist marked his 80th career point, tying him for 29th all-time in program history. His assist was his 57th of his career, moving him into a tie for 18th for career assists, three shy of cracking the program's top-10.
- Iacobellis' assist was his 55th of his career, tying him for 23rd all-time.
UP NEXT: The Minutemen will close out the regular season at Providence tomorrow night, Feb. 25, with puck drop scheduled for 7:05 p.m.