Saturday, January 28, 2017
Providence College Edges Past New Hampshire, 3-2
Sophomore forward Bryan Lemos scores game-winning goal for Friars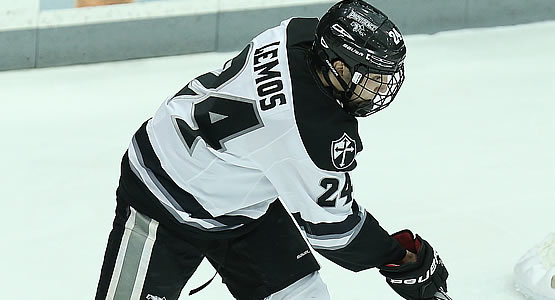 Sophomore forward Bryan Lemos scored the game-winning goal for the Friars
| | | | | | | |
| --- | --- | --- | --- | --- | --- | --- |
| Prd | Time | Team | Score | Type | Scored By | Assists |
| 2nd | 9:27 | PRV | 1-0 | EV | Brian Pinho (7) | Josh Monk/13, Jake Walman/12 |
| 2nd | 18:16 | UNH | 1-1 | PP | Tyler Kelleher (15) | Michael McNicholas/16, Matias Cleland/25 |
| 3rd | 4:50 | PRV | 2-1 | EV | Brandon Duhaime (3) | Vimal Sukumaran/4, Bryan Lemos/6 |
| 3rd | 13:44 | PRV | 3-1 | EV GW | Bryan Lemos (4) | Josh Wilkins/13, Josh Monk/14 |
| 3rd | 19:20 | UNH | 2-3 | EV EA | Patrick Grasso (16) | Tyler Kelleher/28, Jason Salvaggio/10 |
| | | | | |
| --- | --- | --- | --- | --- |
| Scoring | 1st | 2nd | 3rd | Final |
| Providence | 0 | 1 | 2 | 3 |
| New Hampshire | 0 | 1 | 1 | 2 |
| | | | | |
| --- | --- | --- | --- | --- |
| Shots on Goal | 1st | 2nd | 3rd | SOG |
| Providence | 18 | 12 | 18 | 48 |
| New Hampshire | 5 | 9 | 9 | 23 |
| | | | |
| --- | --- | --- | --- |
| Team Stats and Records | PP | PIM | SHGF |
| Providence (14-8-4) | 0/4 | 5/10 | 0 |
| New Hampshire (11-11-4) | 1/5 | 6/28 | 0 |
| | | | | | | |
| --- | --- | --- | --- | --- | --- | --- |
| Providence Goaltending | MIN | GA | 1 | 2 | 3 | Saves |
| Hayden Hawkey (W, 14-8-4) | 59:56 | 2 | 5 | 8 | 8 | 21 |
| Empty Net | 0:04 | 0 | | | | |
| | | | | | | |
| --- | --- | --- | --- | --- | --- | --- |
| New Hampshire Goaltending | MIN | GA | 1 | 2 | 3 | Saves |
| Daniel Tirone (L, 11-9-4) | 58:34 | 3 | 18 | 11 | 16 | 45 |
| Empty Net | 1:26 | 0 | | | | |
DURHAM, N.H. - Danny Tirone (Trumbull, Conn.) stopped 45 shots and Tyler Kelleher (Longmeadow, Mass.) tallied two points but the University of New Hampshire men's hockey team was edged 3-2 by 19th-ranked Providence College on Saturday night at the Whittemore Center.
UNH moves to 11-11-4 overall and 6-5-3 in Hockey East while PC completed the weekend sweep at the Whitt to improve to 14-8-4, 6-6-2.
Tirone recorded double-digit saves all three periods (18-11-16) for his 45-save effort. PC netminder Hayden Hawkey was credited with 21 saves.
Bryan Lemos (1g, 1a) and Josh Monk (2a) led the Friars' offense.
NEXT HOME GAME
The Wildcats remain at home as they take on No. 11 Boston College on Friday, Feb. 3 at 7 p.m. on ESPN3. Limited tickets are available atwww.unhwildcats.com or 603-862-4000.
GAME INFORMATION
Date: January 28, 2017 (7 p.m.)
Final Score: No. 19 Providence College 3, New Hampshire 2
New Records: New Hampshire (11-11-4, 6-5-3 HEA) // Providence College (14-8-4, 6-6-2)
Location: Whittemore Center (Durham, N.H.)
Goal Scorers:
UNH - Tyler Kelleher, Patrick Grasso
PC - Brand Duhaime, Bryan Lemos, Brian Pinho
Assists:
UNH - Matias Cleland, Tyler Kelleher, Michael McNicholas, Jason Salvaggio

PC - Josh Monk (2), Bryan Lemos, Vim Sukumaran, Jake Walman, Josh Wilkins

Points:

UNH - Kelleher (2), McNicholas (1), Cleland (1), Salvaggio (1), Grasso (1)
PC - Monk (2), Lemos (2), Duhaime (1), Wilkins (1), Walman (1), Sukumaran (1)

Goaltenders:

UNH - Danny Tirone (18-11-16-- 45 saves) Record 11-9-4
PC - Hayden Hawkey (5-8-8-- 21 saves) Record: 14-8-4

HOW IT HAPPENED

- The Friars took a 1-0 lead at the 9:27 mark of the second period as Brian Pinho lit the lamp for the seventh time this season. Jake Walman played a pass to Josh Monk to dished the puck to Pinho. He fired a shot that made its way past Tirone.

- Kelleher notched the equalizer at 18:16 of the second period while the Wildcats were on a power play to bring the score to 1-1. Senior captain Matias Cleland (Longmont, Colo.) played a pass over to junior Michael McNicholas (Manhattan Beach, Calif.) at the right point and his diagonal pass found Kelleher low on the left side for the goal.

- Brandon Duhaime put PC back in front, 2-1, at 4:50 of the third period.

- Bryan Lemos extended the advantage to 3-1 at 13:44. Josh Monk initiated the scoring sequence when his pass from the right point ricocheted off Josh Wilkins' stick in the slot to Lemos, who scored from close range on the left side.

- UNH's Matt Dawson (Delta, British Columbia) ripped a rising slap shot from the high slot through traffic into the net with just over a minute remaining in regulation, but the goal was reviewed and disallowed because of interference with the goalie in the crease.

- The Wildcats pulled Tirone and once again shot the puck into the net and this time the goal trimmed the deficit to 3-2 with 40 seconds to play. Jason Salvaggio (Hanson, Mass.) moved the puck from the right corner along the end boards to Kelleher behind the net. Kelleher slipped a pass to Grasso in front and he scored on a one-timer.