UMass Lowell Rolls Past Rensselaer, 5-1
Sophomore forward Nick Master and junior forward Jake Kamrass each post goal and assist for the River Hawks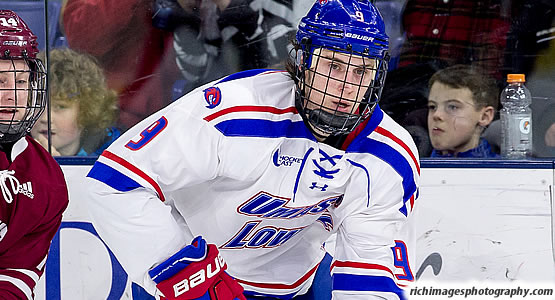 Sophomore forward Nick Master had a goal and an assist for the River Hawks
| | | | | | | |
| --- | --- | --- | --- | --- | --- | --- |
| Prd | Time | Team | Score | Type | Scored By | Assists |
| 1st | 8:28 | UML | 1-0 | EV | Nick Master (2) | - |
| 1st | 12:20 | UML | 2-0 | PP GW | Kenny Hausinger (4) | Mattias Göransson/9, Tyler Wall/1 |
| 2nd | 3:12 | UML | 3-0 | PP | Joe Gambardella (11) | Michael Kapla/15, C.J. Smith/12 |
| 2nd | 13:32 | UML | 4-0 | EV | Jake Kamrass (7) | Dylan Zink/13 |
| 2nd | 15:30 | REN | 1-4 | EV | Viktor Liljegren (4) | Will Reilly/7 |
| 3rd | 5:19 | UML | 5-1 | EV | John Edwardh (9) | Nick Master/7, Jake Kamrass/7 |
| | | | | |
| --- | --- | --- | --- | --- |
| Scoring | 1st | 2nd | 3rd | Final |
| UMass Lowell | 2 | 2 | 1 | 5 |
| Rensselaer | 0 | 1 | 0 | 1 |
| | | | | |
| --- | --- | --- | --- | --- |
| Shots on Goal | 1st | 2nd | 3rd | SOG |
| UMass Lowell | 13 | 15 | 9 | 37 |
| Rensselaer | 7 | 10 | 16 | 33 |
| | | | |
| --- | --- | --- | --- |
| Team Stats and Records | PP | PIM | SHGF |
| UMass Lowell (13-5-3) | 2/4 | 3/6 | 0 |
| Rensselaer (3-18-1) | 0/3 | 4/8 | 0 |
| | | | | | | |
| --- | --- | --- | --- | --- | --- | --- |
| UMass Lowell Goaltending | MIN | GA | 1 | 2 | 3 | Saves |
| Tyler Wall (W, 12-4-1) | 59:48 | 1 | 7 | 9 | 16 | 32 |
| Empty Net | 0:12 | 0 | | | | |
| | | | | | | |
| --- | --- | --- | --- | --- | --- | --- |
| Rensselaer Goaltending | MIN | GA | 1 | 2 | 3 | Saves |
| Chase Perry (L, 1-11-1) | 59:48 | 5 | 11 | 13 | 8 | 32 |
| Empty Net | 0:12 | 0 | | | | |
TROY, N.Y. - The No. 6 UMass Lowell Hockey team defeated ECAC foe Rensselaer, 5-1, on Tuesday night at Houston Field House in non-conference action.
The River Hawks improve to 13-5-3 overall with the victory, while the Engineers fall 3-18-1 with the loss. UMass Lowell now improves to 7-2-2 in non-conference play.
UMass Lowell sophomore forward Nick Master (Broomall, Pa.) opening the scoring in the contest at 8:28 of the first as he potted a goal in the low slot after a RPI turnover led to the chance for his second marker of the season for the River Hawks. Freshman forward Kenny Hausinger (Anchorage, Alaska) scored less than four minutes later with a slapshot from right circle that beat Chase Perry low blocker side for his fourth career goal to give the River Hawks a 2-0 lead headed into the locker room. The River Hawks held a 13-7 shot advantage at the end of the opening period.
Senior forward Joe Gambardella (Staten Island, N.Y.) extended the River Hawks lead to 3-0 with his 11th of the season on the power play. Junior forward C.J. Smith (Des Moines, Iowa) recorded an assist on the goal for his 99th career point in his 100th career game with the River Hawks. Junior forward Jake Kamrass (Atlanta, Ga.) made it a 4-0 game for the River Hawks with 6:28 left in the 2nd for his seventh marker of the year.
Viktor Liljegren scored the lone goal for the Engineers at 15:30 of the second period.
Junior forward John Edwardh (Calgary, Alberta) capped off the scoring in the game to make it a 5-1 final on his ninth goal of the season just 5:18 into the third stanza.
Freshman goaltender Tyler Wall (Leamington, Ont.) stopped 32 shots, which included a 16-save effort in the third period. Wall recorded his 12th career win in his 15th career start for the River Hawks, while Perry stopped 32 shots for RPI in the losing effort.
The River Hawks went 2-for-4 on the power play and a perfect 3-for-3 on the penalty kill.
UMass Lowell returns to action on Friday, January 6th at New Hampshire to resume Hockey East play. Game time from the Whittemore Center in Durham, N.H. is 6 p.m. The game will be televised nationally on American Sports Network and regionally on New England Sports Network (NESN). Tom Caron and Billy Jaffe will have the call of the game from Towse Rink.