Saturday, January 2, 2010
MAINE TOPS MONCTON, 4-2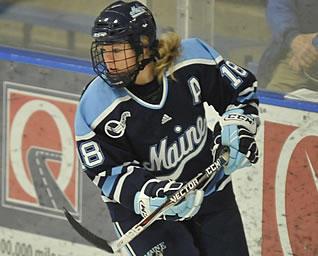 Lexie Hoffmeyer scored a goal and an assist for Maine
ORONO, Me. - The University of Maine women's ice hockey team (6-10-5, 3-5-3-1 WHEA) skated to a 4-2 exhibition victory over the visiting University of Moncton Blue Eagles (8-3-0, 8-3-0 AUS) on Saturday afternoon at Alfond Arena. Lexie Hoffmeyer (Grand Blanc, Mich.) carried the Black Bears as she notched a goal and an assist in the win.
The Blue Eagles took a 1-0 lead 11:50 into the first period when junior Jill Stockton received a feed from Valerie Boisclair and beat Maine goaltender Candice Currier (Goffstown, N.H.). Maine's Ashley Norum (Fairbanks, Alaska) evened the score when she fired a shot through a crowd in front of the Blue Eagle net to record the unassisted goal with 4:23 left to play in the first period.
Moncton would regain the lead at 11:04 into the second period when Boisclair and the Blue Eagles took advantage while skating on the power play. Kristine Labrie started the play by sliding the puck across the ice to Marieve Provost. Provost then found Boisclair who deposited the puck into the back of the net to give Moncton a 2-1 advantage.
The Black Bears would then record the next three goals of the game, starting at 12:24 into the second period when Hoffmeyer stole the puck in the Blue Eagles' zone and beat Moncton goaltender Shona Thibodeau to tie the score at two apiece. Just over three minutes later, Taryn Peacock (Calgary, Alberta) would score what would be the eventual game winner when she took a pass from senior Jenna Ouellette (Winnipeg, Manitoba) right in front of the Moncton net and beat Thibodeau to put the Black Bears up 3-2. Dominique Goutsis (Coquitlam, British Columbia) extended the Maine lead in the third period when she skated in and fired the puck by Thibodeau. Hoffmeyer recorded her second point of the game as she assisted on the final goal of the game as the Black Bears took the 4-2 exhibition decision.
Currier was solid in net for Maine as she recorded 23 saves. Thibodeau finished the contest with 14 saves for the Blue Eagles. Moncton out shot the Black Bears by a 25-18 margin and were 1-3 on the power play while Maine was 0-4.
These two teams will meet again tomorrow with a 2 p.m. puck drop scheduled at Alfond Arena.