Tuesday, January 13, 2015
Boston University Defeated By Cornell, 6-2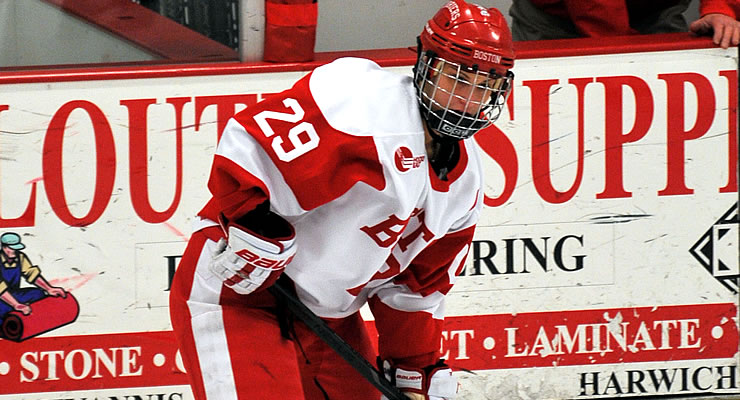 Senior forward Marie-Philip Poulin scored a goal for the Terriers
| | | | | | | |
| --- | --- | --- | --- | --- | --- | --- |
| Prd | Time | Team | Score | Type | Scored By | Assists |
| 1st | 14:09 | COR | 1-0 | EV | Brianne Jenner (9) | Jess Brown/7, Erin O'Connor/12 |
| 1st | 17:32 | COR | 2-0 | EV | Morgan Richardson (3) | Emily Fulton/12, Brianne Jenner/13 |
| 2nd | 12:15 | COR | 3-0 | EV GW | Jess Brown (5) | Kaitlin Doering/5, Morgan Richardson/1 |
| 3rd | 4:08 | COR | 4-0 | EV | Emily Fulton (8) | Brianne Jenner/14, Jillian Saulnier/12 |
| 3rd | 11:32 | COR | 5-0 | EV | Erin O'Connor (5) | Jillian Saulnier/13, Brianne Jenner/15 |
| 3rd | 15:01 | COR | 6-0 | PP | Emily Fulton (9) | Anna Zorn/2, Brianne Jenner/16 |
| 3rd | 15:40 | BU | 1-6 | EV | Kayla Tutino (4) | Caroline Campbell/2, Sarah Lefort/14 |
| 3rd | 17:56 | BU | 2-6 | EV | Marie-Philip Poulin (13) | - |
| | | | | |
| --- | --- | --- | --- | --- |
| Scoring | 1st | 2nd | 3rd | Final |
| Boston University | 0 | 0 | 2 | 2 |
| Cornell | 2 | 1 | 3 | 6 |
| | | | | |
| --- | --- | --- | --- | --- |
| Shots on Goal | 1st | 2nd | 3rd | SOG |
| Boston University | 7 | 9 | 15 | 31 |
| Cornell | 8 | 7 | 6 | 21 |
| | | | |
| --- | --- | --- | --- |
| Team Stats and Records | PP | PIM | SHGF |
| Boston University (13-5-2) | 0/3 | 4/8 | 0 |
| Cornell (7-6-3) | 1/4 | 3/6 | 0 |
| | | | | | | |
| --- | --- | --- | --- | --- | --- | --- |
| Boston University Goaltending | MIN | GA | 1 | 2 | 3 | Saves |
| Victoria Hanson (L, 8-3-1) | 59:58 | 6 | 6 | 6 | 3 | 15 |
| Empty Net | 0:02 | 0 | | | | |
| | | | | | | |
| --- | --- | --- | --- | --- | --- | --- |
| Cornell Goaltending | MIN | GA | 1 | 2 | 3 | Saves |
| Paula Voorheis (W, 6-5-3) | 60:00 | 2 | 7 | 9 | 13 | 29 |
ITHACA, N.Y. - Junior Kayla Tutino and senior captain Marie-Philip Poulin each found the back of the net but the No. 6 Boston University women's ice hockey team dropped a 6-2 decision at Cornell on Tuesday night at Lynah Rink.
BU (13-5-2) and Cornell (7-6-3) were delayed by over an hour due to a small Zamboni fire after the pregame warmups, and when the game finally started the Terriers controlled the tempo for the first 10 minutes. However, the Big Red potted a pair of goals within a span of 3:23 at the end of the first period to take a 2-0 lead and never looked back.
Poulin extended her point streak to seven games with her 13th goal of the season while Tutino has scored a goal in each of her last two games. Senior Caroline Campbell and junior Sarah Lefort assisted on Tutino's marker while sophomore Victoria Hanson stopped 15 shots.
Trailing 2-0 after 20 minutes, BU outshot Cornell, 9-7, in the second stanza. However, the Big Red got the lone goal of the period when it scored on a rush out of its own zone. The Terriers nearly answered to cut the deficit to a pair of goals entering the third period, but the puck rolled over Lefort's stick with seconds remaining on the clock.
The Terriers outplayed the Big Red to start the final frame, highlighted by Tutino nearly jamming a puck past Paula Voorheis on the left post, but Cornell managed to tally three times in the last 20 minutes. Despite a 6-0 deficit, BU continued to press and its hard work was rewarded with Tutino's goal at the 15:40 mark. After a cycle, Lefort sent the puck to Campbell at the left point. Tutino deftly redirected her shot past Voorheis to put the Terriers on the board.
A terrific individual effort from the Terriers' captain made it a 6-2 game with 2:04 remaining in regulation. She forced a turnover just outside the Cornell blue line and walked into the Big Red zone before uncorking a wrist shot that sailed by Voorheis. The Terriers finished the period outshooting the Big Red, 15-6.
BU will return to league play on Sunday when the Terriers face crosstown rival Northeastern at Matthews Arena. The two teams split the previous two meetings at Walter Brown Arena. Puck drop is set for 2 p.m.