Saturday, February 14, 2015
Lefort Nets Hat Trick As Boston University Upends Providence, 6-1
Junior forward Sarah Lefort has hat trick and assist for Terriers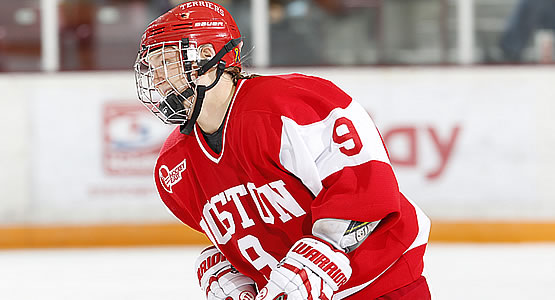 Junior forward Sarah Lefort had a hat trick and an assist for the Terriers
| | | | | | | |
| --- | --- | --- | --- | --- | --- | --- |
| Prd | Time | Team | Score | Type | Scored By | Assists |
| 1st | 7:08 | BU | 1-0 | EV | Rebecca Leslie (10) | Alexis Woloschuk/6 |
| 1st | 10:32 | BU | 2-0 | EV GW | Victoria Bach (17) | Rebecca Leslie/14 |
| 2nd | 3:15 | BU | 3-0 | EV | Sarah Lefort (17) | - |
| 2nd | 14:28 | PRV | 1-3 | EV | Beth Hanrahan (14) | Haley Frade/13, Brooke Simpson/10 |
| 3rd | 2:41 | BU | 4-1 | EV | Sarah Lefort (18) | Marie-Philip Poulin/16, Kayla Tutino/18 |
| 3rd | 4:04 | BU | 5-1 | PP | Sarah Lefort (19) | Victoria Bach/9, Marie-Philip Poulin/17 |
| 3rd | 5:50 | BU | 6-1 | EV | Marie-Philip Poulin (21) | Sarah Lefort/20, Erin O'Neil/2 |
| | | | | |
| --- | --- | --- | --- | --- |
| Scoring | 1st | 2nd | 3rd | Final |
| Boston University | 2 | 1 | 3 | 6 |
| Providence | 0 | 1 | 0 | 1 |
| | | | | |
| --- | --- | --- | --- | --- |
| Shots on Goal | 1st | 2nd | 3rd | SOG |
| Boston University | 4 | 11 | 14 | 29 |
| Providence | 13 | 8 | 7 | 28 |
| | | | |
| --- | --- | --- | --- |
| Team Stats and Records | PP | PIM | SHGF |
| Boston University (20-7-2) | 1/1 | 1/2 | 0 |
| Providence (6-20-4) | 0/1 | 1/2 | 0 |
| | | | | | | |
| --- | --- | --- | --- | --- | --- | --- |
| Boston University Goaltending | MIN | GA | 1 | 2 | 3 | Saves |
| Erin O'Neil (W, 9-3-1) | 60:00 | 1 | 13 | 7 | 7 | 27 |
| | | | | | | |
| --- | --- | --- | --- | --- | --- | --- |
| Providence Goaltending | MIN | GA | 1 | 2 | 3 | Saves |
| Allie Morse (L, 6-17-2) | 48:15 | 6 | 2 | 10 | 5 | 17 |
| Alanna Serviss | 11:45 | 0 | 0 | 0 | 6 | 6 |
PROVIDENCE, R.I. - The Providence College women's ice hockey team dropped a 6-1 decision to the No. 7 Boston University Terriers on Saturday Feb. 14 at Schneider Arena. The Friars now hold a 6-20-4 record on the season and a 5-12-1 record against Hockey East competition. BU improves to 20-7-2 overall and 14-4-0 in conference action.
Boston University held a 2-0 lead following the first period. Terriers forward Rebecca Leslie opened the scoring with a goal at 7:08 when she carried the puck behind around the Friars goal and fired a high shot to beat Providence goaltender Allie Morse (Cottage Grove, Minn.). Victoria Bach doubled the Terriers advantage when she netted a loose rebound from a shot by Leslie at 10:32 of the period.
The Terriers added a third goal at 3:15 of the second period when Sarah Lefort scored an unassisted goal.
Senior Beth Hanrahan (Poolesville, Md.) put the Friars on the board when she notched her team-leading fourteenth goal of the season. Seniors Haley Frade (Marion, Mass.) and Brooke Simpson (Boxborough, Mass.) combined for a passing play that allowed Hanrahan to skate in alone on Terriers goaltender Erin O'Neil from the slot to score on a backhand shot at 14:28 of the second period.
Boston University added three more goals in the final period of play to earn the 6-1 victory over the Friars. Lefort added the first two goals of the period for BU as she registered a hat trick in her team's win. Marie Philip-Poulin capped off the game's scoring with a goal at 5:50.
Morse and sophomore Alanna Serviss (Chicago, Ill.) combined for 23 saves in the game. Erin O'Neil stopped 27 of the 28 shots that she faced.
BU finished the game outshooting the Friars, 29-28.
The Friars closing game against Boston University was originally slated for Sunday, Feb. 15 at 3p.m. Due to the weather, the game has been postponed until Monday, Feb. 16 at 7p.m. at Walter Brown Arena in Boston, Mass.