Saturday, January 9, 2016
Four Skarupa Goals Lead Boston College To 4-3 Win At Boston University
Senior forward Haley Skarupa scores four goals for Eagles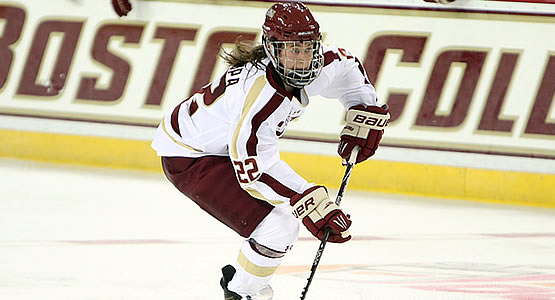 Senior forward Haley Skarupa scored four goals for the Eagles
| | | | | | | |
| --- | --- | --- | --- | --- | --- | --- |
| Prd | Time | Team | Score | Type | Scored By | Assists |
| 1st | 5:03 | BC | 1-0 | PP | Haley Skarupa (15) | Alex Carpenter/23, Kenzie Kent/15 |
| 1st | 8:13 | BU | 1-1 | EV | Kayla Tutino (6) | Sarah Lefort/14 |
| 1st | 12:52 | BC | 2-1 | EV | Haley Skarupa (16) | Kristyn Capizzano/14, Dana Trivigno/15 |
| 1st | 19:32 | BU | 2-2 | EV | Dakota Woodworth (4) | Sarah Lefort/15, Samantha Sutherland/8 |
| 2nd | 1:05 | BU | 3-2 | SH | Rebecca Russo (10) | Rebecca Leslie/23, Lillian Ribeirinha-Braga/7 |
| 2nd | 10:24 | BC | 3-3 | EV | Haley Skarupa (17) | Dana Trivigno/16 |
| 2nd | 17:31 | BC | 4-3 | EV GW | Haley Skarupa (18) | Kristyn Capizzano/15, Dana Trivigno/17 |
| | | | | |
| --- | --- | --- | --- | --- |
| Scoring | 1st | 2nd | 3rd | Final |
| Boston College | 2 | 2 | 0 | 4 |
| Boston University | 2 | 1 | 0 | 3 |
| | | | | |
| --- | --- | --- | --- | --- |
| Shots on Goal | 1st | 2nd | 3rd | SOG |
| Boston College | 9 | 10 | 11 | 30 |
| Boston University | 9 | 8 | 6 | 23 |
| | | | |
| --- | --- | --- | --- |
| Team Stats and Records | PP | PIM | SHGF |
| Boston College (21-0-0) | 1/6 | 4/8 | 0 |
| Boston University (13-8-1) | 0/2 | 7/14 | 1 |
| | | | | | | |
| --- | --- | --- | --- | --- | --- | --- |
| Boston College Goaltending | MIN | GA | 1 | 2 | 3 | Saves |
| Katie Burt (W, 18-0-0) | 59:59 | 3 | 7 | 7 | 6 | 20 |
| Empty Net | 0:01 | 0 | | | | |
| | | | | | | |
| --- | --- | --- | --- | --- | --- | --- |
| Boston University Goaltending | MIN | GA | 1 | 2 | 3 | Saves |
| Erin O'Neil (L, 9-3-1) | 59:33 | 4 | 7 | 8 | 11 | 26 |
| Empty Net | 0:27 | 0 | | | | |
BOSTON - The Boston University women's ice hockey team skated with top-ranked Boston College for all 60 minutes, but the Eagles remained undefeated with a 4-3 win on Saturday afternoon at Walter Brown Arena.
BU (13-8-1, 10-4-1 WHEA) held a 3-2 lead early in the second period, but two of Haley Skarupa's four goals, including the game-winner with 2:29 to play in the stanza, pushed BC (21-0-0, 14-0-0 WHEA) to a 40-minute lead that it never relinquished.
Three seniors lit the lamp for the Terriers, as captain Kayla Tutino, Dakota Woodworth and Rebecca Russo all scored. Senior Sarah Lefort added two assists to extend her point streak to 10 games while junior Samantha Sutherland, sophomore Rebecca Leslie and senior Lillian Ribeirinha-Braga all had a helper as well.
Sophomore Erin O'Neil made 26 saves, including 11 in the third period, to help keep the Terriers in the contest. The Terriers also held the Eagles' second-ranked power play to just one goal in six chances.
After Skarupa opened the scoring 5:03 into the proceedings, Tutino tied the game after thanks to a strong defensive play. She forced a turnover inside the BC blue line and tipped it forward to Lefort, who drove down the wing. Katie Burt (20 saves) denied Lefort's attempt, but Tutino knocked home the rebound for her sixth goal of the season.
Following Skarupa's second goal of the game, BU responded with 28.3 seconds to play in the period. This time it was Sutherland who began the play with a pass to Lefort, who created a 2-on-1 with Woodworth. Lefort softly lifted the perfect pass to Woodworth, who finished the play for her second goal in as many games.
Russo made it 3-2 thanks to her second shorthanded goal of the season. Ribeirinha-Braga cleared the zone and Leslie was first to the puck in the corner of the BC zone. She fed a wide-open Russo in front of the net, and the senior took care of the rest for her 10th marker of the year.
The Terriers had just two power-play chances, including one with 10 minutes to play in the regulation. They generated two shots on goal and held possession for the majority of the penalty, but were unable to find an equalizer. BU pulled O'Neil in favor of an extra attacker for the final 27 seconds, but BC held on for the win.
BU will begin a three-game road trip next weekend when the Terriers trek to Vermont for a pair of league games against the Catamounts.