Friday, September 25, 2015
Boston College Defeats Guelph in Exhibition, 5-1
Senior forward Alex Carpenter scores two goals for Eagles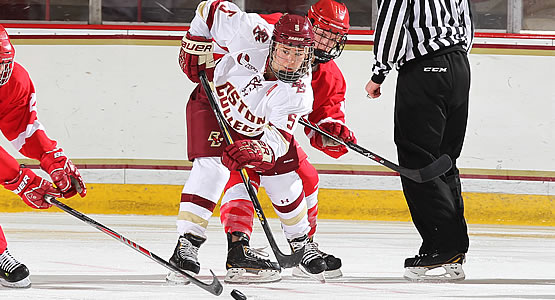 Senior forward Alex Carpenter scored two goals for the Eagles
| | | | | | | |
| --- | --- | --- | --- | --- | --- | --- |
| Prd | Time | Team | Score | Type | Scored By | Assists |
| 1st | 1:27 | BC | 1-0 | EV | Alex Carpenter | Haley Skarupa |
| 2nd | 11:23 | BC | 2-0 | EV GW | Meghan Grieves | Andie Anastos, Haley Skarupa |
| 2nd | 14:35 | BC | 3-0 | SH DP | Alex Carpenter | - |
| 3rd | 7:15 | BC | 4-0 | EV | Dana Trivigno | Kenzie Kent |
| 3rd | 12:11 | GUE | 1-4 | EV | Christine Grant | Karli Shell |
| 3rd | 19:18 | BC | 5-1 | EV | Megan Keller | Dana Trivigno |
| | | | | |
| --- | --- | --- | --- | --- |
| Scoring | 1st | 2nd | 3rd | Final |
| Guelph | 0 | 0 | 1 | 1 |
| Boston College | 1 | 2 | 2 | 5 |
| | | | | |
| --- | --- | --- | --- | --- |
| Shots on Goal | 1st | 2nd | 3rd | SOG |
| Guelph | 3 | 5 | 12 | 20 |
| Boston College | 17 | 18 | 16 | 51 |
| | | | |
| --- | --- | --- | --- |
| Team Stats and Records | PP | PIM | SHGF |
| Guelph | 0/5 | 5/10 | 0 |
| Boston College | 0/5 | 5/10 | 1 |
| | | | | | | |
| --- | --- | --- | --- | --- | --- | --- |
| Guelph Goaltending | MIN | GA | 1 | 2 | 3 | Saves |
| Valerie Lamenta (L) | 60:00 | 5 | 16 | 16 | 14 | 46 |
| | | | | | | |
| --- | --- | --- | --- | --- | --- | --- |
| Boston College Goaltending | MIN | GA | 1 | 2 | 3 | Saves |
| Katie Burt (W) | 31:23 | 0 | 3 | 3 | 0 | 6 |
| Gabriella Switaj | 28:37 | 1 | 0 | 2 | 11 | 13 |
BOSTON, Mass. - Senior forward Alex Carpenter scored two goals and senior forward Haley Skarupa had a pair of assists to help Boston College secure a 5-1 exhibition win against Guelph on Friday night at Walter Brown Arena.
BOSTON COLLEGE 5, GUELPH 1
Walter Brown Arena (Boston, Mass.)
Friday, September 25, 2015
BC HIGHLIGHTS
- Alex Carpenter scored two goals, including the game's opening strike just 1:27 into the game, and a shorthanded goal in the second period
- Dana Trivigno added one goal and one assist in the effort, while Haley Skarupa assisted on two goals
- BC out-shot the Gryphons, 51-20, including a 17-3 mark in the opening period
QUOTING COACH KATIE CROWLEY
"I thought it was a great opportunity for our kids to finally play a game. They've been on the ice practicing for a while, so to be able to play against another team and see what they're going to do and react was good. And I thought our kids did a great job with that. Now we have some things to work on and we'll be able to watch the video and learn from it and get better from it before next weekend."
HOW IT HAPPENED
- Carpenter got the Eagles on the board less than 2:00 into the game when she poked Haley Skarupa's rebound in past Guelph goaltender Valerie Lamenta at 1:27 of the first
- Meghan Grieves pushed the lead to 2-0 at the 11:23 mark when she redirected Andie Anastos' pass. Skarupa also recorded an assist on the play
- The Eagles pushed the score to 3-0 at 14:35 of the second when Carpenter knocked in the loose puck after Kristyn Capizzano broke into the zone on a shorthanded bid.
- Trivigno added her goal at 7:15 in the third when Kenzie Kent threaded a pass through the crease for Trivigno breaking in on the back post
- Guelph pulled a goal back at 12:11 of the third when Christine Grant snuck a shot past Gabri Switaj, who came in after Carpenter's second goal
- Megan Keller capped the scoring at 19:18 of the third when she re-directed Trivigno's pass into the upper corner.
THE NUMBERS
Boston College
Goals: 5 (Carpenter 2, Grieves, Trivigno, Keller)
Assists: 5 (Skarupa 2, Anastos, Kent, Trivigno)
Shots: 51 (17-18-16)
Power Plays: 0-5
Penalty Kill: 5-5
Saves: 19 (Burt 6, Switaj 13)
Guelph
Goals: 1 (Grant)
Assists 1 (Shell)
Shots: 20 (3-5-12)
Power Plays: 0-5
Penalty Kill: 5-5
Saves: 46 (Lamenta 46)
THREE STARS
1. Alex Carpenter
2. Dana Trivigno
3. Haley Skarupa
UP NEXT
Boston College officially kicks off the 2015-16 season on Friday, Oct. 2, when the Eagles host Minnesota Duluth in the first of a two-game series at Kelley Rink. Faceoff is set for 7 p.m. on Friday, and 3 p.m. on Saturday, Oct. 3.