Saturday, October 3, 2015
Carpenter Hat Trick Leads Boston College Past Minnesota Duluth, 4-2
Senior forward Alex Carpenter nets hat trick for Eagles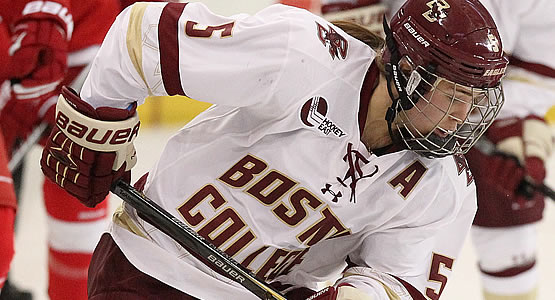 Senior forward Alex Carpenter had a hat trick for the Eagles
| | | | | | | |
| --- | --- | --- | --- | --- | --- | --- |
| Prd | Time | Team | Score | Type | Scored By | Assists |
| 1st | 11:10 | BC | 1-0 | EV | Megan Keller (1) | Meghan Grieves/2 |
| 2nd | 14:37 | BC | 2-0 | EV | Alex Carpenter (2) | Tori Sullivan/1, Lexi Bender/1 |
| 2nd | 16:07 | MND | 1-2 | EV | Michela Cava (2) | Demi Crossman/1, Maria Lindh/1 |
| 2nd | 16:58 | BC | 3-1 | EV GW | Alex Carpenter (3) | Makenna Newkirk/2, Kristyn Capizzano/1 |
| 3rd | 5:06 | MND | 2-3 | EV | Maria Lindh (1) | Reagan Haley/1 |
| 3rd | 19:49 | BC | 4-2 | EV EN | Alex Carpenter (4) | Kenzie Kent/2 |
| | | | | |
| --- | --- | --- | --- | --- |
| Scoring | 1st | 2nd | 3rd | Final |
| Minnesota Duluth | 0 | 1 | 1 | 2 |
| Boston College | 1 | 2 | 1 | 4 |
| | | | | |
| --- | --- | --- | --- | --- |
| Shots on Goal | 1st | 2nd | 3rd | SOG |
| Minnesota Duluth | 8 | 11 | 15 | 34 |
| Boston College | 11 | 15 | 7 | 33 |
| | | | |
| --- | --- | --- | --- |
| Team Stats and Records | PP | PIM | SHGF |
| Minnesota Duluth (2-2-0) | 0/4 | 4/8 | 0 |
| Boston College (2-0-0) | 0/4 | 4/8 | 0 |
| | | | | | | |
| --- | --- | --- | --- | --- | --- | --- |
| Minnesota Duluth Goaltending | MIN | GA | 1 | 2 | 3 | Saves |
| Maddie Rooney (L, 0-1-0) | 59:46 | 3 | 10 | 13 | 6 | 29 |
| Empty Net | 0:14 | 1 | | | | |
| | | | | | | |
| --- | --- | --- | --- | --- | --- | --- |
| Boston College Goaltending | MIN | GA | 1 | 2 | 3 | Saves |
| Katie Burt (W, 2-0-0) | 59:55 | 2 | 8 | 10 | 14 | 32 |
| Empty Net | 0:05 | 0 | | | | |
CHESTNUT HILL, Mass. - Alex Carpenter scored the fourth hat trick of her career to lead the second-ranked Boston College women's hockey team to a 4-2 win over Minnesota Duluth in the back end of the teams' two-game series at Kelley Rink.
#2 BOSTON COLLEGE 4, MINNESOTA DULUTH 2
Kelley Rink, Chestnut Hill, Mass.
Saturday, October 3, 2015
BC HIGHLIGHTS
- Alex Carpenter scored three goals - two in the second period less than three minutes apart and then an empty-netter with 11 seconds left
- Megan Keller scored the Eagles' other goal, putting BC ahead in the first period
- Katie Burt made a career-high 32 saves in goal for her second victory of the year
QUOTING THE EAGLES
Head Coach Katie Crowley
"It was a great weekend for us for it being our first weekend. (Minnesota Duluth) is very good. I said it yesterday. They're a very good team and came out hard today and put the pressure on us. I like to see that in our first weekend, where we're in situations where you need to make decisions - and quick decisions - and I think it's helpful to have that at the beginning of the year. You need to learn from that and move forward. I was happy with the way our kids reacted when (UMD) scored goals, and came back and put a few more in. I was happy with the outcome."
Senior Alex Carpenter
"(Today) was a lot better than yesterday. Obviously it was our first game and we had a few people who were a little nervous - myself included - but I think we did a really good job of rebounding in the second game today ... (Duluth)'s a good team. We didn't expect them to back down for a minute. They wanted the split here and I think we did a really good job."
HOW IT HAPPENED
- Megan Keller put the Eagles on the board at 11:10 of the first period when her shot from the point snuck through traffic and beat Bulldogs goaltender Maddie Rooney. Andie Anastos started the play when her shot from the faceoff circle kicked off the post, where Meghan Grieves picked it up off the boards and fed Keller at the point.
- Alex Carpenter's first goal came off a break out from the Eagles' own end. Lexi Bender fed the puck cross-ice to Tori Sullivan, who found Carpenter. The senior broke down the right wing and cut inside before beating Rooney for the 2-0 lead at 14:37 of the second period
- Minnesota Duluth pulled one back 90 seconds later when Michela Cava beat Katie Burt in traffic at 16:07 of the second, with assists credited to Demi Crossman and Maria Lindh
- Carpenter regained the Eagles' two-goal advantage less than a minute later at 16:58 of the second. Kristyn Capizzano found Makenna Newkirk along the boards and then the freshman slid a pass through traffic to Carpenter who skated in on the back post.
- Lindh brought UMD within a goal again at 5:06 of the third period, converting a pass from Reagan Haley.
- Carpenter's empty-net goal at 19:49 of the third capped the scoring after she took a feed from Kenzie Kent at the blue line and buried the shot
GAME NOTES
- Alex Carpenter recorded her fourth career hat trick, and her first since Feb. 19, 2013 ... Carpenter had four goals in the two-game series against the Bulldogs
- Carpenter now has 94 goals on her career ... she is four goals shy of second place on the BC career chart (98), currently held by Kelli Stack '11
- Carpenter now has 194 career points, and is four points back of Erin Magee '99, who holds second place with 198 points.
- Megan Keller recorded her first goal of the season and her first goal since Jan. 11, 2015 ... she now has five career goals ... Keller finished the weekend with one goal and one assist
- Meghan Grieves picked up her second assist of the season with the set-up of Keller's goal ... she now has 12 career assists
- Makenna Newkirk and Kenzie Kent both recorded their second assists of the season on Carpenter's second and third goals, respectively ... Newkirk now has two career assists and Kent has 33
- Tori Sullivan, Lexi Bender and Kristyn Capizzano all recorded their first assists of the season
- The Eagles were out-shot by UMD, 34-33 ... it marked the first time BC was out-shot by an opponent since March 15, 2013 - a 3-1 loss to eventual national champion Clarkson in the NCAA Quarterfinals
- Katie Burt's 32 saves marked a career high, besting her previous high of 29 saves at Dartmouth on Dec. 10, 2014 ... this was the first game of 30 or more saves in her career
- Boston College extended its home undefeated streak to 35 games, which dates back to Oct. 16, 2013 ... in that time, the Eagles have gone 34-0-1 with 29 straight wins ... BC's last home loss came via a 3-1 defeat to New Hampshire
THREE STARS
1. Alex Carpenter, BC
2. Maria Lindh, UMD
3. Grace Bizal, BC
UP NEXT
Boston College will host St. Lawrence for a two-game series at Kelley Rink on Sunday, Oct. 11, and Monday, Oct. 12. Both games are set to face off at 1 p.m. Live streams of both games will be available on bceagles.tv.