Saturday, November 28, 2015
Boston College Skates Past Northeastern, 6-1
Senior forward Alex Carpenter registers goal and two assists for Eagles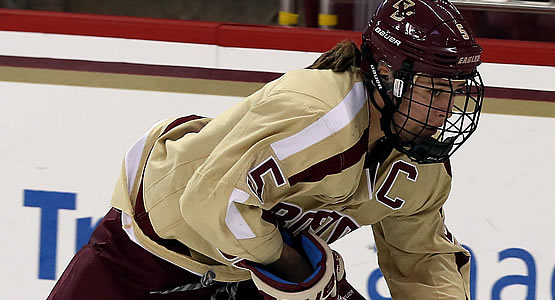 Senior forward Alex Carpenter had a goal and two assists for the Eagles
| | | | | | | |
| --- | --- | --- | --- | --- | --- | --- |
| Prd | Time | Team | Score | Type | Scored By | Assists |
| 1st | 5:05 | BC | 1-0 | EV | Kali Flanagan (3) | Andie Anastos/9 |
| 1st | 5:45 | BC | 2-0 | EV GW | Kenzie Kent (5) | Megan Keller/14, Alex Carpenter/17 |
| 2nd | 9:15 | BC | 3-0 | EV | Dana Trivigno (5) | Lexi Bender/12, Toni Ann Miano/9 |
| 2nd | 10:53 | BC | 4-0 | EV | Kenzie Kent (6) | Haley Skarupa/19, Alex Carpenter/18 |
| 2nd | 12:09 | BC | 5-0 | EV | Andie Anastos (8) | Toni Ann Miano/10, Meghan Grieves/6 |
| 3rd | 0:43 | NOE | 1-5 | PP | Paige Savage (4) | Kendall Coyne/13, Denisa Křížová/19 |
| 3rd | 15:52 | BC | 6-1 | PP | Alex Carpenter (21) | Lexi Bender/13, Megan Keller/15 |
| | | | | |
| --- | --- | --- | --- | --- |
| Scoring | 1st | 2nd | 3rd | Final |
| Boston College | 2 | 3 | 1 | 6 |
| Northeastern | 0 | 0 | 1 | 1 |
| | | | | |
| --- | --- | --- | --- | --- |
| Shots on Goal | 1st | 2nd | 3rd | SOG |
| Boston College | 6 | 11 | 6 | 23 |
| Northeastern | 8 | 11 | 18 | 37 |
| | | | |
| --- | --- | --- | --- |
| Team Stats and Records | PP | PIM | SHGF |
| Boston College (17-0-0) | 1/5 | 10/23 | 0 |
| Northeastern (11-4-1) | 1/5 | 10/20 | 0 |
| | | | | | | |
| --- | --- | --- | --- | --- | --- | --- |
| Boston College Goaltending | MIN | GA | 1 | 2 | 3 | Saves |
| Katie Burt (W, 14-0-0) | 60:00 | 1 | 8 | 11 | 17 | 36 |
| | | | | | | |
| --- | --- | --- | --- | --- | --- | --- |
| Northeastern Goaltending | MIN | GA | 1 | 2 | 3 | Saves |
| Sarah Foss (L, 1-1-0) | 32:09 | 5 | 4 | 7 | 0 | 11 |
| Brianna Storms | 27:47 | 1 | 0 | 1 | 5 | 6 |
| Empty Net | 0:04 | 0 | | | | |
BOSTON - Despite outshooting No. 2 Boston College (17-0-0, 11-0-0 WHEA) by a 37-23 margin, the No. 4 Northeastern women's hockey team (11-4-1, 7-2-0 WHEA) came up on the short end of a 6-1 decision on Saturday afternoon at Matthews Arena.
Redshirt junior Paige Savage scored the lone NU goal with a power-play marker in the third period off assists from Kendall Coyne and Denisa Krizova.
Goal Recaps
- BC struck first at the 5:05 mark of the first period when Andie Anastos won a faceoff back to Kali Flanagan for a blast from the right point that zipped through traffic and into the back of the net.
- The Eagles doubled the lead 40 seconds later when Kenzie Kent found a rebound in the slot and buried the loose disc to make it 2-0 at 5:45 of the opening frame.
- The visitors extended the advantage to 3-0 at 9:15 of the second period when Dana Trivigno redirected a Lexi Bender point shot by Sarah Foss (11 saves).
- BC pushed the scoreline to 4-0 when Kent cleaned up a rebound at the left of the cage at 10:53 of the second period after Foss did well to deny Haley Skarupa in tight.
- Less than two minutes later, BC made it 5-0 when Anastos tipped a Toni Ann Miano shot over the shoulder of Foss at 12:09 of the second stanza.
- Northeastern got on the board with a power-play tally 43 seconds into the third period. After exchanging passes with Krizova, Coyne tossed the puck at the cage for Savage to redirect over the glove of Burt from between the circles.
- Alex Carpenter added a sixth goal at 15:52 of the third period with a wrist-shot from between the circles on the power play.
Stats of the Game
- Freshman goaltender Brianna Storms made her collegiate debut in relief of Foss and made six saves, including a breakaway denial on Carpenter minutes after entering the game.
- Northeastern went 1-for-5 on the power play, while BC went 1-for-6.
- Both teams were whistled for 10 penalties in the game.
- The Huskies outshot the Eagles, 18-6, in the third period.
Up Next
The Huskies will close out the 2015 calendar year with two games at Vermont next weekend.