Saturday, November 28, 2015
Four Points From Carels Leads Providence Past Brown, 6-1
Junior forward Cassidy Carels has two goals and two assists for Friars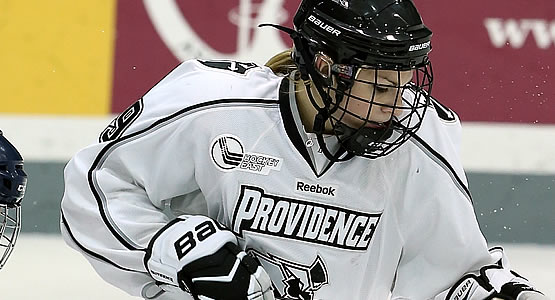 Junior forward Cassidy Carels had two goals and two assists for the Friars
| | | | | | | |
| --- | --- | --- | --- | --- | --- | --- |
| Prd | Time | Team | Score | Type | Scored By | Assists |
| 1st | 12:49 | PRV | 1-0 | PP | Lexi Romanchuk (1) | Brooke Boquist/4, Cassidy Carels/7 |
| 2nd | 10:46 | PRV | 2-0 | PP GW | Cassidy Carels (3) | Brooke Boquist/5, Lexi Romanchuk/4 |
| 3rd | 4:08 | PRV | 3-0 | PP | Christina Putigna (3) | Cassidy Carels/8, Lexi Romanchuk/5 |
| 3rd | 12:32 | BRN | 1-3 | PP | Sam Donovan (5) | Bridget Carey/3, Erin Conway/1 |
| 3rd | 12:56 | PRV | 4-1 | EV | Cassidy Carels (4) | Brooke Boquist/6, Christina Putigna/10 |
| 3rd | 19:13 | PRV | 5-1 | EV EN | Brooke Boquist (9) | Christina Putigna/11 |
| 3rd | 19:47 | PRV | 6-1 | EV | Kate Friesen (4) | Brittney Thunstrom/1, Cassidy MacPherson/1 |
| | | | | |
| --- | --- | --- | --- | --- |
| Scoring | 1st | 2nd | 3rd | Final |
| Brown | 0 | 0 | 1 | 1 |
| Providence | 1 | 1 | 4 | 6 |
| | | | | |
| --- | --- | --- | --- | --- |
| Shots on Goal | 1st | 2nd | 3rd | SOG |
| Brown | 6 | 9 | 6 | 21 |
| Providence | 9 | 18 | 12 | 39 |
| | | | |
| --- | --- | --- | --- |
| Team Stats and Records | PP | PIM | SHGF |
| Brown (2-8-0) | 1/8 | 6/12 | 0 |
| Providence (4-10-0) | 3/6 | 8/16 | 0 |
| | | | | | | |
| --- | --- | --- | --- | --- | --- | --- |
| Brown Goaltending | MIN | GA | 1 | 2 | 3 | Saves |
| Monica Elvin (L, 1-5-0) | 58:06 | 5 | 8 | 17 | 8 | 33 |
| Empty Net | 1:54 | 1 | | | | |
| | | | | | | |
| --- | --- | --- | --- | --- | --- | --- |
| Providence Goaltending | MIN | GA | 1 | 2 | 3 | Saves |
| Madison Myers (W, 3-5-0) | 59:24 | 1 | 6 | 9 | 5 | 20 |
| Empty Net | 0:36 | 0 | | | | |
PROVIDENCE, R.I. - The Providence College women's ice hockey team downed the Brown University Bears in a 6-1 victory at Schneider Arena on Nov. 28. The Friars defeated the Bears to take back the Mayor's Cup. Providence improved to 4-10-0 (3-6-0 WHEA) while Brown moved to 2-8-0 (0-4-0 ECAC). Four different Friars collected at least three points in the game.
Madison Myers (Colchester, Vt.) started in goal for the Friars and posted 20 saves to earn her third win of the season.
The Friars got on the board first, with a power play goal at the 12:49 minute mark in the first period. Lexi Romanchuk (San Jose, Calif.) scored her first goal of the season with a slap shot from just above the tops of the circles. She was assisted by Brooke Boquist (Thunder Bay, Ontario) and Cassidy Carels (Bruxelles, Manitoba).
The teamwork of Romanchuk, Boquist, and Carels struck for second time on the power play at 10:46 in the second period. Romanchuk worked the puck over from the point to Boquist, who slid down the half wall to take a wrist shot. The puck fell to Brown's Monica Elvin's feet where Carels was waiting to bury the puck.
The Friars power play struck a third time with 15:52 remaining in the third period, to give the Friars a 3-0 lead. After a scrum in front of Brown's net, Christina Putigna (Grimsby, Ontario) put in Carels' rebound from the top of the crease. Romanchuk collected an assist on the play and her third point of the game.
Brown answered with a power play goal at 12:32 in the third from Sam Donovan.
Providence quickly responded, less than 20 seconds later. Putigna fed Boquist from behind the net. Boquist made a behind the back pass to a breaking Carels in the slot, who one-timed the puck into the back of the net.
Brown pulled Elvin for the extra attacker but Providence notched its fifth goal of the game. Putigna chased a loose puck into the Brown defensive zone and passed the puck into the slot, where Boquist banged it home. The Friars took a 5-1 lead with 47 seconds remaining in the game.
Kate Friesen (Altona, Manitoba) notched her third goal of the season, with a slap shot from the point. Brittney Thunstrom (Coon Rapids, Minn.) and Cassidy MacPherson (Oakville, Ontario) added assists with 12 seconds remaining in the game.
At the conclusion of the game, Mayor Jorge Elorza awarded the Friars with the Mayor's Cup.
The Friars are back in action on at 7:00 p.m. on Tuesday, Dec. 1 at Schneider Arena. The Friars will host the Union Dutchwomen.