Saturday, December 5, 2015
UConn Scores Three Goals In Third Period To Tie Boston University, 4-4
Sophomore forward Justine Fredette has goal and two assists for Huskies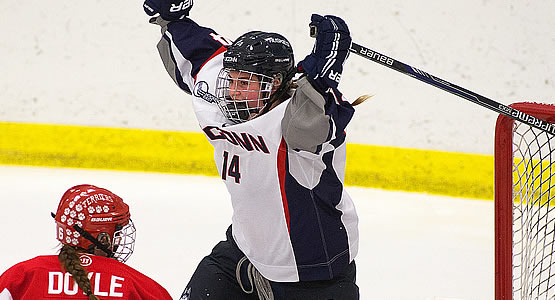 Sophomore forward Justine Fredette had a goal and two assists for the Huskies
| | | | | | | |
| --- | --- | --- | --- | --- | --- | --- |
| Prd | Time | Team | Score | Type | Scored By | Assists |
| 1st | 12:26 | BU | 1-0 | EV | Victoria Bach (10) | Alexis Crossley/5, Sarah Lefort/11 |
| 1st | 15:51 | BU | 2-0 | SH | Rebecca Russo (8) | Rebecca Leslie/20 |
| 1st | 18:50 | BU | 3-0 | EV | Rebecca Russo (9) | Maddie Elia/5, Rebecca Leslie/21 |
| 2nd | 3:39 | CON | 1-3 | EV | Theresa Knutson (5) | Jordy Zacharias/6, Justine Fredette/6 |
| 2nd | 15:13 | BU | 4-1 | EV | Samantha Sutherland (4) | Jordan Juron/3, Alexis Woloschuk/6 |
| 3rd | 0:33 | CON | 2-4 | PP | Theresa Knutson (6) | Justine Fredette/7, Kayla Mee/5 |
| 3rd | 11:00 | CON | 3-4 | EV | Jaime Fox (1) | Justine Fredette/8, Theresa Knutson/4 |
| 3rd | 17:39 | CON | 4-4 | PP GT | Justine Fredette (4) | Theresa Knutson/5, Kayla Mee/6 |
| | | | | | |
| --- | --- | --- | --- | --- | --- |
| Scoring | 1st | 2nd | 3rd | OT | Final |
| Boston University | 3 | 1 | 0 | 0 | 4 |
| Connecticut | 0 | 1 | 3 | 0 | 4 |
| | | | | | |
| --- | --- | --- | --- | --- | --- |
| Shots on Goal | 1st | 2nd | 3rd | OT | SOG |
| Boston University | 20 | 4 | 5 | 3 | 32 |
| Connecticut | 7 | 11 | 12 | 3 | 33 |
| | | | |
| --- | --- | --- | --- |
| Team Stats and Records | PP | PIM | SHGF |
| Boston University (11-7-1) | 0/1 | 3/6 | 1 |
| Connecticut (7-7-3) | 2/3 | 1/2 | 0 |
| | | | | | | | |
| --- | --- | --- | --- | --- | --- | --- | --- |
| Boston University Goaltending | MIN | GA | 1 | 2 | 3 | OT | Saves |
| Erin O'Neil (T, 7-2-1) | 65:00 | 4 | 7 | 10 | 9 | 3 | 29 |
| | | | | | | | |
| --- | --- | --- | --- | --- | --- | --- | --- |
| Connecticut Goaltending | MIN | GA | 1 | 2 | 3 | OT | Saves |
| Annie Belanger (T, 4-1-2) | 64:55 | 4 | 17 | 3 | 5 | 3 | 28 |
| Empty Net | 0:05 | 0 | | | | | |
STORRS, Conn. - The UConn women's ice hockey team stunned Boston University with three goals in the third period to force a 4-4 overtime draw against the Terriers on Saturday. Sophomores Theresa Knutson (Onalaska, Wis.) and Justine Fredette (Winnipeg, Manitoba) each recorded four points on the night, taking part in all four UConn goals.
BU got off to an early 3-0 lead after the team scored three goals in the last ten minutes of the first period. Sophomore goaltender Annie Belanger (Sherbrooke, Quebec) recorded an impressive 17 stops in the first period alone.
Knutson closed the gap in the start of the second when she buried a shot past BU netminder Erin O'Neil four minutes into the middle frame with help from Fredette and freshman Jordy Zacharias (Winnipeg Manitoba). The Huskies maintained the 3-1 spread for the majority of the third period, but BU tacked on another goal with less than five minutes to take a 4-1 lead into the start of the third.
The Terriers were called for roughing 19 seconds into the third period and UConn went up on the power play. Knutson got her second of the game on the man-advantage, 33 seconds into the third, when she put one past O'Neil top corner to make it 4-2 with plenty of time left. Fredette tallied her second assist of the day and freshman Kayla Mee (Winnipeg Manitoba) earned credit for the other helper.
Freshman Jamie Fox (Unionville, Ontario) notched her first career goal as a Husky to make it 4-3 with less than ten minutes to go in the third. Fredette and Knutson took credit on the assists, moving them both to three points total.
BU took a checking penalty 16:56 into the third, which gave UConn the man-advantage and a chance to tie things up. Fredette did just that less than a minute into the power play when she knocked in a loose rebound off a shot from Mee at the point and a follow-up from Knutson in front of the net, for her first goal and fourth point of the game.
Fredette's four point game moves her into first on the team with a total of 12 points, followed by Knutson who moves into second with 10 points, which is tied with Zacharias.
Despite being outshot 20-7 in the first period, UConn battled back and ended up outshooting BU overall 33-32. Belanger tallied 28 saves in her second tie of the season. O'Neil finished with a total of 29 stops.
The Huskies will travel to Boston tomorrow, Dec. 6, for game-two with the Terriers at 3 p.m. at Walter Brown Arena.